Friday,
October
11th
, 2019
Melvin Seals and JGB featuring John Kadlecik + George Porter Trio
Doors: 6:00 PM
/
Show: 7:30 PM
21+ Years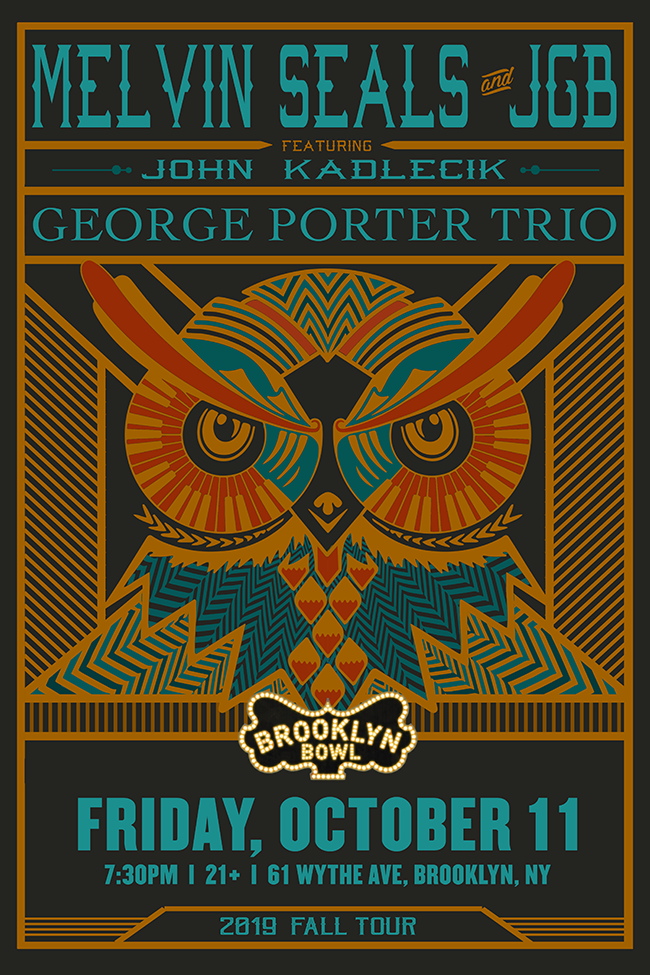 Event Info
Venue Information:
Brooklyn Bowl
61 Wythe Avenue
Brooklyn, NY 11249
Any customers having trouble purchasing tickets to this show with a non-US credit card, please reach out to
[email protected]
for assistance. We look forward to having you at Brooklyn Bowl!
For all tickets purchased prior to October 1 on TicketFly, those tickets are still valid and able to be scanned at the door upon entry. Just pull up your ticket on your phone or bring your print-out. Starting October 1 all Brooklyn Bowl tickets will be available on TicketWeb.
Artist Info
Melvin Seals and JGB featuring John Kadlecik
Melvin Seals has been a powerful presence in the music industry for over 30 years with a long-established reputation as a performer, recording artist and producer. Melvin is most revered for his powerful, high-spirited, Hammond B-3 organ, and keyboards in the Jerry Garcia Band. Melvin spun his B-3 magic with the Jerry Garcia Band for 18 years and in doing so helped pioneer and define what has now become "Jam Band Music". From blues to funk to rock to jazz, Melvin Seals serves up a tasty mix with a little R&B and gospel thrown in to spice things up.

Melvin and JGB bring an intuitive, expressive style, soul, spontaneity and remarkable chops to the table. John Kadlecik, Dave Abear & Stu Allen will take turns handling lead guitar and vocal duties for the remainder of Summer and Fall 2019 Tour. And it is business as usual for the regular cast of JGB players, John-Paul McLean's savory bass, Pete Lavezzoli's hearty drums and, of course, a heapin' helpin' of the wizard's magic on Hammond B-3 Organ and keyboards. Along with Sunshine Becker and Lady Chi on back-up vocals, the result is a most satisfying blend of natural organic grooves that challenges genre boundaries. Their chemistry is the focus from which they create a spontaneous and high art where the sky is the limit musically. They offer an exciting, often psychedelic musical journey that changes nightly and keeps the audience dancing and smiling (and some staring in amazement) for hours.
Adding his rock-gospel-soul-rhythm and blues touch with his funky style of playing, no wonder Jerry nicknamed him "Master of the Universe". Melvin continues to treat music lovers to his unique brand of melodic flavor with JGB. Come see and hear for yourself!

MELVIN SEALS & JGB:
Melvin Seals - Hammond B3 Organ, Keyboards & Vocals
See Below - Electric Guitar & Lead Vocals
John-Paul McLean - Bass
Pete Lavezzoli - Drums
Sunshine Becker & Lady Chi - Backup Vocals

SUMMER/FALL 2019 LEAD GUITAR DUTIES:
Dave Abear: Aug 2, 3, 9 & 10
Stu Allen: Aug 4 & Sept 8
John Kadlecik: Remaining Aug dates, Sept 1 and all Oct dates
George Porter Trio
George Porter, Jr. is best known as the bassist of The Meters, along with Art Neville, Leo Nocentelli and Joseph Zigaboo Modeliste. The group was formed in the mid '60s and came to be recognized as one of the progenitors of funk then called R&B. The Meters disbanded in 1977, but reformed in 1989. Today the original group still plays the occasional reunions but the Funky Meters, of which Porter and Neville are still members, most prominently keeps the spirit alive.

Porter's rhythmic work in the Meters in lockstep with drummer Zigaboo Modeliste was epic. Those pockets, the long notes and fat holes, provided the cushion for Leo Nocentelli or Art Neville to play or sing over and created some of R&B history's most memorable grooves.

Few bass players in the history of modern New Orleans music are as storied as George Porter Jr. During the course of a career spanning more then four decades, Porter has not only made a deep impression with his work in the Meters, but he's notched session work with artists as diverse as Paul McCartney, Jimmy Buffett, David Byrne, Patti LaBelle, Robbie Robertson, Tori Amos, Taj Mahal, Ryan Montbleau and live performances with Mickey Hart, Bill Kreutzmann, Warren Haynes, John Scofield, Steve Kimock, Eric Krasno (and including recent studio releases with Warren Haynes and Bill Kreutzmann) just to name a few. Early in his career, Porter worked with seminal New Orleans artists like Allen Toussaint, Earl King, Lee Dorsey, and Johnny Adams, Irma Thomas, The Lastie Brothers again to only name a few.

Porter is also the band leader of his own unique long term project the Runnin' Pardners, well respected not only as a quintessential New Orleans band, the touring band continues to receive accolades on the jam band and festival scene. He has assembled some seasoned and talented musicians to join him on this project. Familiar Pardners -- Brint Anderson (guitar) and, Michael Lemmler (keyboards) and rising stars on the New Orleans music scene Khris Royal (saxophone) and Terrence Houston (drums). George Porter Jr. plans to keep a smile on his face." I feel like I am working towards something that will be remembered."

Porter has proven to be capable of the ultimate fusion of rock, funk and R&B, and has gained recognition as one of the industry's elite bass players. He continues to be not only an in demand performing artist but an accomplished studio musician and producer.

Today, Porter features that epic bottom end in his latest ventures with his own band the Runnin' Pardners.