Thursday,
October
13th
, 2022
Me First and the Gimme Gimmes
Surfbort, The Black Tones
Doors: 6:30 PM
/
Show: 7:30 PM
All Ages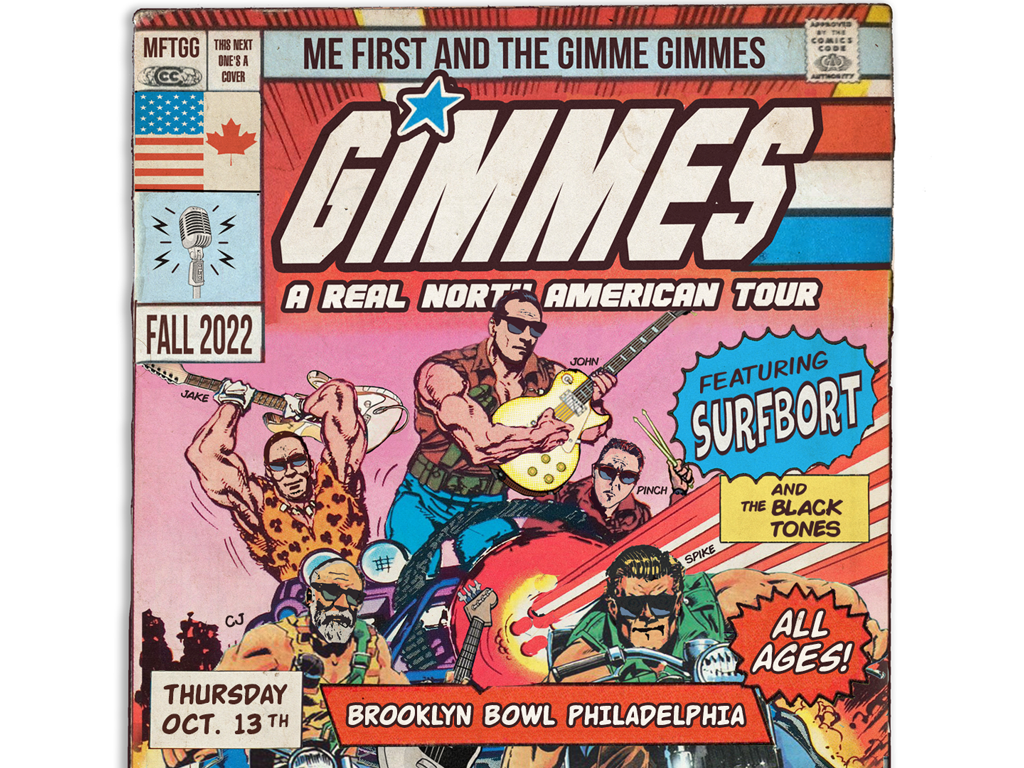 Event Info
Venue Information:
Brooklyn Bowl Philadelphia
1009 Canal Street
Philadelphia, Pennsylvania 19123
PURCHASE VIP LANE RESERVATIONS HERE
Based on the latest local guidelines, attendees are no longer required to provide proof of negative COVID-19 test AND/OR vaccination for entry into Brooklyn Bowl. Policies are subject to change for individual performances, please refer to individual event pages for specific entry requirements.

An inherent risk of exposure to COVID-19 exists in any public place where people are present. COVID-19 is an extremely contagious disease that can lead to severe illness and death. According to the local health authorities, senior citizens and guests with underlying medical conditions are especially vulnerable. By visiting our establishment, you voluntarily assume all risks related to the exposure to or spreading of COVID-19.
Valid photo ID required at door for entry.
This event is general admission standing room only.
Artist Info
Me First and the Gimme Gimmes
For the uninitiated, Me First and the Gimme Gimmes consist of Joey Cape (Lagwagon) on guitar, Chris Shiflett (Foo Fighters) on lead guitar, Dave Raun (Lagwagon) on the drums, Fat Wreck-head-honcho/NOFX main-dude Fat Mike, and rounded out by the incomparable crooner, Spike Slawson. Together, Me First and the Gimme Gimmes are an outfit that has always operated more like a beer-hall Pussycat Dolls than a regular mortal band.

When duty calls for one of the Gimmes to perform with their other band, rest assured a traveling Gimme will step in. John Reis, you guessed it, singer/guitarist for Rocket From the Crypt, Jonny Two Bags, Orange County Music Legend and Social Distortion lead guitar, Jake Kiley of Strung Out fame, or Stacey Dee from Bad Cop/Bad Cop will be filling in. And, on bass CJ Ramone from a little band you may have heard of, The Ramones, will sub for Fat Mike. Most recently we saw the UK import, Pinch from The Damned, on the skins. You never know what star-studded lineup you will get at a Gimmes show, but you know it will not disappoint.

So, what is really left to say about punk super-group and cover band extraordinaire Me First and the Gimme Gimmes? After 7 studio albums, a live record and too many singles to count, they've tackled just about every genre under the sun. Be it Motown, Country, show tunes, Japanese Pop (sung in Japanese!), these seasoned punk rock pros have triumphed on every occasion in a way only the Gimmes could. With such an extensive and wide ranging catalog, where does one begin?... With a live show of course! The powerhouse continues and they'll be singing ballads, showtunes, Country and Motown tunes all year long, so don't miss it!
Surfbort
Originally perceived as a Brooklyn based punk band, SURFBORT is proving their cult cool translates coast to coast. Channeling inspiration from the 80's punk scene to produce rousing, explosive music, their feedback strafed, guitar-shredding music says no to a digital age full of intolerance; they radiate love and friendship. All are welcome in the SURFBORT FREAK FAMILY! Touring with The Black Lips after playing the last Coachella, the band has also performed with The Dickies, Royal Trux, White Fang, The Garden, Martin Rev, Tijuana Panthers, The Mystery Lights, to name a few. The band continues to hail acclaim from peers and journalists alike: "The high degree of authenticity that permeates every aspect of Surfbort's work makes the band a "distinguishable artistic entity. Live, Surfbort is akin to a stick of dynamite that self-ignites, producing a massive eruption that encapsulates the audience in the most incredible way. The band's energy feels far from forced; it is raw to the point of being uncontrollably infectious."- AMPLIPY MAGAZINE. "Machine gun volley of two-minute shards of sound that pummel you into a giddy mess while flicking two fingers to authority" - CRACK MAGAZINE. "The last (only) New York Punk band" - W Magazine. The Guardian compares the band with "The Spirit of Bikini Kill, Pussy Galore, Patti Smith and X". It's no wonder Surfbort was one of the handpicked collection of great bands originally signed to Cult Records, the indie label founded by Julian Casablancas of The Strokes/The Voidz. Surfbort was recently picked up by Iconic rock producer Linda Perry to be part of her new partnership with streaming giant SOUNDCLOUD, releasing the new album 'Keep on Truckin' in October of 2021. "There probably isn't a single word in the English language that describes this feeling that Surfbort captures on Keep On Truckin'. It's like smiling with a fat lip or winking with a black eye or laughing with a set of bruised ribs. The spirit of perseverance, finding some semblance of happiness after taking a mental/spiritual/literal beating. This theme throughout Keep On Truckin': from the album's title to "Life's A Joke" ("Nothing's going my way today, but it's okay") to the closer, "Cheap Glue," a mid-tempo song that sees Dani vow to do "anything to help you find a solution" to a friend's broken heart." - HOLLYWOOD LIFE. The music video for "FML" features comedian and band leader/drummer of Late Night with Seth Meyers, Fred Armisen who walks around doing good deeds all day then transforms into each member of the band saving them from their extreme depression. Pro-skater, Lizzie Armanto makes her directorial debut and co-stars in the music video for "Lot Lizard," releasing in January 2022 and Tony Hawk is slated to star in the video for "Open Your Eyes." Singer, Dani Miller also recently guested on the GROUPLOVE track 'Just What You Want'. Surfbort also starred in the 2019 Pre-Fall GUCCI campaign, performing at the press event and is featured in the FILM DIRECTED BY GLEN LUCHFORD. Singer Dani Miller is also the star of the launch of the worldwide campaign for GUCCI BEAUTY. Drummer, Sean Powell was the inspiration behind the lead Character the Academy award winning film, Sound of Metal. Surfbort is: Dani Miller- Vocals, Alex Kilgore - Guitar, Matt Picola - Guitar, Nick Arnold - Bass, and Sean Powell -Drums.
The Black Tones
The Black Tones welcome audiences into their musical family every time they take the stage. Once you see them live, you've then become a part of their extended sonic kin. Founded by twins Eva and Cedric Walker, the Seattle-based rock 'n' roll band has grown from humble beginnings in their grandmother's basement to receiving recognition from Guitar World, AfroPunk, KEXP, American Songwriter, Under the Radar and NPR, which said, "The Black Tones are redefining Seattle music."
Over the past handful of years, the rock group has shared stages with Weezer, Mavis Staples, Death Cab for Cutie, Tank and the Bangas, Fishbone and many more. The group has also worked closely with Pearl Jam's Mike McCready on several projects, including a cover of U2's "Pride (In the Name of Love)." And in 2019, The Black Tones released their debut LP, Cobain & Cornbread, which was engineered by the legendary Godfather of Grunge, Jack Endino.
That album garnered the group many accolades, including the rank of #17 on KEXP's Best Albums of 2019 list. Not to be outdone, The Seattle Times dubbed the group one of the 15 Most Influential Artists of the 2010's. In 2020 The Black Tones released a limited edition 7" ("Where Do We Go Now" b/w "The Devil & Grandma'') on McCready's record label, HockyTalkter Records. And in 2022, the rock band caught the attention of Sub Pop Records, which released their single, "The End of Everything" b/w "Mr. Mines."
While these accomplishments are lofty, Eva and Cedric keep their feet firmly on the ground, maintaining warmth and humility, joy and a sense of familial freedom. To wit, The Black Tones boast their own hate group-fighting 8-bit video game, "They Want Us Dead," inspired by their hit single, "The Key of Black." In the game, players can fight hate groups like the alt-right, slave owners and more as either Eva or Cedric, traveling back through time.
Truly, for the band, music is as much entertainment and expression as it is a chance at activism. To change the world—or even a single person's perception of it—through songs is an honor for Eva and Cedric and one it does not take lightly. Whether singing songs about the danger black bodies incur daily, spiders in their childhood bedrooms or fantastical "ghetto spaceships," The Black Tones' charisma and infectious blues-punk approach is exemplary, essential and the stuff of deep roots.