LED ZEPPELIN Tribute Lez Zeppelin perform PHYSICAL GRAFFITI + More
DJ Alex Kayne
Doors: 6:00 PM
/
Show: 8:00 PM
21+ Years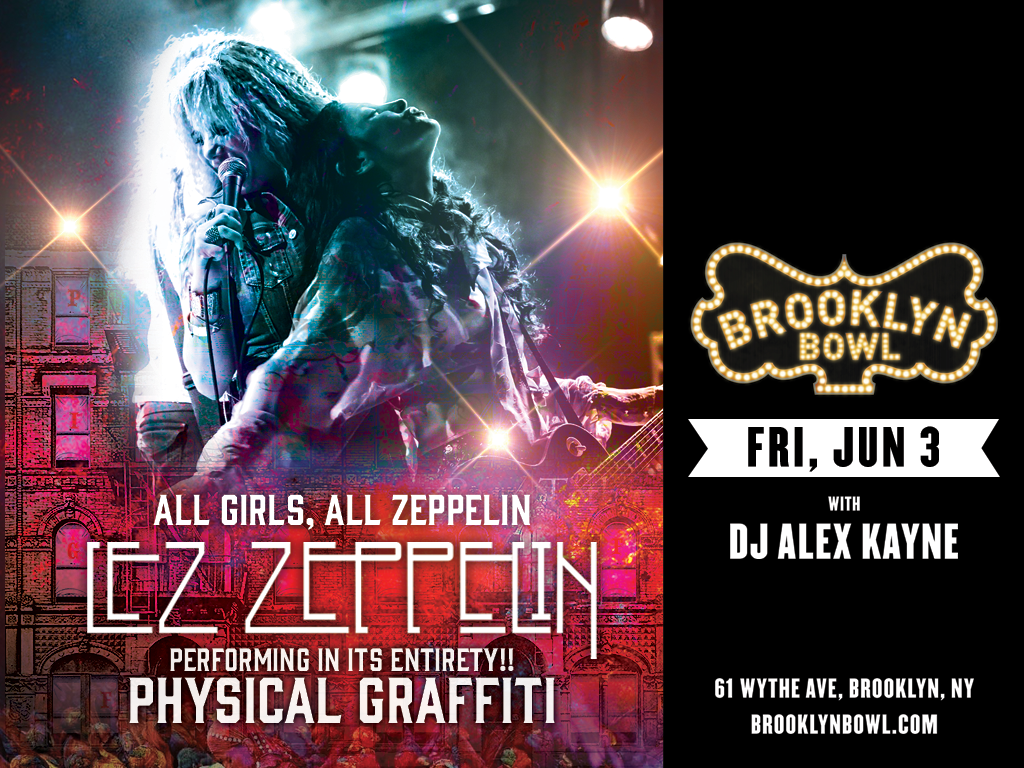 Event Info
Venue Information:
Brooklyn Bowl
61 Wythe Avenue
Brooklyn, NY 11249
Valid photo ID required at door for entry
Doors: 6:00 PM
Show: 8:00 PM
Physical Graffiti, the epic double-album released by Led Zeppelin in February 1975, is perhaps the most beloved and magical of all of their recordings. Simply put, it is the album EVERYONE wants to hear. For the very first time, Lez Zeppelin presents Physical Graffiti from start to finish in all of its majesty and diversity. From the mysticism of Kashmir to the rockin' funk of Trampled Underfoot to the progressive elegance of Ten Years Gone, Lez Zeppelin delivers passionate, note-for-note renditions of all 15-songs. Accompanied by a provocative and uniquely curated multimedia presentation, this full-length, immersive experience digs deep into the heart and soul of one of rock's greatest albums.
Based on the latest local guidelines, attendees are no longer required to provide proof of vaccination for entry into this event. Be sure to check your venue website for the latest updates and guidelines as entry requirements are subject to change.
An inherent risk of exposure to COVID-19 exists in any public place where people are present. COVID-19 is an extremely contagious disease that can lead to severe illness and death. According to the local health authorities, senior citizens and guests with underlying medical conditions are especially vulnerable. By visiting our establishment, you voluntarily assume all risks related to the exposure to or spreading of COVID-19.
Artist Info
Lez Zeppelin
Lez Zeppelin is a phenomenon. Since their formation in 2004, the group has stunned audiences all over the world with the musicianship, passion and gender-bending audacity they bring to the music of Led Zeppelin. Unlike the typical "tribute band" Lez Zeppelin does not seek to imitate. Rather, they are a she-incarnation of the original. With swagger, intensity and virtuosity, these four women cover the entire canon, performing hits, deep tracks, epic compositions and acoustic numbers with utmost authenticity, as if they'd written the music themselves. Jimmy Page described it best after attending a Lez Zeppelin show in London: "They played the Led Zeppelin music with an extraordinary sensuality and an energy and passion that highlighted their superb musicianship."
THE THING THAT SETS LEZ ZEPPELIN APART IS THE SEAMLESS AND UNIQUE WAY THEY INJECT THEIR GENDER-BENDING PERFORMANCE INTO THE ORIGINAL MATERIAL. THEY HAVE BEEN FEATURED ON MAJOR TELEVISION INCLUDING THE BBC, CNN, ABC, CBS, MTV, VH-1, FOX AND RADIO SHOWS WORLDWIDE, SUCH AS SIRIUS XM AND NPR. THE GROUP'S FIRST STUDIO ALBUM, LEZ ZEPPELIN, WAS PRODUCED BY LEGENDARY PRODUCER/ENGINEER, EDDIE KRAMER (LED ZEPPELIN, JIMI HENDRIX). THE GROUP'S SECOND LP, LEZ ZEPPELIN I, IS AN AUTHENTIC RE-MAKE OF LED ZEPPELIN'S FIRST ALBUM, USING THE VERY SAME VINTAGE EQUIPMENT EMPLOYED BY LED IN 1968. LEZ ZEPPELIN ALSO RECORDED A HOLIDAY SONG, MYSTIC SNOWMAN, A WRY MASH-UP OF STAIRWAY AND FROSTY THE SNOWMAN. ALL RECORDS ARE DISTRIBUTED THROUGHOUT THE UNITED STATES, JAPAN AND EUROPE.
SINCE LEZ ZEPPELIN'S FORMATION, THE GROUP HAS BROKEN BOTH GLASS AND CLASS CEILINGS. WHETHER IT'S PLAYING ON CATWALK ABOVE TIMES SQUARE FOR 40,000, OR ON THE MAIN STAGE AT BONNAROO, HELLFEST AND THE ISLE OF WIGHT; FLYING TO INDIA FOR A BENEFIT CONCERT FOR AMBULANCES OR TAKING THE STAGE – TWICE! -- AT MADISON SQUARE GARDEN, IT'S CLEAR THAT THE UNIQUE POWER, PERSONALITY AND MAGICAL FORCE OF LEZ ZEPPELIN IS FAR BEYOND THAT OF A "TRIBUTE" ACT.
SPIN MAGAZINE CALLED THEM "THE MOST POWERFUL ALL-FEMALE BAND IN ROCK HISTORY." FOR THOSE SCEPTICS WHO STILL DARE TO ASK: CAN FOUR WOMEN PULL OFF THE EXUBERANT, POWERFUL AND MUSICALLY INTRICATE PERFORMANCES FOR WHICH LED ZEPPELIN ARE KNOWN, A LEZ ZEPPELIN SHOW IS NOTHING SHORT OF A REVELATION.

CURRENT MEMBERS: STEPH PAYNES (GUITAR); MARLAIN ANGELIDES (VOCALS); LEESA HARRINGTON SQUYRES (DRUMS); JOAN CHEW (BASS/KEYS);
PAST MEMBERS: SHANNON CONLEY (VOCALS); MEGAN THOMAS (BASS/KEYS)
DJ Alex Kayne