Southern Comfort Presents
Larkin Poe: Blood Harmony Tour
Tall Heights
Doors: 7:00 PM
/
Show: 8:00 PM
21+ Years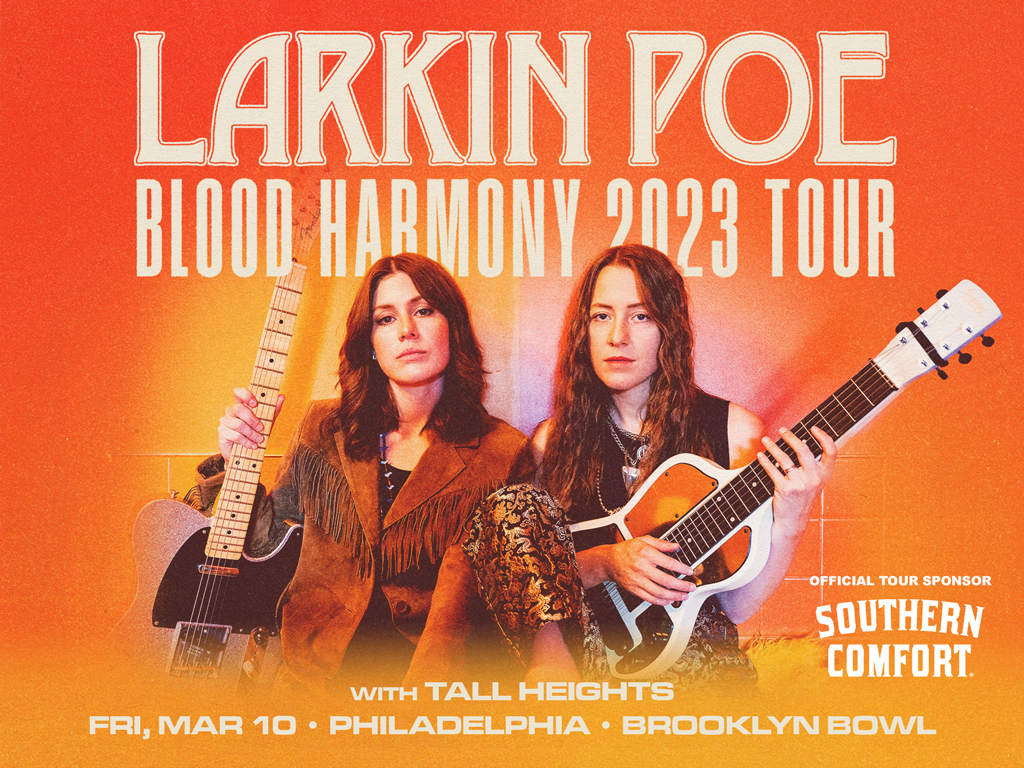 Event Info
Venue Information:
Brooklyn Bowl Philadelphia
1009 Canal Street
Philadelphia, Pennsylvania 19123
Larkin Poe VIP Meet & Greet Package
Includes:
One general admission or one premium reserved ticket
Meet & Greet with Larkin Poe
One personal photo with Larkin Poe
One exclusive signed Larkin Poe print
One exclusive VIP merchandise item
One commemorative VIP laminate and lanyard
Pre-show merchandise shopping opportunity before venue opens to the public
Priority entry into the venue

Purchasers will receive an email from StagePilot approximately 3-5 days before the performance date with instructions regarding the fulfillment of the VIP package items and additional details regarding day of show information. All VIP packages are NON-TRANSFERABLE; NO WILL CALL NAME CHANGES WILL BE PERMITTED UNDER ANY CIRCUMSTANCES. Non-VIP Package purchasers will not be allowed into any VIP activities or into the venue early. VIP package purchasers may be required to arrive at least 3-4 hours before show time. All pre-show programs and times may vary date-to-date and are subject to modification at any time for any reason. At StagePilot's discretion, VIP package merchandise will either be shipped directly to the address provided at purchase (alternate shipping addresses are not permitted) or available for pick-up the night of the show. If shipped, delivery of such merchandise may occur after the event date. Merchandise is not needed for entry to the show. By purchasing a VIP package, you will not gain or be authorized access into any venue specific VIP or backstage areas. No parental escorts without their own package purchased will be permitted. Health and safety restrictions may change from time of purchase to the show date. We will confirm any restrictions closer to the event date.

Based on the latest local guidelines, attendees are no longer required to provide proof of negative COVID-19 test AND/OR vaccination for entry into Brooklyn Bowl. Policies are subject to change for individual performances, please refer to individual event pages for specific entry requirements.

An inherent risk of exposure to COVID-19 exists in any public place where people are present. COVID-19 is an extremely contagious disease that can lead to severe illness and death. According to the local health authorities, senior citizens and guests with underlying medical conditions are especially vulnerable. By visiting our establishment, you voluntarily assume all risks related to the exposure to or spreading of COVID-19.
Valid photo ID required at door for entry.
This event is general admission standing room only.
Artist Info
Larkin Poe
The latest full-length from Larkin Poe, Blood Harmony is a whole-hearted invitation into a world they know intimately, a Southern landscape so precisely conjured you can feel the sticky humidity of the warm summer air. In bringing their homeland to such rich and dazzling life, Georgia-bred multi-instrumentalist sisters Rebecca and Megan Lovell fortify their storytelling with a blues-heavy sound that hits right in the heart, at turns stormy and sorrowful and wildly exhilarating. Rooted in the potent musicality the Nashville-based duo has brought to such widely lauded work as 2018's Venom & Faith (a GRAMMY® Award nominee for Best Contemporary Blues Album), Blood Harmony affirms Larkin Poe as an essential force in shaping the identity of Southern rock-and-roll, breathing new energy into the genre with both forward-thinking perspective and a decidedly feminine strength.

"We have such fond memories of our upbringing and experiencing the beauty of Southern hospitality in its truest form—it's a very loving and inclusive energy," says Rebecca, Larkin Poe's lead vocalist/lyricist. "There's an idea that we don't walk alone, and that there's safety in keeping your door open to anyone and everyone. What we try to share through our music is the emotional equivalent of opening your door to everyone and inviting them in for sweet tea."

In a departure from the self-contained approach of past albums like 2020's Self Made Man—a critically acclaimed LP praised by American Songwriter as "pumped up for arena-sized consumption without compromising any of its stripped-down command and intensity"—Larkin Poe co-produced Blood Harmony alongside Texas-bred musician Tyler Bryant (also Rebecca's husband). "In the past we've taken a very intentional tact of self-reliance, but this time it felt right to open up the process while still keeping it a family affair," says Rebecca. With Megan handling harmony vocals, lap steel, and resonator guitar and Rebecca on guitar and keys, Larkin Poe also enlisted members of their longtime live band, including drummer Kevin McGowan and bassist Tarka Layman. Mainly recorded at Rebecca and Tyler's home studio, the result is an electrifying body of work that fully harnesses the fiery vitality they've shown in touring across the globe. "We spent a lot of time hashing everything out in pre-production, just the two of us, so that by the time we got to recording we'd already worked out all the details," Megan recalls. "We didn't want to end up stitching a bunch of takes together—we just wanted to get in there and make it as live and raw as possible."

One of the first songs penned for Blood Harmony, "Southern Comfort" instantly set the tone for Larkin Poe's finespun reflection on their heritage. With its soul-stirring harmonies and sharply detailed lyrics ("Blue jeans, leaning on a hot car/Broke every string on my old guitar"), the fiercely stomping track channels both gutsy determination and a homesick longing for days gone by. "That song partly came from thinking about our little aunts in Chattanooga," Rebecca says. "It's about rolling up as rock-and-roll musicians with tattoos on our arms, and they'd just sit us down and get out the pinto beans and collard greens and cornbread." Another meditation on the preciousness of family, Blood Harmony's smoldering title track celebrates a certain unbridled spirit passed down through generations. "'Blood Harmony' came together after Megan and our mom and I all read Ruth Ozeki's A Tale for the Time Being, which is about the ways we perceive the passage of time," says Rebecca. "There was just something about the sweetness of all three of us reading the same book, and then being able to talk about how it related to our love for each other and our love for music." And on "Georgia Off My Mind," the duo deliver a heavy-hearted yet swinging lament for what we leave behind in chasing our dreams. "Like 99 percent of my songs, that song came into being at my kitchen table late in the evening," says Rebecca. "My husband and I stumbled into that line at the chorus—'Tennessee keep Georgia off my mind'—and it turned into a love song for the stretch of I-24 that connects Atlanta and Nashville, which is a drive we've made thousands of times now."

All throughout Blood Harmony, Larkin Poe imbue their songs with equal parts soulful sensitivity and thrilling ferocity—an element on full display in the feverish guitar work of "Bad Spell." "Ever since I heard 'I Put a Spell on You' by Screamin' Jay Hawkins for the first time I've wanted to write a female response to it," says Rebecca. "I'd had the title 'Bad Spell' in my journal for years, and it was so fun to create a song where the riffs and guitar tones have that singular purpose of nastiness and swagger." From the bare-bones frenzy of the album-opening "Deep Stays Down" to the euphoric bounce of "Kick the Blues" to the moody enchantment of "Lips As Cold As Diamond," Blood Harmony reveals a band in complete touch with their formidable intuition. "We've always been tenacious about following our gut, and that's really served us well," says Megan. "With my playing on this record, I trusted my own process and my own voice more than I ever have before, and when I listen back it sounds so much more like me. There's a lot of power in that."

A glorious testament to staying true to your instincts, Blood Harmony ultimately embodies a joyful empowerment that Larkin Poe hope to extend to their globe-spanning fanbase, including the close-knit community who call themselves Kinsiders. "They're people who have maybe never met in the flesh but are still able to connect and commune, and they're all so accepting of one another," says Rebecca. "We always feel that very loving aura at our live shows, and we feel incredibly fortunate for that. It's our highest and best purpose to be that connective tissue for others."