Wednesday,
December
11th
, 2019
John The Martyr
Nikhil P. Yerawadekar & Low Mentality
Doors: 7:00 PM
/
Show: 8:00 PM
21+ Years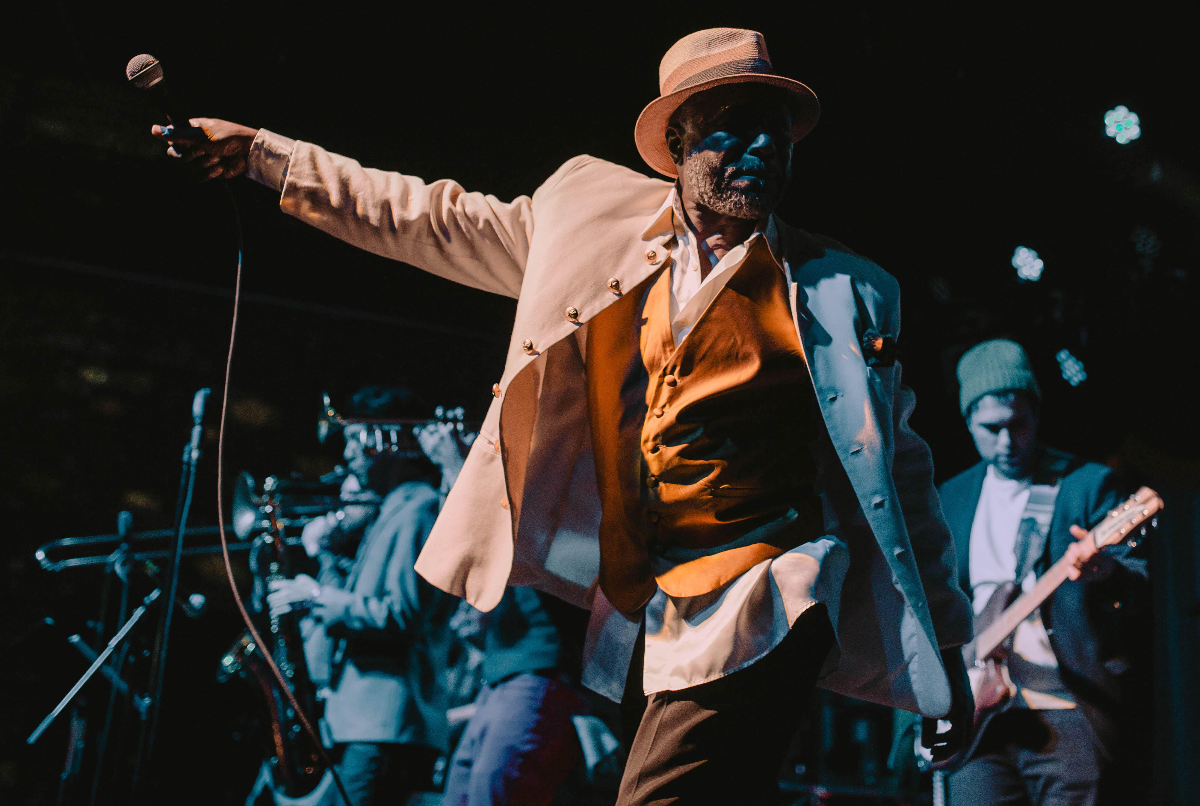 Event Info
Venue Information:
Brooklyn Bowl
61 Wythe Avenue
Brooklyn, NY 11249
Artist Info
John The Martyr
Born at the crossroads of good old-fashioned Harlem soul power and next generation New Orleans sounds, the story of John The Martyr starts when a 26 year old NOLA native heard the doo-wop outfit called Spank performing on the subway.
Getting on the subway one day, a doo-wop outfit called Spank simply enchanted him.
"They blew me away," he recalls. "I grew up listening to artists like The Temptations, The Drifters, and James Brown, so it brought me back home. Everybody was sort of just walking by and going about their day, but I just stood there and watched them. I had to reach out."
Spank met up with Kyle to record demos shortly thereafter. Among the group, it was 70-year-old Harlem son Bill Hudson with whom he connected the most. Instantly, they bonded and continued to work together on creating some new tunes.
"The first thing I said to him was, 'I think you should find a younger guy, number one'," laughs Bill. "I liked what Kyle was putting down though. It had a feeling. It wasn't generic. There was no classifying it."

"I just knew that the bond we had was special," recalls Kyle. "I wanted to listen to his voice more and more. When I was growing up, my dad only let us hear his bread-and-butter favorites from the fifties and sixties. That's what Bill and I bonded over. He's a young guy at heart. There was a lot of patience from him, and his wisdom is so crucial to this band. We're constantly learning from him."

Kyle shared a handful of demos with friend, Dustin DiSalvo, who then decided to move to New York. They booked their first show at Mercury Lounge, inspiring Chris Hines to fly from L.A. to join them, and John The Martyr was formed. The childhood friends then brought together a collective of musicians around Hudson, forming an 11 piece ensemble that started playing around NYC regularly.

"I call it a gumbo," exclaims Bill. "We did a lot of woodshedding to get the songs to this point. You could say they were 'Off the rack,' and we tailored them. It's been a journey and a nice ride."

"Even though we're on opposite ends of the country, it was perfect," adds Chris. "The chemistry was great. There's a community feeling. There's just something in the room. Bill is a professional showman with a magnetic personality. He's 43 years older than me, but you'd never know it."

As the group recorded at Virtue and Vice Studios in Brooklyn with engineers Rocky Gallo and Stephen Davies, they enlisted a cadre of proficient musicians from around the globe to bring these ten tunes to life. As a result, a subtle international flavor courses through the record's DNA courtesy of violinist Kiho Yutaka from Japan, saxophonist Martin Seiler from Germany, bassist Mike DeiCont from Canada, as well as Chris Lucca [trumpet], Dillon Garret [trombone], Darren Denman [keys], Missia Vessio [percussion], Eva Lawitts [bass], Susan Mandel [cello], and Gabe Valle [viola/bass].

"Everybody brings some kind of life experience to this melting pot," continues Bill. "You don't really know what's going to come out."

The first single "Feeling Good" introduces John The Martyr with a one-two punch of Motown heart and New Orleans gusto. "That one lives up to its title," laughs Bill. "It's all about feeling good."

The group's underlying unpredictability bubbles up on the single "Time." Driven by a bluesy riff, boisterous horns, and a swaggering shuffle, the track quickly ramps up into a funky revivalist swing that proves irresistible as Bill croons, "Time don't change."

"Dustin and I used to play 'Time' instrumentally in New Orleans way back in the day," says Kyle. "I'd been writing the lyrics from New Orleans to New York. The song is about time being a precious resource that's always in the back of your mind."
"Kyle and I had been playing this song for years in my attic," recalls Dustin. "It's the funkiest one that we've done, and it was crazy the way Bill connected to it. We're very symbiotic. When Bill got on it, I knew right then and there. It was like all of the stars aligned and made this possible."
"That one kicks ass," smiles Bill. "It's more of a funk thing and speaks to where I'm from. My tone was inflecting James Brown vocally. We've given time a humanistic character." Then, there's "Age." A slow burn of guitar and drums entwine as Bill's inimitable wail takes the lone spotlight over a smoky swell. "It speaks of a mortality that I'm very much aware of, because I've got more years behind me than I've got ahead of me, God bless," Bill elaborates. "Because we don't know how long we've got on this earth, we've got to use it wisely."
Elsewhere on the record, "Cross The Line" taps into a gospel flare, fusing a modern production sensibility with timeless Detroit styles. "History" brings back the spirit of Motown into the modern age with its stark and simple delivery. The elements converge seamlessly as each individual shines. Signed to +1 Records, John The Martyr write the first chapter of their story with this full-length debut— out in 2018. "If listeners know anything about our story, I'd love for them to see how it's possible to bring people together by way of music," Chris leaves off. "It's a basic human thing where we can all find common ground. That's the hope." "I hope you sit back and hear it from top to bottom," concludes Kyle. "It can make you feel good and move. That's what this kind of music is supposed to do."
Nikhil P. Yerawadekar & Low Mentality