Saturday,
November
30th
, 2019
Hypnotic Brass Ensemble: BADBOYSOFJAZZ Album Release Show
DJ Akalepse
Doors: 11:00 PM
/
Show: 11:30 PM
21+ Years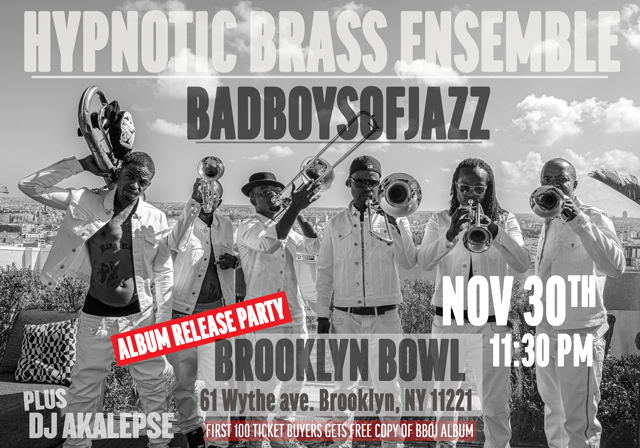 Event Info
Venue Information:
Brooklyn Bowl
61 Wythe Avenue
Brooklyn, NY 11249
The first 100 ticket buyers will receive a free copy of the new BADBOYSOFJAZZ album
Artist Info
DJ Akalepse
To get a sense of who Danny Akalepse is you have to look at his track record. DJing since 1993, he came up as a Battle / Party DJ in Hip Hop?s Golden Era where it truly was your skill set that your reputation was based on. With more than two decades of djing under his belt he has become highly respected in Soul, Funk, and Hip Hop circles the world over. Dividing his time in the early days of his career between radio, battles, DJing for Parrish Smith of EPMD, and collecting records he developed both his ear and rounded out his skill set as a DJ.
Moving from LI to Brooklyn in 2000 Lepse started really pushing his mixtapes, selling more copies than a lot of indy labels sell albums. These mixes landed him a ton of residencies, most notably an 8 year 2 night a week gig at the now legendary APT in NYC. Sharing the bill with the likes of Bobbito, Jazzy Jeff, DJ Premier, and his now partner in crime Rich Medina, Lepse?s fan base went through the roof. When APT closed it?s doors in 2009 Rich & Danny brought their Wednesday night to a new venue renaming the party PROPS, which they have since taken all over the U.S. and Europe. When you hear Lepse DJ it?s a mix of new, unknown, and classic tunes spanning nearly all genres taking the party on a dynamic journey. An avid record collector, he has a library of easily over 20,000 pieces, so playing just typical tunes is out of the question. His ability to ignite dance floors while pushing the listeners has put him on stage with the likes of KRS-ONE, Cypress Hill, Kenny Dope, DJ Spinna, Lord Finesse, J-Rocc, DJ Scratch, and Just Blaze to name a few. DJing on the road all over the states and Europe for the past ten years heavily, he continues to grow his brand and make his mark.

Danny is also the Co-owner and label manager of the world reknown Brooklyn imprint Big Crown Records, home of Lee Fields, Lady Wray, EL Michels Affair, Bacao Rhythm & Steel Band, The Shacks, Paul & The Tall Trees, 79.5, and many more.
Hypnotic Brass Ensemble
2019 sees The Hypnotic Brass celebrating twenty years together not only as a band but a Band of Brothers and they are marking this anniversary with the launch of their sixth studio album "Bad Boys of Jazz", which sees them seamlessly weave Funk, Dub, Hip-Hop and Soul into their own irrepressible take on Jazz. They draw deep from the well of tradition while taking the pulse of the most cutting-edge and street- savvy sounds. They have been at the forefront of the global Jazz revival of the last decade, bringing the music back to its dance floor origins and along the way, legions of new fans hip to the fact that Jazz runs through the DNA of nearly every strand of Afro American music. Jazz has always been an evolving and innovative force in music, renewing itself by borrowing from whatever styles and fresh sounds come its way. The Hypnotics are past masters at this process of assimilation and innovation, blowing fresh sounds on the embers of tradition, keeping the flame lit. They call their brand of music "Now Music".

Music runs deep in The Hypnotic Brass.Ensemble. Raised on the south side of Chicago, the band is made up of seven brothers, the sons of Jazz trumpeter Phil Cohran, who played with the deep spiritual Jazz, Sun Ra Akestra. He trained them all to play their horns from childhood and instilled in them a profound sense of the spiritual roots of the music. Each morning started, with them all emptying their breath, producing a unified meditative drone. This was music very much as a transcendental practice. The cathartic energy of their live shows draws its raw power from this deep reserve, it is an authenticity that can't be faked.

In 1999 they took their music to the subway stations of Chicago and later relocated to New York where they played impromptu concerts in Prospect Park and on street corners, honing their polished sound with the grit and swagger of the Big Apple. Since the 2004 release of their debut album "Flipside" they have become recognised as the world's leading brass ensemble and have toured and recorded with among others Prince, The Gorillaz, Macy Gray, Eryka Badu and Mos Def. The calibre of their collaborators reflects not only the esteem with which they are held but also the scope of their own vision. Their talents stretch way beyond just music making as the brothers are also talented songwriters, producers and entrepreneurs. Undoubtedly, they scored their biggest success to date when their song "War" was featured in the the feature film phenomenon "Hunger Games", their music instantly gaining an audience of hundreds of millions.

Their live shows are the stuff of legend, the audience being the lit fuse that ignites the musical TNT on stage. They wear their virtuosity lightly as they mash up a mosaic of sound that embraces the call and response of Gospel, the grittiest Funk and the most socially conscious Hip-Hop. They are cathartic, joyous experiences, like revival meetings re imagined by the most contemporary of remixers.