Hop Along – Adult Swim Festival Block Party
with Spirit Of The Beehive
Doors: 1:00 PM
/
Show: 2:00 PM
18+ Years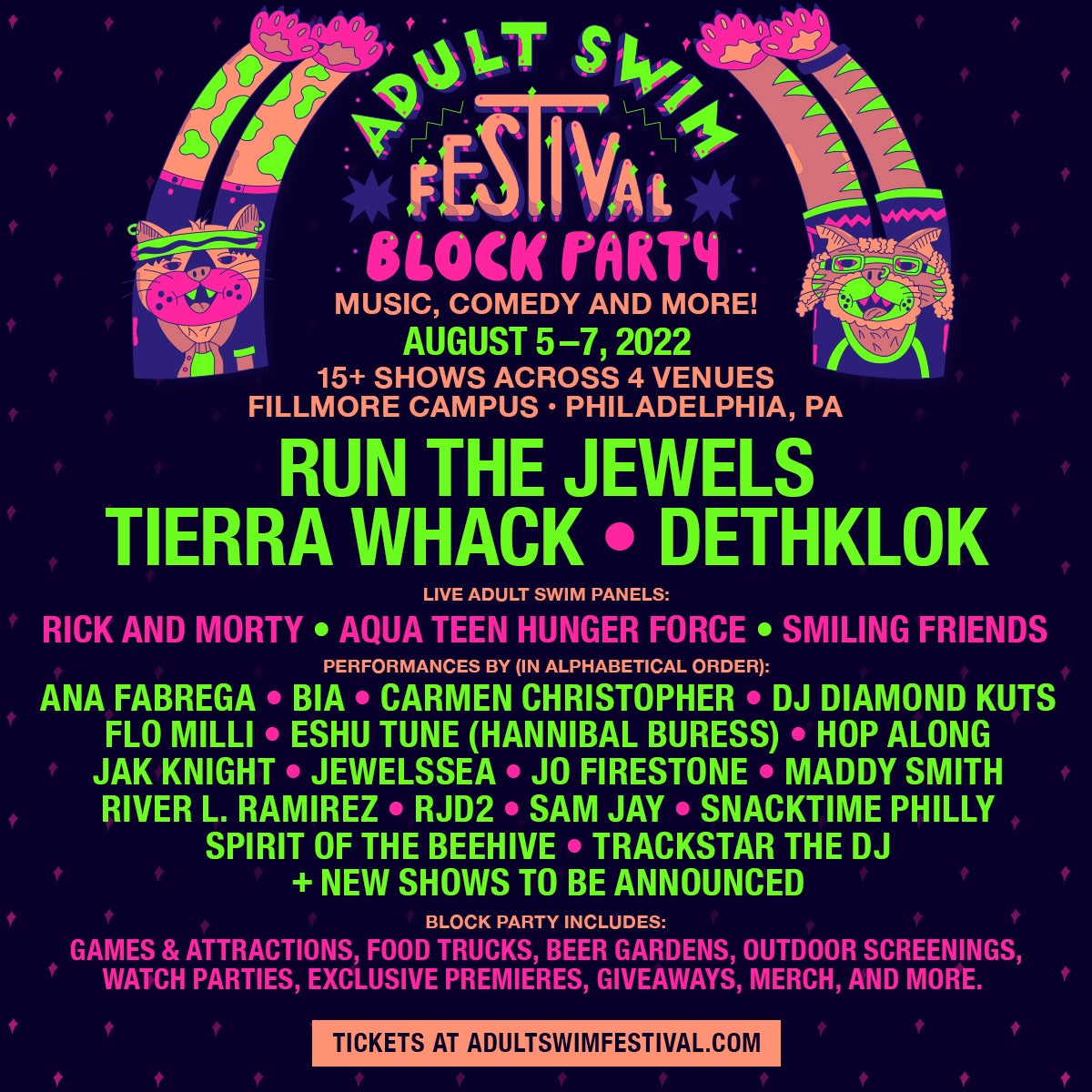 Event Info
Venue Information:
Brooklyn Bowl Philadelphia
1009 Canal Street
Philadelphia, PA 19123
Artist Info
Hop Along
Hop Along is a band from Philadelphia made up of Frances Quinlan (songwriter/vocalist/rhythm guitar), Tyler Long (bass), Joe Reinhart (guitar), and Mark Quinlan (drummer). The band's most recent album, Bark Your Head Off, Dog, was released in 2018 to critical and commercial acclaim. The highly lauded record addressed disappointment, particularly in man's misuse of power, and relates accounts from the periphery—one's attempts to retreat from the lengthening shadows of tyrants, both historical and everyday. Much like on Hop Along's first and second records, Get Disowned and Painted Shut, Quinlan seeks in real time to work through these issues.
Bark Your Head Off, Dog is, without question, Hop Along's most dynamic and textured record yet. Self-produced and recorded at The Headroom in Philadelphia by Reinhart and Kyle Pulley, Bark Your Head Off, Dog features the familiar sounds that have always made the band allergic to genre: grunge, folk, punk, and power pop all appear, with inspiration from ELO to Elvis Costello to '70s girl group vocal arrangements. This time around, they've added strings, more intricate rhythms, lush harmonies (featuring Thin Lips' Chrissy Tashjian), along with a momentary visit with a vocoder. In more than one place, Mark Quinlan drums like he's at a disco with Built to Spill.
Most significantly, Bark Your Head Off, Dog shows the band at its strongest and most cohesive. Hop Along (which originally began as Quinlan's solo project under the moniker Hop Along, Queen Ansleis) has never sounded so deliberate, so balanced.
Spirit Of The Beehive
Ever since SPIRIT OF THE BEEHIVE released their self-titled debut in 2014, they've developed a reputation for being your favorite band's favorite band. Theirs is the music of immersion, of confrontation, the kind that makes a listener stop and wonder, "How are they even doing that?" And as the years wear on, that sense of bafflement has made room for SPIRIT OF THE BEEHIVE to quietly but steadily ascend, with their most recent album, 2018's Hypnic Jerks, leaving them poised on the precipice of wider recognition.
On April 9th, 2021 SPIRIT OF THE BEEHIVE released their fourth album and Saddle Creek debut, ENTERTAINMENT, DEATH. The album signals new chapters for the band on multiple fronts, being the first to feature their new three-piece lineup, as well as the first to be entirely self-recorded and produced. Guitarist/vocalist Zack Schwartz and bassist/vocalist Rivka Ravede are now joined by new member Corey Wichlin, a multi-instrumentalist who relocated from Chicago to the band's home territory of Philadelphia last year. In the spring of 2020, the trio began to write their new album at a distance by emailing files back and forth. "The process of making this album was basically the exact opposite of our experience creating Hypnic Jerks," Schwartz explains. "We had to record that in seven days, because that was the studio time we had, whereas ENTERTAINMENT, DEATH was made over the course of three, four months."
An abundance of time wasn't the only difference. Recording remotely offered the band an incentive to experiment with new possibilities for their sound, resulting in an album that is unlike any SPIRIT OF THE BEEHIVE has released before. Once the band finished recording and mixing the album digitally, they mastered it to tape, lending the collection a textured, dimensional quality. "We knew we wanted to use some new instrumental elements on this album," Wichlin says. "We're not going fully electronic," Schwartz adds, "But guitar, bass, drums just get kind of monotonous."
ENTERTAINMENT, DEATH opens with a sonic squall, an abstract composition that transitions into the brisk highway meditation "ENTERTAINMENT." As a listening experience, the album is a persistent exercise in the bait-and-switch, in what the band describes as a conscious effort to draw the listener deeper into their mystifying manufactured landscape. Take "GIVE UP YOUR LIFE," a sprawling track that drops two semitones from beginning to end, a cheeky mastering decision that would fool anyone trying to play along. "There are some bizarre tunings on this album," Schwartz says while reflecting on the process that wrought the single "IT MIGHT TAKE SOME TIME." "That one started out as a pretty normal rock song, but then we heavily fucked with it to make it feel more discordant." "Now it sounds like drowning," Ravede adds.
Though ENTERTAINMENT, DEATH doesn't cohere in a single, unifying theme, the band samples old obscure commercials throughout, many of which guided the process of writing a song instead of serving as an appendage. Schwartz describes his songwriting process as a stream-of-consciousness, while Ravede asserts that she doesn't typically write vocal parts with any specific intention in mind. "When I write, the narrative usually doesn't present itself until after the song is done. And even then, it depends on how the listener interprets the words," she reflects. Regardless of how dreamlike SPIRIT OF THE BEEHIVE's lyrics can be, reality rears its head throughout ENTERTAINMENT, DEATH. "THE SERVER IS IMMERSED" is perhaps the poppiest song on the album, but it borrows inspiration from Schwartz's day job working in the food service industry. Lyrically, it tracks the monotony of the day-to-day, inducing hypnosis until all three band members begin to sing, snapping the listener out of the spell.
If there's a song on ENTERTAINMENT, DEATH that best encapsulates what SPIRIT OF THE BEEHIVE is all about, it's "THERE'S NOTHING YOU CAN'T DO," a track that illuminates the growth that this band has undergone since their foundation to now. The song wrestles between the sublime and the monstrous as Ravede's feather-light vocals are overtaken by Schwartz's strained howl, underscored by shattering live drums that recall the band's scrappy origins. "This song draws on some of the sonic aesthetic of SPIRIT OF THE BEEHIVE's old records and aligns those sounds with the electronic instrumentation we've been exploring," Wichlin says. ENTERTAINMENT, DEATH isn't a metamorphosis, it's simply the newest iteration of a longstanding project. "There's a line in the Bee Gees documentary that I think applies to us. I'll paraphrase: 'We may not have always connected, but we always stuck around,'" Ravede says. Schwartz jumps in, "SPIRIT OF THE BEEHIVE: we're still here."