Saturday,
January
21st
, 2023
Heavens Edge
Frankenstein 3000
Doors: 7:00 PM
/
Show: 8:00 PM
All Ages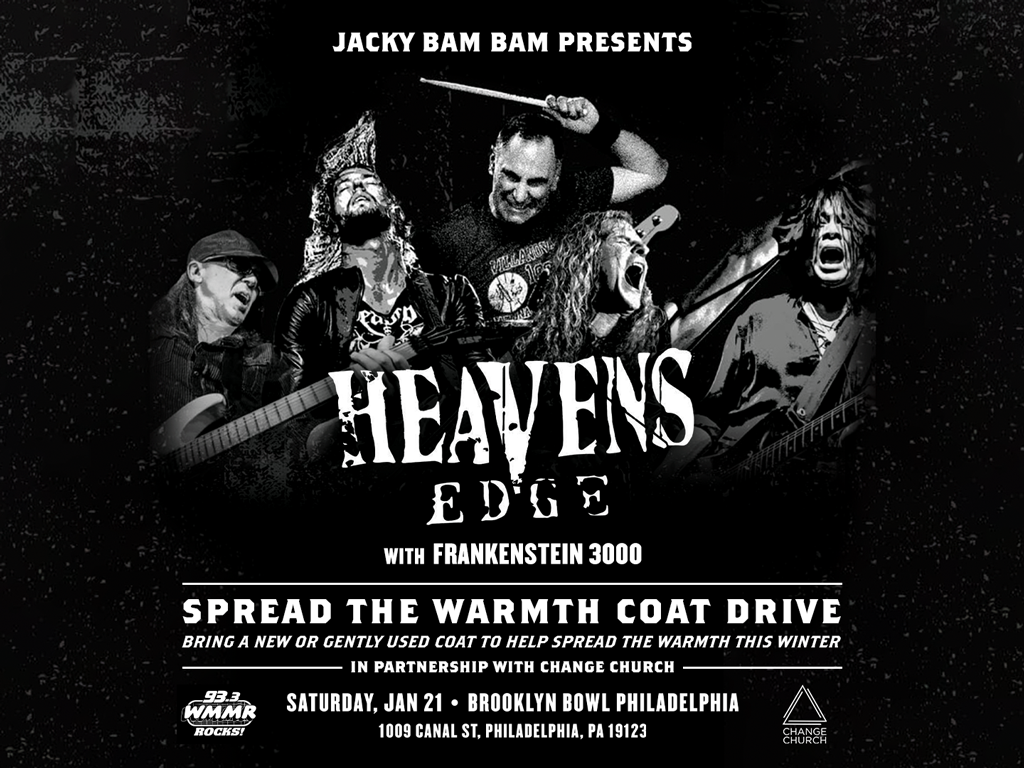 Event Info
Venue Information:
Brooklyn Bowl Philadelphia
1009 Canal Street
Philadelphia, Pennsylvania 19123
Based on the latest local guidelines, attendees are no longer required to provide proof of negative COVID-19 test AND/OR vaccination for entry into Brooklyn Bowl. Policies are subject to change for individual performances, please refer to individual event pages for specific entry requirements.

An inherent risk of exposure to COVID-19 exists in any public place where people are present. COVID-19 is an extremely contagious disease that can lead to severe illness and death. According to the local health authorities, senior citizens and guests with underlying medical conditions are especially vulnerable. By visiting our establishment, you voluntarily assume all risks related to the exposure to or spreading of COVID-19.
Valid photo ID required at door for entry.
This event is general admission standing room only.
Artist Info
Heavens Edge
Heavens Edge is a hard rock band formed in Philadelphia, PA in 1987 with original band members Reggie Wu (guitars, keyboards), Mark Evans (vocals), David Rath (drums), Steven Parry (guitars) and George G.G. Guidott (bass).

The band immediately began performing the local club circuit in Philadelphia and the surrounding area, gigging at well-known venues in the rock and metal scene such as The Empire Rock Club, The Galaxy, and The Trocadero. Other cities in the region soon recognized the band with Baltimore's Hammerjacks and Washington D.C.'s 9:30 Club being regular performance stops for the group. The band began smashing attendance records and gaining the attention of local press and radio. European press started to take note with Metal Forces Magazine publishing features on the band's building notoriety. Burn Magazine in Japan gave Heavens Edge significant coverage as well.  

As Heavens Edge grew, they landed a local funding deal to record demos of their most popular songs. With this new demo tape of five songs, Heavens Edge was able to get significant specialty show airplay in multiple markets. The respected Industry Trade Newsletter The Hard Report included Heavens Edge in their chart report which instantly catapulted the band to the top of the unsigned artist A&R target list.

The Philadelphia/New Jersey region had already produced mega-acts such as Bon Jovi, Cinderella, Skid Row and Britny Fox. The 80's metal scene was in full swing, and labels were on the hunt for exactly what Heavens Edge was delivering. In a flurry of label activity from all the major players in the rock world, Heavens Edge secured a recording agreement with Columbia Records.

Unfortunately, soon after the band was signed, a crazed gunman entered a club the band was playing and randomly opened fire, striking bass player George G.G. Guidotti. G.G. was hospitalized and required months of rehabilitation to get back into playing shape. He survived and received the financial support of the entire Philadelphia music community with donations and benefit performances in his honor to cover the extensive medical bills. All of this delayed the commencement of the album recording for a few months.

Heavens Edge eventually entered the studio in the fall of 1989 and recorded their debut self-titled album with producer Neil Kernon (Dokken, Queensrÿche, Judas Priest). The songs "Skin To Skin," "Find Another Way" and "Play Dirty" were all included. In keeping with their exciting live show reputation, a live recording of the song "Is That All You Want" was added to the album. This track was originally recorded during a live radio broadcast on the Philadelphia powerhouse FM rock station WMMR. With album artwork and a music video for the first single "Skin To Skin" ready to go, Columbia Records released the album in the spring of 1990. The reviews were immediately favorable, and tour offers came in. The band hit the road with dates in the band's most supportive cities of Los Angeles, Boston, Baltimore, and many others. Heavens Edge was added to the Ronnie James Dio/Yngwie Malmsteen tour, culminating with a seminal performance at The Spectrum in Philadelphia.        

As the 80's wound down, and the burgeoning grunge era of the 1990's gained momentum, label personnel at Columbia began to turn over with it. Columbia Records' focus shifted away from the glitzy hard rock of the 1980's and turned squarely to the flannel-clad brooding bands that followed. Commitment to the rock bands on the roster quicky ceased. Warrant, Britny Fox and Heavens Edge were soon shown the door to make room for Alice In Chains and Toad The Wet Sprocket.

The next few years for Heavens Edge saw significant changes. A label move from Columbia Records to Capitol Records and a guitarist change from Steve Parry to Jimmy Marciano lead to uncertainty within the group. Live audiences still supported the band, but the industry at large seemed ready to move on from the entire culture that preceded the new era of baby-boomer-influenced dark rock music. After some time seeking their place in a shrinking market, the band called it quits in 1993.    

Each of the band members pursued various music ventures. Reggie, George and David teamed up with vocalist Shawn Carmen and formed the band American Pie. Jimmy Marciano joined Dean Davidson's (Britny Fox) new band Black Eyed Suzan. Steven linked up with Tangier vocalist Bill Madsen to form Madsen/Parry. Mark played several solo acoustic shows in European markets and midwestern US cities. None of these ventures achieved the same level of success as Heavens Edge.

Though not formally together, the band inked a deal in 1998 with European label MTM and US label Perris Records and released demos and other rarities considered the band's second album Some Other Place, Some Other Time. This album includes previously unreleased self-titled album B-sides "Rock Steady Rock" and "Just Another Fire" along with songs "Jacky" and "Some Other Place" recorded as demos for Capital Records.

The next twenty years of Heavens Edge activity was not much more than the occasional benefit performance or appearance by an individual band member at various events. This was all until 2013's official reunion show with the original line up at Firefest in Nottingham, UK. The event proved so successful that the guys continued the live show momentum with performances on The Monsters Of Rock Cruise, the Melodic Rock Festival in Chicago and main-stage sets at M3 in Baltimore. They soon returned to their home market with sold-out headline shows at the legendary TLA, Trocadero and World Café Live.

Tragedy struck again with the diagnosis of lung cancer for G.G. in 2019. He sadly passed away in August of that same year. The band assumed they would never play as Heavens Edge again.

It wasn't until bassist Jaron Gulino (Tantric, Mach 22) and Mark Evans became acquainted that the idea of continuing as Heavens Edge became a reality. Jaron rehearsed with the group and immediately locked in with the band. A live performance with the band on The Monsters Of Rock Cruise soon followed and Heavens Edge now officially had a new member in Jaron Gulino.    

Now that the band was in-tact and the audiences were turning up, it was again time for the band to draw attention of record companies. In 2022 Heavens Edge signed a new global recording deal and will release their first studio album in twenty-five years in 2023, details forthcoming.
Frankenstein 3000