Saturday,
December
17th
, 2022
The Neighborhood & Rock and Roll Playhouse Present
Hanukkah for Kids ft. The Macaroons
Children under 1 are free
Doors: 11:00 AM
/
Show: 12:00 PM
All Ages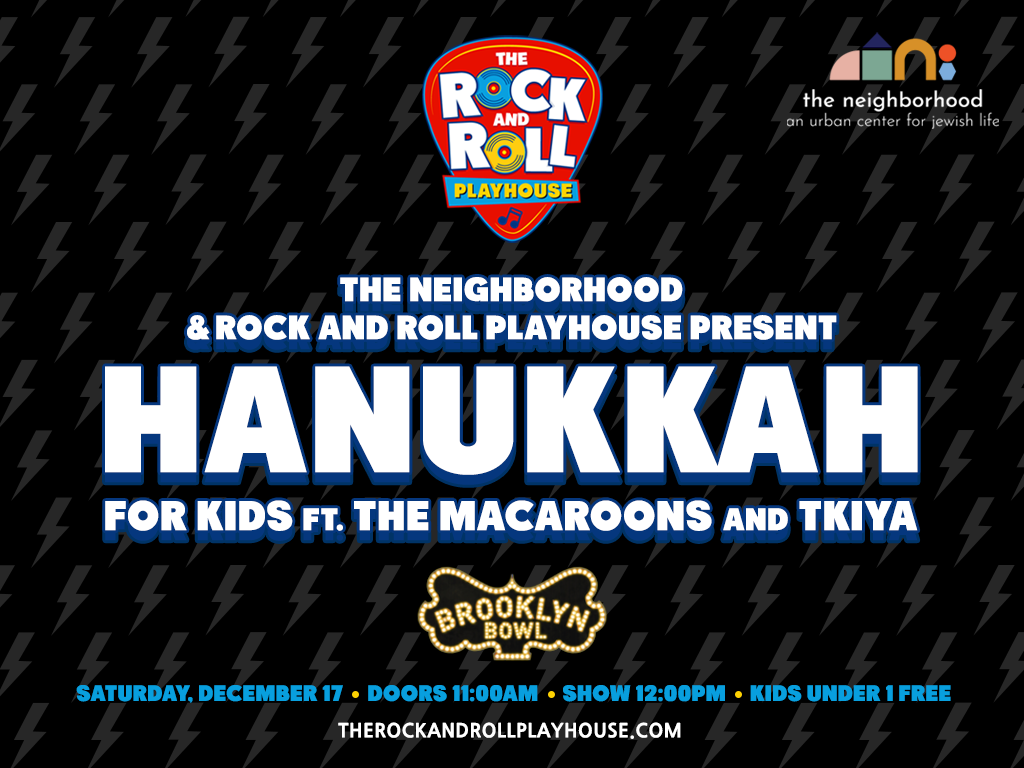 Event Info
Venue Information:
Brooklyn Bowl
61 Wythe Avenue
Brooklyn, NY 11249
Join The Neighborhood: An Urban Center for Jewish Life, The Rock and Roll Playhouse, and Tkiya for a rocking, family-friendly musical celebration of Hanukkah, the Jewish festival of light. Carla Friend of Tkiya will lead songs and an interactive Jewish learning and The Macaroons will bring the catchy pop-rock with tunes like "Hurry Up And Light The Candle" and "Dreidel Bird." Super-fun music for young ones that parents will love too.

Carla Friend is the Founder & Executive Director of Tkiya, an nonprofit organization that uses participatory music experiences to help thousands of families find their unique connection with Jewish culture and community through Carla's educational approach. She holds a Master's Degree in Music Education from NYU, a Bachelor's Degree in Music Education from Ithaca College, and has extensive experience on both the teaching and engagement ends of the field. Check out her brand new album of family-friendly Jewish music called Challalalah and stay tuned for her JKids Radio show launching in 2023 called Tkiya Town!

By purchasing an advance ticket to this show, you are automatically opted into RRPH's email list. You may unsubscribe or opt-out after you receive the first message
Based on the latest local guidelines, attendees are no longer required to provide proof of vaccination for entry into this event. Be sure to check your venue website for the latest updates and guidelines as entry requirements are subject to change.
An inherent risk of exposure to COVID-19 exists in any public place where people are present. COVID-19 is an extremely contagious disease that can lead to severe illness and death. According to the local health authorities, senior citizens and guests with underlying medical conditions are especially vulnerable. By visiting our establishment, you voluntarily assume all risks related to the exposure to or spreading of COVID-19.
Artist Info
The Macaroons
The Macaroons
are known for addressing Judaism's most important questions (What's inside a mezuzah? What should you do if you drop your matzoh ball on the ground?) in the form of guitar driven irresistibly melodic songs for the whole family. A spin-off of the critically acclaimed band, The LeeVees, the Macaroons love big harmonies, irresistible melodies and a guitar-based sound that recalls everything from the Kinks to Queen to the Shins.
The Rock and Roll Playhouse
The Rock and Roll Playhouse, a family concert series hosted at historic music venues across the country, allows kids to "move, play and sing while listening to works from the classic-rock canon" (NY Times). Performing songs created by the most iconic musicians in rock history, The Rock and Roll Playhouse band offers its core audience of families with children age ten and under games, movement, stories and an opportunity to rock out in an effort to educate children and explore their creativity. The Rock and Roll Playhouse is an early and often first introduction to a child's lifelong journey with live music and rock and roll. See you at the show!
This concert for kids and families shares the music of the artist named above with a new generation of music lovers, but is not associated with or endorsed by the artist. All children must be accompanied by a parent or adult caregiver.
The Rock and Roll Playhouse knows that little ears are sensitive, so we turn down the volume at our shows. However, all kids experience music differently and you may find that your child is more comfortable wearing hearing protection earmuffs, such as Baby Banz, which are available for purchase
here
.
By attending this event, I consent to my image (with or without my voice) being included in photographs and/or film and videotape of the event, and give Brooklyn Bowl, The Rock and Roll Playhouse and their respective licensees and assigns the absolute and irrevocable right and permission to use and publish such content in any and all media, whether now known or hereafter developed.
Tkiya