Sunday,
November
17th
, 2019
Half Step (Grateful Dead Tribute)
Bowling special from 6pm-close
Doors: 6:00 PM
/
Show: 8:00 PM
21+ Years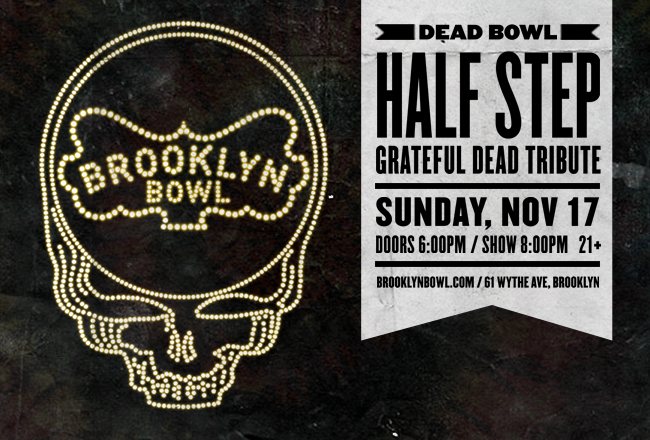 Event Info
Venue Information:
Brooklyn Bowl
61 Wythe Avenue
Brooklyn, NY 11249
Mention "bowling special" for half-off your lane starting at 6PM!

For all tickets purchased prior to October 1 on TicketFly, those tickets are still valid and able to be scanned at the door upon entry. Just pull up your ticket on your phone or bring your print-out. Starting October 1 all Brooklyn Bowl tickets will be available on TicketWeb.
Artist Info
Half Step (Grateful Dead Tribute)
Half Step is a group of dedicated fans & students of the Grateful Dead, capturing the spirit, improvisation, sound & complexity of Grateful Dead music.
Established in 2004 on Long Island, Half Step has been mastering their craft while winning over crowds of veteran Deadheads, newcomers and non-Dead fans alike.
What makes Half Step stand out from the rest?
Just like the Grateful Dead themselves, the band is constantly pushing the envelope, growing together as musicians and performers. Only true fans that have experienced and studied the music with an extreme level of dedication and passion can accurately represent the superb body of work that the Grateful Dead have to offer.
When seeing Half Step live, one can clearly see the attention to detail that the band has in putting on a viable Grateful Dead experience. They stay true to the traditional show format and play sets of tunes in a sequence that could likely have been performed by the Dead themselves years ago. The members of Half Step also use similar instruments, amplifiers and effects to further authenticate the Grateful Dead sound.
In the band's long history, they have undergone and overcome numerous incarnations. With each new member they come closer to refining their approach while consistently raising their standards. Half Step's current line up is by far the most seasoned and prepared to bring their show to the next level.
As musicians, Half Step has what it takes to present the Dead's music to even the most critical of fans. Anyone who has experienced the Grateful Dead in one way or another have formed a unique impression of their music. Half Step has the rare privilege to be in the position to share their collective impression with you.
— The long strange trip continues...