Saturday,
November
9th
, 2019
Relix Presents
Grateful Shred
Ryan Scott, DJ Zeph
Doors: 6:00 PM
/
Show: 8:00 PM
21+ Years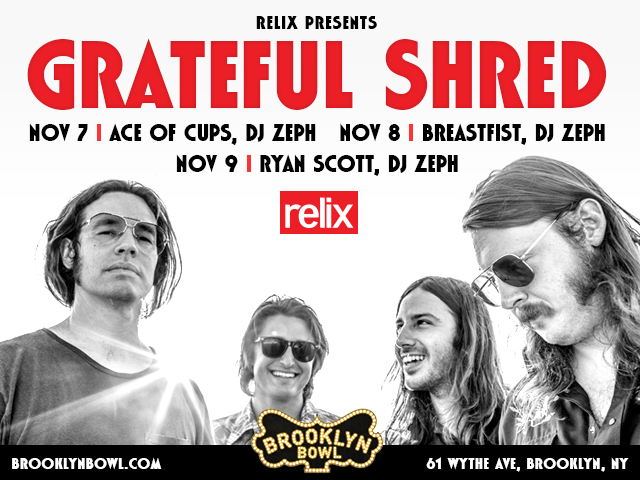 Event Info
Venue Information:
Brooklyn Bowl
61 Wythe Avenue
Brooklyn, NY 11249
By purchasing an advance ticket to this show, you are automatically opted into Relix Media Group's email list. You may unsubscribe or opt-out after you receive the first message.
Any customers having trouble purchasing tickets to this show with a non-US credit card, please reach out to
[email protected]
for assistance. We look forward to having you at Brooklyn Bowl!
For all tickets purchased prior to October 1 on TicketFly, those tickets are still valid and able to be scanned at the door upon entry. Just pull up your ticket on your phone or bring your print-out. Starting October 1 all Brooklyn Bowl tickets will be available on TicketWeb.
Tickets for 11/7:
Click Here!
Tickets for 11/8:
Click Here!
3 Night Pass:
Click Here!
Artist Info
Grateful Shred
Wait. I know what you're thinking. Another fucking Grateful Dead cover band? Really?

The thing is, Los Angeles-based Grateful Shredmanage to channel that elusive Dead vibe: wide-open guitar tones, effortless three-part vocal harmonies, choogling beats, and yes, plenty of tripped out, Shredded solos. The look, the sound, the atmosphere. It's uncanny."

It's more of a 'take' on the Dead than a tribute band," says bassist Dan Horne. "We end up sounding almost more like the Dead because we approach it in this free-spirited way; in other bands, they've got the perfect tones dialed in, they practice the drum parts, they've got their 'Jerry.' We just play."

Founded one night in 2016, the band came about almost by accident. Singer/guitarist Austin McCutchen had a residency at The Griffin in Atwater Village; his band was out of town, so he drafted some friends to play a set of Dead covers, and the four founding members (Austin, Sam, Clay, and Dan) have been together ever since. Sam Blasucci and Clay Finch (of country-folk revivalists Mapache) handle vocal and guitar duties, rounded out by bassist Dan Horne (of Cass McCombs, Jonathan Wilson, and the estimable Circles Around The Sun, who provided the incidental music for 2015's "Fare Thee Well" concerts, the last shows played bythe living members of the Dead). Add a rotating cast of drummers (like Richard Gowen of The Growlers) and keyboardists(like Lee Pardini of Dawes and Jerry Borgé of Ziggy Marley), and you've got the essential formula.

Jams convene at Liberty Hair Farmin Echo Park, the Shred's HQ/commune/studio. It's at the Farm where they live, breathe, and record. Just watch the hallucinatory footage of the band tearing through "St. Stephen" (filmed live in their backyard) or "Shakedown Street" (those harmonies!). Grateful Shredis the sound of 5+ guys who aren't afraid to learn from the masters, but who know to explore beyond the pale, searching for the sound. "Never the play the same thing once," as Phil Lesh says.Far from being a historical re-enactment, GratefulShred's laissez faire vibe infuses the band with a gentle spirit, warmth, and (dare we say it) authenticity. From their killer merch game (look for a new line with Dead revisionists Online Ceramics) to their eminently watchable YouTube channel, they're clearly having a rad time and spreading the love. Strangely enough, in a world overflowing with wax museum nostalgia and Deadly sentimentalism, we need the Shred, now more than ever.
DJ Zeph
Ryan Scott
Ryan Scott is a New York-based musician, and most notably, a guitar man. He's been described as a genius, axe murderer, and shredder extraordinaire. Ryan embodies rock 'n roll and soul in its purest form, influenced by the blues-rock guitar lineage, New York's Jazz tradition, New Orleans R&B, Brazilian psychedelia, and much more. His mastery of technique, groove, and aesthetic are undeniable. With a technical expertise way beyond his years, he delivers freshly crafted tunes and wildly energetic live performances. After a performance at the 2017 Ground Up music festival, David Crosby tweeted, "Saw one of the most crazy good ROCKING guitar player singers ever last night. I think his name is Ryan Scott." Ryan Scott is his name and Crosby isn't exaggerating.
Ryan has been playing music professionally for over two decades and he's only 36. He began playing at 10, his first bar gig at 12. As a teen he was mentored in jazz by master bebop guitarist Bruce Forman, travelled overseas with jazz ensembles and won a blues guitar competition at 14. In 2001, Ryan moved to NYC diving immediately into the city's jazz scene. At 18, he was one of the youngest musicians around sharing the stage with the likes of Chris Cheek, Joel Frahm, John Ellis, Chris Thile, Marianne Faithful. Over the course of the following decade he did various session work(Aoife O'Donovan), writing and production for TV shows (Louie, Nat Geo, TBS), TV ads(Google, Budweiser, GMC) club gigs and side man affairs. Though Jazz was Ryan's concentration, it's the Blues, Hip Hop and Rock 'n Roll that solidify his spirit captured in his most current projects.
In January 2019 Ryan digitally released his first album in 10 years, A Freak Grows in Brooklyn, recorded on cassette in his Brooklyn studio and home. An endeavor entirely of his own, he is credited as writer, engineer and sole musician on the album (vocals, guitars, bass, drums, and keys). With this completely grass-roots release, his songs are being played on radio stations around the world and by nothing more than word of mouth, he has accumulated listeners and fans in 56 countries and growing. He is ready to take it on the road.
This August marks the end of a three year weekly residency at Rockwood Music Hall where Ryan had the opportunity to perfect his solo electric performance. He continues a monthly residency with a full band at Brooklyn's beloved Sunny's Bar.