Grateful Shred Industries, Relix and PHILM Present
Grateful Shred
Jeffrey Lewis
Doors: 6:00 PM
/
Show: 8:00 PM
21+ Years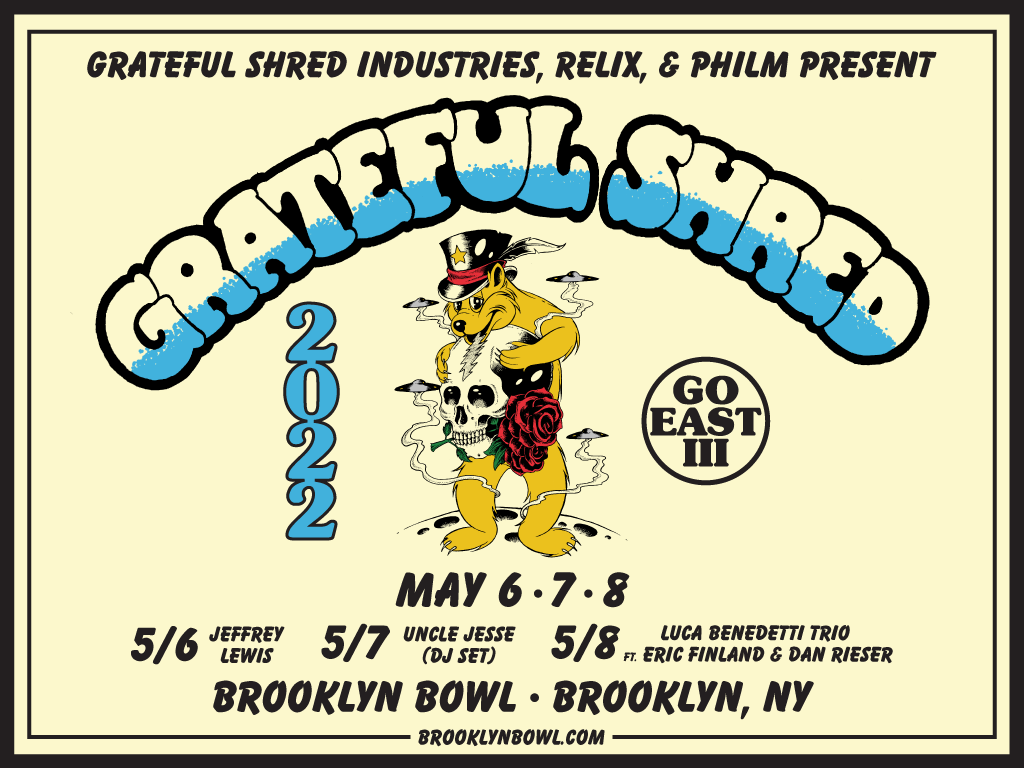 Event Info
Venue Information:
Brooklyn Bowl
61 Wythe Avenue
Brooklyn, NY 11249
By purchasing an advance ticket to this show, you are automatically opted into Relix' email list. You may unsubscribe or opt-out after you receive the first message
Based on the latest local guidelines, attendees are no longer required to provide proof of vaccination for entry into this event. Be sure to check your venue website for the latest updates and guidelines as entry requirements are subject to change.
An inherent risk of exposure to COVID-19 exists in any public place where people are present. COVID-19 is an extremely contagious disease that can lead to severe illness and death. According to the local health authorities, senior citizens and guests with underlying medical conditions are especially vulnerable. By visiting our establishment, you voluntarily assume all risks related to the exposure to or spreading of COVID-19.
Artist Info
Grateful Shred
After a meteoric rise from obscurity to a national touring band, Grateful Shred has made the most of its time in the spotlight. The initial lineup alongside Shred core two Austin McCutchen and Dan Horne, woke the Grateful Dead cosmos with a unique laid-back harmony driven sound. The band literally went from playing the Shakedown Street vendor area prior to Dead and Company shows to touring the United States.

The moment that sent the band's popularity soaring is the "Busted at the Bowl" video, a YouTube video with nearly 500K views; the video features Shred members starting an impromptu set in the parking lot of the Hollywood Bowl before a Dead and Company show in 2017. They don't get too far before drawing so much attention that the police shut them down. Instant "Shred-Cred."

The thing is, Los Angeles-based Grateful Shred manage to channel that elusive Dead vibe: wide-open guitar tones, effortless three and four-part vocal harmonies, choogling beats, and yes, plenty of tripped out, Shredded solos. The look, the sound, the atmosphere. It's uncanny. "It's more of a 'take' on the Dead than a tribute band," says bassist Horne. "We end up sounding almost more like the Dead because we approach it in this free-spirited way."

Founded one night in 2016, the band came about almost by accident. Singer/guitarist McCutchen had a residency at The Griffin in Atwater Village; his band was out of town, so he drafted some friends to play a set of Dead covers, and the band, in one form or another, have been together ever since.

This past pandemic year, McCutchen and Horne decided to shake things up. Their biggest move was adding a second drummer to the lineup; Alex Koford (Phil and Friends, Terrapin Family Band) joined long time Shred collaborator Austin Beade on drums as the band doubled down on its rhythm section. Koford's vocals were a huge benefit to the band and by the end of 2021 performances, his contributions were prominent throughout the nightly setlists.

Another huge part of the 2021 lineup was keyboardist Adam MacDougall. MacDougall, a member of Circles Around the Sun with Horne, brings instant credibility along with his spacy keyboard grooves and adds yet another vocalist to the mix.

Far from being a historical re-enactment, Grateful Shred's laissez faire vibe infuses the band with a gentle spirit, warmth, and (dare we say it) authenticity. From their killer merch game to their eminently watchable YouTube channel, they're clearly having a rad time and spreading the love. Strangely enough, in a world overflowing with wax museum nostalgia and Deadly sentimentalism, we need the Shred, now more than ever.
Jeffrey Lewis
Indie-rock songwriter and comix artist Jeffrey Lewis began recording homemade cassettes in New York City in 1998; his critically acclaimed, unusual and word-dense songs lead to Jeffrey signing to Rough Trade Records in 2001. Many albums and comic books later, Jeffrey still lives in NYC and has played hundreds of gigs all over the world, both solo and with bandmates, habitually assembling different set lists for each night to weave in old songs, new songs, artwork, stories and surprises. His most recent official album is "Jeffrey Lewis & The Voltage: Bad Wiring" released on Don Giovanni Records (USA) and Moshi Moshi Records (internationally) in November 2019 (garnering rave reviews), but Jeffrey has also digitally self-released three DIY albums from his apartment since the pandemic started. Jeffrey continues to wring folksy spiel and garage bohemianism from his ramshackle guitar, whether with his band or solo, while sometimes incorporating his often politically subversive visual artwork and cartoons into live appearances. Some of these audio/visual projects have been hosted on History.com, such as "The Story of Sitting Bull," a Jeffrey Lewis illustrated songwhich won a Webby Award in 2011 for "Best Writing on the Internet."