Gengis Don & The Empire + Niambi Ra + Jules and The Jinks
bowling special 6pm-close
Doors: 6:00 PM
/
Show: 8:00 PM
21+ Years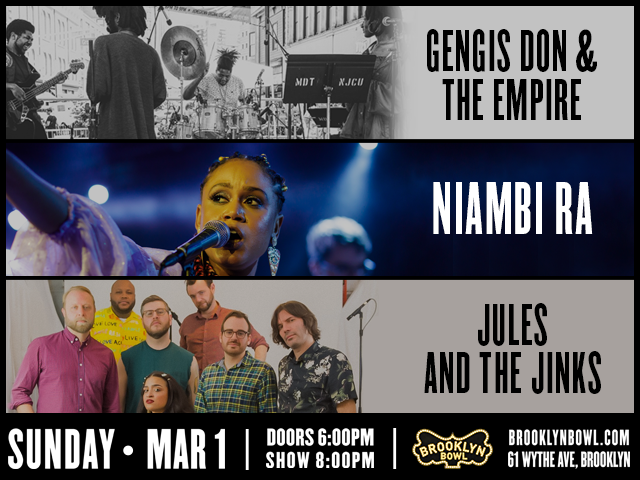 Event Info
Venue Information:
Brooklyn Bowl
61 Wythe Avenue
Brooklyn, NY 11249
Mention "bowling special" for half-off your lane starting at 6PM!
Artist Info
Niambi Ra
Niambi Ra is an NYC based singer, songwriter and MC. Niambi Ra and band, The Blackstarz, masterfully move between genres as they deliver a uniquely distinctive musical experience. Influenced by musical pioneers such as Missy Elliott, Chaka Khan and A Tribe Called Quest, Niambi Ra fuses elements of classic Hip-hop, Funk, and Soul music. With her debut album set to to release next year, Niambi intends to inspire individuals to speak their truth and tell their stories by evoking love, strength, and unity in the spirits of audiences around the world.
Jules and the Jinks
Jules and The Jinks
is the brain child of first-generation native New Yorkers Julissa Lopez and Erik Rosenberg. Shortly after meeting at a group vocal class between a church and a strip club in Times Square, the two began getting together regularly at Erik's Brooklyn apartment to write music. Despite their different backgrounds (Dominican from the Bronx and Jewish from the Upper West Side) the two formed a prolific partnership and have collaborated on over thirty songs to date. Songs needing to be sung, Jules and Erik raised a band with a sound that weaves Blues, Funk, and Pop with Soul. AFROPUNK described their 2015 debut EP as "effortlessly chill" and declared the record's lead single, No Compromise, "a song that deserves to be blaring from car speakers while driving through borough blocks." A new album is currently in the works with a release date of late 2019.
Jules and The Jinks' work in the studio is complimented by a killer live show powered by Julissa's earthshaking voice and mesmerizing stage presence. The group won AFROPUNK's 2018 Battle of The Bands at The Knitting Factory in Brooklyn and went on to play the main stage of AFROPUNK Brooklyn Festival in August.