Saturday,
September
24th
, 2022
Flamingosis + Blockhead
Ehiorobo
Doors: 8:00 PM
/
Show: 9:00 PM
21+ Years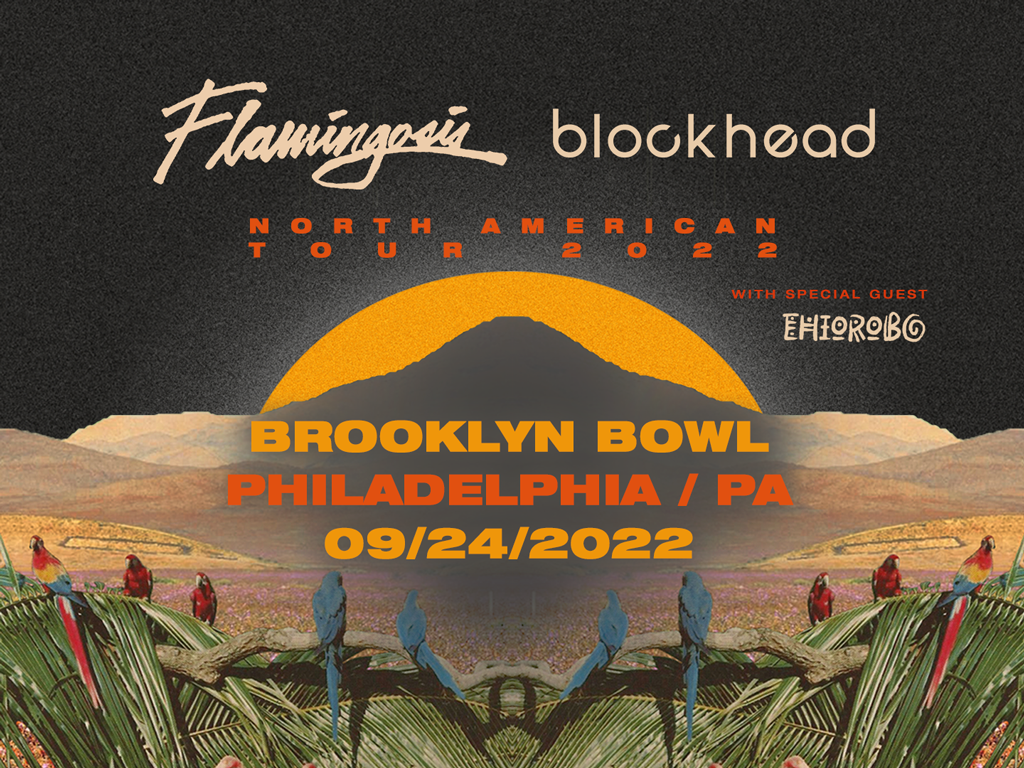 Event Info
Venue Information:
Brooklyn Bowl Philadelphia
1009 Canal Street
Philadelphia, Pennsylvania 19123
PURCHASE VIP LANE RESERVATIONS HERE
Based on the latest local guidelines, attendees are no longer required to provide proof of negative COVID-19 test AND/OR vaccination for entry into Brooklyn Bowl. Policies are subject to change for individual performances, please refer to individual event pages for specific entry requirements.

An inherent risk of exposure to COVID-19 exists in any public place where people are present. COVID-19 is an extremely contagious disease that can lead to severe illness and death. According to the local health authorities, senior citizens and guests with underlying medical conditions are especially vulnerable. By visiting our establishment, you voluntarily assume all risks related to the exposure to or spreading of COVID-19.
Valid photo ID required at door for entry.
This event is general admission standing room only.
Artist Info
Flamingosis
Flamingosis (the name comes from a free-style Frisbee move that his father invented) is a New Jersey-based electronic music producer and beatboxer. Drawing on influences from other producers such as Flying Lotus and J Dilla as well as vintage funk and disco music, Flamingosis creates engaging and soulful tracks and puts on an infectiously energetic live show.
Blockhead
Tony Simon, a/k/a Blockhead, has been making and releasing utterly distinctive, funky and emotive music for the last two decades. Blockhead grew up in downtown New York City. As the son of an artist, surrounded by visual culture, he early on found that his passion was for music, for the sonic. A fan of a whole range of sounds, especially hip-hop, Blockhead steadily built a tremendous collection of tapes and later CDs from innumerable artists, a quiet accumulation of knowledge and know-how. After a brief stint as a rapper, he realized his calling was behind the boards and not on the mic – and from there he began to produce beats. Since making that decision, he's kept pretty busy: carving a niche as a sought-after underground beatmaker that people call when they want something special. Blockhead has produced tracks for notable emcees like Aesop Rock, Atmosphere, Murs, Cage, Mike Ladd, Illogic, and many others. He has also released numerous albums on labels like Ninja Tune, Rhymesayers, Future Archive, Young Heavy Souls, and more. Among these include the now classic instrumental albums 'The Music Scene' and 'Music by Cavelight'.
Ehiorobo
Ehiorobo's chameleonic, expansive sound traverses the space between pop, experimental r&b/soul, rap/hip-hop, electronic, afro-jazz, alternative rock, and more. Equal parts soulful, poignant and zany, his output is as multifaceted as his unique personality and upbringing. Though often mistaken for a 'futuristic producer moniker', Ehiorobo (commonly shortened as Ehi), is derived from Ehiorobo Carlos Igiehon, a born-name that reflects his Nigerian and Dominican heritages. Growing up admittedly dissimilar to the caricatured portraits of black male(s) that were often present in Western popular media, Ehi made a conscious choice to embrace his eccentricities and immersed himself in the world of internet culture and video games, making a sizable impact in a short amount of time collaborating with artists such as Flamingosis, Omniboi, MEMBA, and more while releasing an intimate collection of songs on his debut LP, Limeade. Ehiorobo's unconventional art and effervescent spirit is indicative of his desire to leap outside of any comfort zones and continue moving forward.
In 2021, Ehiorobo made a triumphant return with three new standalone singles, and an ambitious sophomore LP titled, 'Joltjacket'. Notably dubbed Bandcamp's 'Album of the Day' shortly after the LP's release, journalist Ann-Derrick Gaillot's review states, "Ehiorobo's twist on R&B is sweetly disarming (…) using sounds from countless musical influences, from dissonant noise punk to honeyed soul and pop, each track offers an exuberant reflection on the emotional and sensory overloads experienced in life."
With the intent to "make others feel at home within themselves", Ehiorobo's new material emanates a vital source of energy, solace and adventure that serves as a reminder to us all — we can be more than one thing at once.