POSTPONED
Eminence Ensemble + Snack Cat + Aberdeen
Doors: 6:00 PM
/
Show: 8:00 PM
21+ Years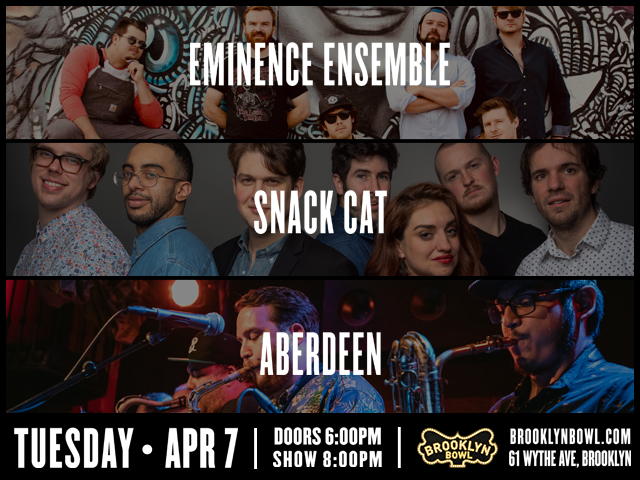 Event Info
Venue Information:
Brooklyn Bowl
61 Wythe Avenue
Brooklyn, NY 11249
Due to circumstances outside of our control, we regret to inform you that this show has been postponed until further notice. Hang on to your tickets, we'll email you (and post updates here) as soon as a new date is announced.
Artist Info
Eminence Ensemble
Since 2009, Eminence Ensemble has been building their fan-base through explosive live shows and unique genre-blending. The Colorado-based group infuses elements of Jazz, Rock, Electronic, Metal, Soul/Funk, and Hip-Hop to create intricate compositions, decorated with psychedelic improvisations. The band is comprised of six members: Tanner Bardin [Drums], Nick Baum [Percussion/Lead Vocal], Johnny Bosbyshell [Keyboard/Synth], Zac Flynn [Bass/Synth/Vocals], Taylor Frederick [Guitar/Vocals] & Justin Neely [Guitar/Vocals], making a solid framework for a huge sound and a whirlwind of creativity. Gaining their following first as a live band, Eminence Ensemble learned to capture the crowd with high-energy performances and large-scale production, with a light show just as dynamic as the music. And although they mainly thrive in the Jam Scene, the band is recognized by fans of all genres. Eminence Ensemble has become known for their complex song structures, heavy bass-drops, synchronized guitar-lines, dense vocal-harmonies, and powerful dual-percussion, both on-stage and in-studio. The sextet focuses most on creating a one-of-a-kind show for their followers. Each set list is carefully constructed to capture the vibe of the venue and the energy of the audience. With over 400 shows under their belt, Eminence Ensemble has proven their worth in the scene, playing festival slots at Summer Camp, Electric Forest, Camp Bisco, Wave Spell, Euphoria, The Werkout, and more. In their most recent release 'Real News' (2019) Eminence Ensemble truly pinpointed their studio sound. The full-length 13-song LP exemplifies the diversity of the band, weaving in and out of genres while still remaining cohesive. Their thought-provoking lyrics allow the listener to dive deep into the music, while the music itself paints the picture. From radio-ready singles to eight-minute long musical odysseys, 'Real News' is a testament to the constantly evolving world we live in.
Snack Cat
Snack Cat is an NYC based soul, funk and r&b band influenced by many musical genres and groups including Vulfpeck, Tedeschi Trucks Band, Bob Dylan, Lake Street Dive, Jimmy Hendrix and Chaka Khan. Now, if these artists were also to have a child who became a total party animal, you might have something that resembled Snack Cat!
Snack Cat's members have played and/or recorded with Roberta Flack, John Mayer, The Zach Brown Band, Grace Potter, Ben Folds, Post Modern Jukebox, John Patitucci, Jersey Boys, and Greg Allman to name a few. They have had residencies at Rockwood Music Hall and with Sofar Sounds, and have played top venues including the Mercury Lounge, National Sawdust, The Tribeca Performing Arts Center, and The Knitting Factory. Snack Cat is signed to Ropeadope Records.
Aberdeen
Aberdeen is a jazz / indie rock brass band based out of Brooklyn, NY. They create a wall of sound with soaring, horn-driven melodies, supported by a bed of distorted guitars and raucous drums. Brian Plautz is the primary songwriter in the band, along with Alex Conroy and Shubh Saran. The band, featuring saxophones, trombone, trumpet, two guitars, bass and drums never ceases to fill a room with energy. Aberdeen's 2019 debut album Downpour showcases their massive, one-of-a-kind sound, featuring Grammy Award-winning saxophonist Bob Reynolds (John Mayer, Snarky Puppy) and bassist Adam Neely, who hosts a 950,000+ subscriber music channel on YouTube. Demonstrated during Aberdeen's 2019 U.S. State Department tour to Central Asia, Aberdeen's music is about community; a large collective of musicians with the hope of sharing its music to audiences throughout the world.