Saturday,
March
12th
, 2022
Mardi Gras Mambo 2022 feat.
Dirty Dozen Brass Band + Nathan & The Zydeco Cha Chas
Doors: 6:00 PM
/
Show: 8:00 PM
21+ Years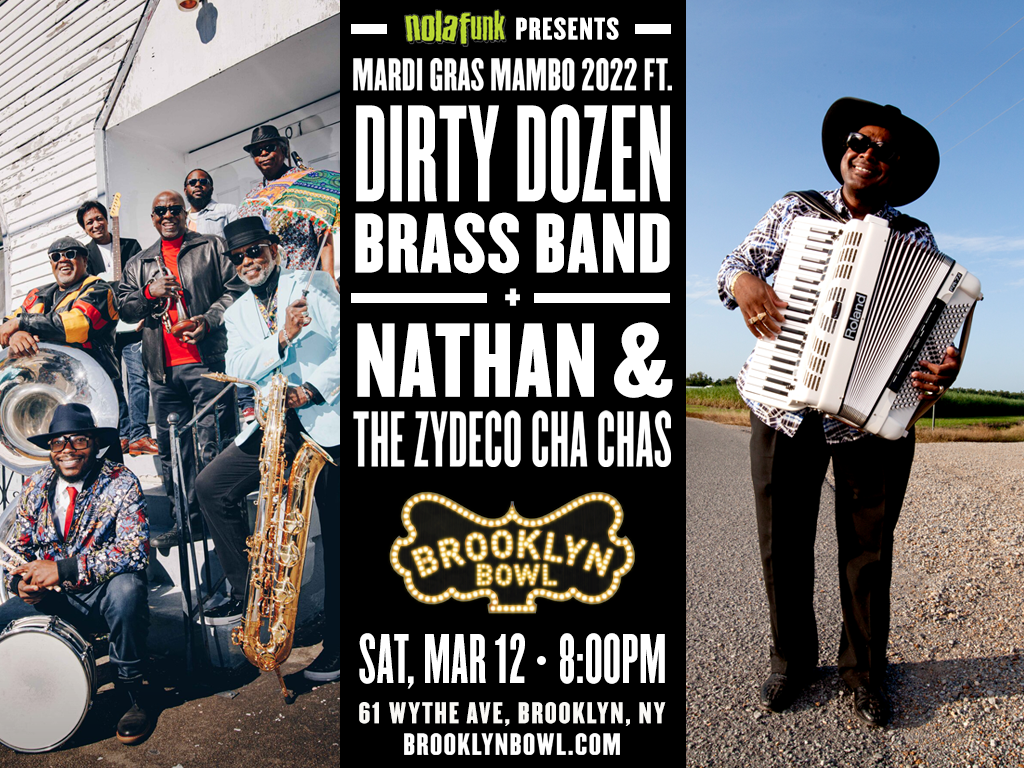 Event Info
Venue Information:
Brooklyn Bowl
61 Wythe Avenue
Brooklyn, NY 11249
Valid photo ID required at door for entry
Doors: 6:00 PM
Show: 8:00 PM
In accordance with the combined New York State and New York City "Key to NYC" vaccination mandates, Brooklyn Bowl has updated its COVID-19 Policy:
VACCINES
All guests must show proof of FULL VACCINATION with a matching photo ID.
Per the CDC and New York State FULL VACCINATION means two weeks past your second dose of Pfizer or Moderna, your first dose of Johnson & Johnson or a full course of vaccines authorized by WHO (if vaccinated outside of the U.S.).
Accepted proof of vaccination:
Any guests, including ticket holders, unable to provide adequate proof of vaccination will not be granted entry into the venue.
MASKS
Guests are required to wear masks except while eating or drinking. All Brooklyn Bowl staff are fully vaccinated and must wear masks while inside the venue.
Artist Info
The Dirty Dozen Brass Band
Formed in 1977, The Dirty Dozen Brass Band are the pioneers of the modern New Orleans brass band movement, recognized worldwide as an unstoppable musical machine whose name is synonymous with genre bending romps and high octane performances. They have been featured guests both in the studio and on stage with artists including Elvis Costello, Dr. John, Widespread Panic, Modest Mouse, Dave Matthews Band, The Black Crowes and many others. In 2021 and 2022, The DDBB will be touring as special guests on The Doobie Brothers 50th Anniversary Tour featuring Michael McDonald.

Roger Lewis - Baritone Sax/Vocals
Kevin Harris - Tenor Sax/Vocals
Gregory Davis - Trumpet/Vocals
Kirk Joseph - Sousaphone
TJ Norris - Trombone
Julian Addison - Drums/Vocals
Takeshi Shimmura - Guitar
In 1977, The Dirty Dozen Social and Pleasure Club in New Orleans began showcasing a traditional Crescent City brass band. It was a joining of two proud, but antiquated, traditions at the time: social and pleasure clubs dated back over a century to a time when black southerners could rarely afford life insurance, and the clubs would provide proper funeral arrangements. Brass bands, early predecessors of jazz as we know it, would often follow the funeral procession playing somber dirges, then once the family of the deceased was out of earshot, burst into jubilant dance tunes as casual onlookers danced in the streets. By the late '70s, few of either existed. The Dirty Dozen Social and Pleasure Club decided to assemble this group as a house band, and over the course of these early gigs, the seven-member ensemble adopted the venue's name: The Dirty Dozen Brass Band.
Nathan & the Zydeco Cha-Chas
Growing up in a Creole-speaking home in St. Martinville, Nathan eagerly sought out the music of Zydeco originators such as Clifton Chenier. Later, while recovering from a serious illness, Nathan decided to dedicate himself to learning the accordion. That dedication blossomed into an illustrious career, which now spans three decades.

The music of Nathan and the Zydeco Cha-Chas is the expression of a remarkable South Louisiana family. Dennis Paul Williams, Nathan's brother, brings his jazz-influenced guitar chops to the band. He's also a well-known painter whose work has been shown throughout the country, and has recently published a collection of his work. The eldest Williams brother, Sid 'El Sid O' Williams, is a Lafayette legend unto himself, and Zydeco would never have survived into the new millenium without him.

Nathan formed The Cha-Chas back in 1985, and since then has brought his unique take on this regional South Louisiana music to all corners of the globe. From Lincoln Center in New York to The Grand Ole Opry in Nashville, Nathan's music has crossed all barriers to speak to the very heart of his audience.

Inducted into the Louisiana Music Hall of Fame in 2005, he was honored last year with the Zydeco Music Association's Lifetime Achievement Award. The Cha-Chas have been voted the top Festival Band in the country, and have won the coveted Big Easy award for Best Zydeco Band for several years running.

Nathan and his band have been featured in the New York Times, Essence and People magazines, and on the cover of USA Today. They've appeared in films like In The Electric Mist and The Kingdom of Zydeco, and worked with artists as diverse as Cindy Lauper, Michael Doucet and Buddy Guy.

Keepers of the Zydeco Flame, they are committed to keeping their Creole Heritage alive…
– C'est Si Bon!