Tuesday,
December
3rd
, 2019
Best Party Band EVER
Dexter Lake Club Band
Doors: 6:00 PM
/
Show: 8:00 PM
21+ Years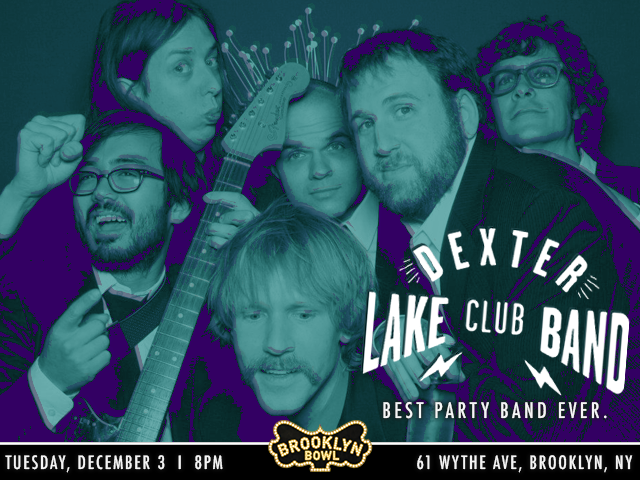 Event Info
Venue Information:
Brooklyn Bowl
61 Wythe Avenue
Brooklyn, NY 11249
Artist Info
Dexter Lake Club Band
In its Sunday Styles cover story profile of the Dexter Lake Club Band, The New York Times writes, "This wasn't some cover band doing sterile imitations, this was a real band."
With a nearly endless repertoire that covers everything from classic rock, early soul and R&B, to 80's, 90's, and current music, with special attention paid to songs other than the usual overplayed staples, the DLCB is the ultimate cover band, somehow combining originality with a fine sense of curation and taste.
NBC.com named the Dexter Lake Club Band "NYC's Top Event Band" and actress Olivia Wilde recently referred to them as the "Best Party Band Ever" after a performance she hosted in her Brooklyn home.
Dubbed "Indie Rock Royalty, the band features musicians with great pedigrees, having shared the stage and studio with the likes of Bruce Springsteen, Willie Nelson, John Legend, Norah Jones, Todd Rundgren, The Cars, Yeah Yeah Yeahs, The Walkmen, French Kicks, Elle King, Miike Snow, and many others. Furthermore, the Dexter Lake Club Band has been joined on stage by M. Ward, members of Fugazi and the Walkmen, and Paul Shaffer of Late Night with David Letterman in recent years.
Think of the DLCB as the ultimate cover band, free of costumes and gimmicks, and not limited by being a tribute band to one particular artist. These guys have found a way to bring the same energy and creativity they bring to both their original music and their work with the artists listed above to their aesthetic in choosing and delivering the best covers and most memorable performances imaginable.