Wednesday,
October
13th
, 2021
Delvon Lamarr Organ Trio + Roosevelt Collier Band
Doors: 6:00 PM
/
Show: 8:00 PM
21+ Years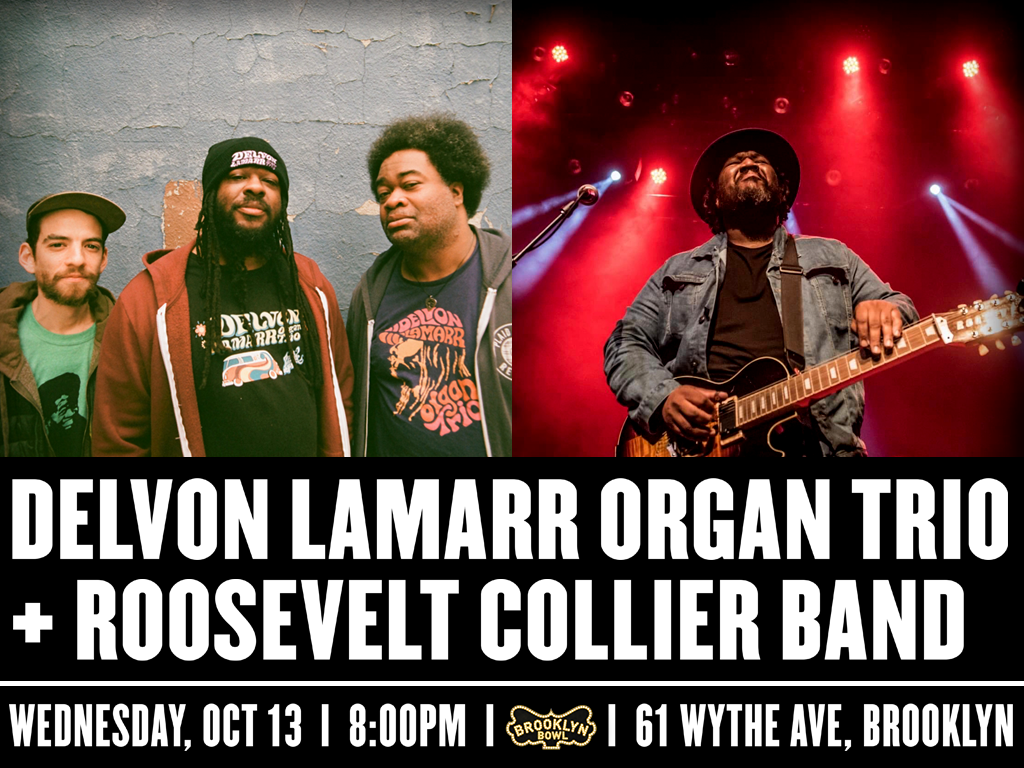 Event Info
Venue Information:
Brooklyn Bowl
61 Wythe Avenue
Brooklyn, NY 11249
Valid photo ID required at door for entry
Doors: 6:00 PM
Show: 8:00 PM
In accordance with the New York City "Key to NYC" vaccination mandate, Brooklyn Bowl has updated its COVID-19 Policy, effective immediately:
VACCINES
All guests must present a matching photo ID along with proof of vaccination in the form of:
NYC COVID Safe App

CDC Vaccination Card (or photo)

Official immunization record from outside the U.S
Acceptable vaccines include:
Any guests, including ticket holders, unable to provide adequate proof of vaccination will not be granted entry into the venue.
MASKS
Guests under 12 are required to wear masks except while eating or drinking.
All guests are strongly encouraged to wear masks.
All Brooklyn Bowl staff are fully vaccinated and must wear masks while inside the venue.
Our COVID-19 policies are subject to change at any time. Please refer to your show's event page for show-specific vaccine and mask requirements, and continue to check prior to visiting Brooklyn Bowl.
The health of our guests, staff, and performers remains our highest priority, and we appreciate your understanding as we continue to navigate this continually-evolving situation.
Artist Info
Delvon Lamarr Organ Trio
Soul-jazz groove-machine Delvon Lamarr Organ Trio—or as it is sometimes referred to, DLO3—never would have happened without years and years of crummy gigs, and Delvon's staunchly supportive wife, Amy Novo.

The story goes that Hammond b3 organist Delvon would regularly lug his 400-pound instrument from venue to venue barely breaking even to play other people's music, and Amy just got tired of it. She fiercely believed in Delvon's talents, and, eventually, she made an offer he couldn't refuse: If Delvon picked the musicians, she would take care of all the business surrounding it.

"I was watching an amazing talent being marginalized. He would be getting paid like $75 a gig and be spending $60 in gas to cart around his instrument, sometimes even renting a U-Haul. It wasn't fair," says the self-made music mogul who may be the first person to legally own a band. "For years, Amy had been telling me to step out from being a sideman. This was a natural move. Now, I can just play music and not worry—it's been a welcome relief," Delvon says.

The Seattle-based trio's music is best described as "feel good music." DLO3 conjures the smoky 1960s jazz stylings of Jimmy Smith and Baby Face Willette, and the snappy soul strut of Booker T. & The M.G.'s, The Meters, Dr. Lonnie Smith, and Charles Earland. Within DLO3's distinct jazz stew, are also dashes of Motown, Stax Records, blues, and cosmic Jimi Hendrix-style guitar. It's an aesthetic that only these three could muster, as these are the sounds and vibes imprinted in the trio's DNA.

The band features Delvon Lamarr, a self-taught virtuosic musician with perfect pitch who taught himself jazz and has effortlessly been able to play a multitude of instruments. On guitar is the dynamo Jimmy James who eases through Steve Cropper-style chanking guitar, volcanic acid-rock freak-out lead playing, and slinky Grant Green-style jazz. From Reno, Nevada is drummer Dan Weiss (also of the powerhouse soul and funk collective The Sextones). Dan's smoldering pocket-groove drumming locks in the trio's explosive chemistry.

Live, the band is telepathically musical, easing through improvisational ideas, grooves, and extended jams with silken swagger. The exhilarating live experience also showcases the band's deep personal connection with witty between-song repartee, vignette song stories, and unpredictably dynamic flights of in-the-moment musicality. This live connection carries over into the studio and into the band's compositional approach. Much of the band's recorded repertoire is written on the spot, during soundchecks, on the bandstand, and in the studio. The trio's trusted connection makes for a wellspring of soulful ideas ever present.

The three-piece group started in May, 2015 at Amy's behest, and since then has issued two Billboard-charting albums and a 45. In the near future, DLO3 will be releasing a bevy of new music come fall and winter 2020.

It's rare for an instrumental band playing trad jazz-inspired music to make such waves in the post-auto tune era. But the three-piece has quickly made a name for themselves through incendiary live performances, including a feature on Seattle's KEXP's "Local Artist Spotlight"; a live performance at Upstream Music Festival broadcast by KEXP that garnered over 7 million views; and numerous national and international tours and performances.

Other select highlight include their debut album, Close but No Cigar, nabbing the Billboard ranks of #1 Contemporary Jazz and #3 Jazz Album, and their Live at KEXP! hitting #10 Jazz Album and #20 Heatseekers Album. Performance highlights include DLO3 appearances on Adult Swim's "Live on Fish Center," a Day Trotter Session, and a live recording at Paste Magazine studios. In addition, the group has performed at Montreal Jazz Festival, live on Parisian TV, and at the 71st Monaco Red Cross Ball which featured John Legend. The trio has also earned coverage from Rolling Stone (Italy), Chicago Tribune, and Seattle Times. In addition to these accolades, DLO3 also enjoys the pleasure of being part of the hip Colemine Records family, and being booked by the powerhouse Kurland Agency.

Besides prodigious talent and a rare chemistry, one secret to DLO3's success has been manager/den mother Amy Novo who heads up Novo Productions LLC. Amy is affectionally referred to as "Shortcake" by the band, and has been called "mafia" by some industry professionals, resulting in the modified nickname, "Shortcake Mafia." She lives up to the image with sharp business instincts, fierce determination, almost maternal love of her band, and a charismatic and passionate approach to connecting with fans and industry professionals. Amy was born into a musical and creative family, and she has a deep appreciation and understanding of music and the artist's way. Prior to DLO3, though, she didn't have music biz experience, but her instincts and her strong DIY enterprising ethos have made DLO3 a global groove phenomenon.

It's been a profound journey for DLO3. Years ago, Amy would hear Delvon lament about fearing being the local legend who never went anywhere. Today, through her tireless work ethic, and his bottomless talent, the power couple have taken the Delvon Lamarr Organ Trio beyond their wildest dreams. "I used to listen to the old jazz greats and think about their European travels. For years, I thought it would never happen for me, and then Miss Novo made it happen. Without her we would still be in the basement," Delvon marvels. Amy adds: "I'm not a salesperson—I can only do something I believe in—but Delvon is so talented, and I am passionate about keeping his music alive. I fight for the artists I work with."
Roosevelt Collier
"Simply put — Roosevelt Collier is a Bad Bad Mother F*****!" – Quincy Jones

"Roosevelt's musicality is like the best New Orleans gumbo, taking bits and pieces of all the best things and cooking it up into something magical." – David Shaw, The Revivalists

"Roosevelt Collier is simultaneously the past, present and future of the Pedal Steel Guitar." – Mojo Magazine

Pedal and lap steel guitar ace ROOSEVELT COLLIER, so proficient he's affectionately know as "The Dr.", released his solo debut Exit 16 in 2019 on Michael League's (Snarky Puppy) GroundUP Music Label. It's a potent mix of blues, gospel, rock, and in his own words, "dirty, funky, swampy grime." The album is produced by Bokanté bandmate Michael League himself, who also plays bass. Brought up in the House of God Church in Perrine, FL, Roosevelt built his "sacred steel" guitar prowess alongside his family in the soul-shaking band The Lee Boys. On his own, Collier has become a sought-after talent both on record and on stage, performing with musical luminaries like The Allman Brothers, Buddy Guy, Del McCoury Band, The String Cheese Incident, Los Lobos, Robert Randolph, and Tedeschi Trucks Band, among countless others.
Just Announced
Brooklyn
DJ Mike Nasty, moresoupplease, Mike Medium, TEEBURR
Doors: 11:00 PM /
Show: 11:30 PM