Saturday,
January
21st
, 2023
Circles Around The Sun
Rich Ruth
Doors: 6:00 PM
/
Show: 8:00 PM
21+ Years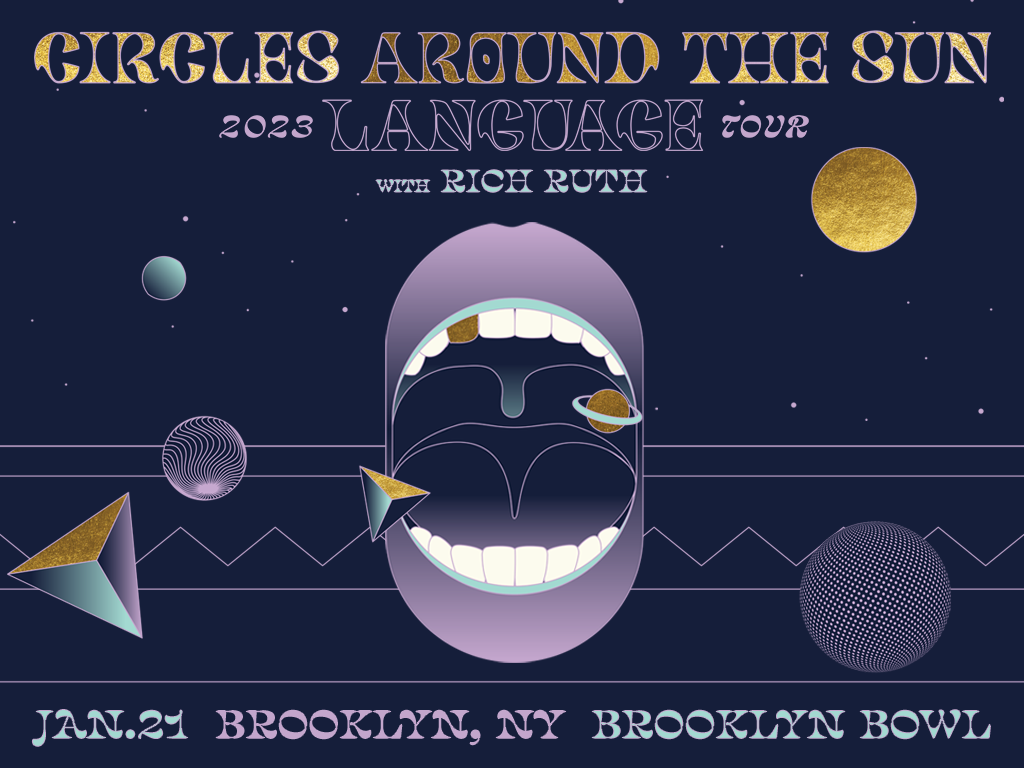 Event Info
Venue Information:
Brooklyn Bowl
61 Wythe Avenue
Brooklyn, NY 11249
$1 from every ticket sold goes to the Neal Casal Foundation
We will be showing The New York Football Giants Playoff Game at the bar tonight. Go G-Men!
Valid photo ID required at door for entry
Doors: 6:00 PM
Show: 8:00 PM
Based on the latest local guidelines, attendees are no longer required to provide proof of vaccination for entry into this event. Be sure to check your venue website for the latest updates and guidelines as entry requirements are subject to change.
An inherent risk of exposure to COVID-19 exists in any public place where people are present. COVID-19 is an extremely contagious disease that can lead to severe illness and death. According to the local health authorities, senior citizens and guests with underlying medical conditions are especially vulnerable. By visiting our establishment, you voluntarily assume all risks related to the exposure to or spreading of COVID-19.
Artist Info
Circles Around The Sun
Los Angeles-based instrumental supergroup Circles Around the Sun is a contemporary instrumental rock band, initially formed with the purpose of creating music for "Fare Thee Well", a series of reunion concerts played by the surviving members of the Grateful Dead. Those shows celebrated the band's 50th anniversary and served as their official send-off, while Circles Around the Sun was designed to reflect the Dead's overall spacy and groove-laden feel. After the tour, the group released a self-titled album from the Fare Thee Well gigs, supporting the record with their own road trip. The response was so positive that they continued on with a follow-up project, Let It Wander, in 2018. This record was less influenced by the Dead and more free-form, delivering on the roots influence of jazz-funk, soul, and fusion. The band underwent a fundamental transition in 2019. After completing the Meets Joe Russo EP and a third album, their guitarist Neal Casal committed suicide on August 26, 2019. He left his bandmates a note asking for them to continue in his absence– to continue recording, touring, and playing together. The band decided to carry on with a rotating cast of guitarists, landing on John Lee Shannon as the permanent replacement.
In this metamorphosis, Circles Around the Sun spans both heartbreak and hope. Doors close; windows open; new directions extend themselves in mysterious ways. But sometimes you know it's real from the first beat. It just clicks. It's just how Neal would want it. It's Circles Around The Sun.
Rich Ruth
Recorded under a loft bed in the guest bedroom of his Nashville home, Michael Ruth aka Rich Ruth's I Survived, It's Over starts in a humble space. And while many contemporary music projects are produced in such an environment, I Survived, It's Over sets itself apart in its transformative properties as well as its transparency.

What we have here is honest sound exploration, session musician-level instrumentation, and a true love for nature run through the fingers of a dude who can channel some acute and undeniable magic.

This music goes deep.

"I conceived much of this record amidst the quiet and tumult of 2020 in my neighborhood that had recently been ravaged by a tornado," Ruth recalls, "I spent most of my days working on these pieces between bicycle rides - watching the beautiful Tennessee ecosystem flourish in Shelby Park, listening to Keith Jarrett's The Koln Concert and John Coltrane's Ascension."

Underneath the swell of the strings and the shredding of the guitars, this record has hard working, rustbelt, drum-heavy roots all over it (which makes sense as Ruth hails from outside of Toledo, the album was mixed by John McEntire from Chicago band Tortoise). Many of the flutes, saxophones, pedal steel, and other instruments were recorded remotely because we live in the future, but this only adds to the collage of sampled and sample-able material that Rich Ruth has to offer. The organic relationships between the artist and other musicians on the album is evident even in the compilation style sampling that needs to occur in putting such a project together.

"Working on this music is a daily meditation," says Ruth. "I constantly experiment with sound until it reflects the way I am feeling and attempt to sculpt something meaningful from it. Through years of being a touring musician, it is a constant inspiration and privilege to collaborate with the individuals that graced this record with their voices."

And those relationships pay off, because I Survived, It's Over is a sonic meal. It's rich (no pun intended) with massive instrumentation that's usually reserved for more symphonic delights. But at the same time it's simple and leaves space to breathe–space you didn't know you needed.

In his own words; "I Survived, It's Over is a meditation on healing, confronting trauma, surrendering, and finding peace. I wanted to encapsulate the tranquility and disarray found within this process."

Ruth's heart and the peace that his presence produces is all over this album. And despite his midwestern humility and willingness to brush off any praise, he's put together something really special that carries its own weight. It's the kind of record that only comes around every once in a while and it's worthy of all the head-bobs, acclaim, and celebratory potlucks that Mike and the gang have coming their way. - Mic Fox, 2022