Wednesday,
October
12th
, 2022
Relix & Mondo.NYC Present
Cha Wa
Fondude
Doors: 6:00 PM
/
Show: 8:00 PM
21+ Years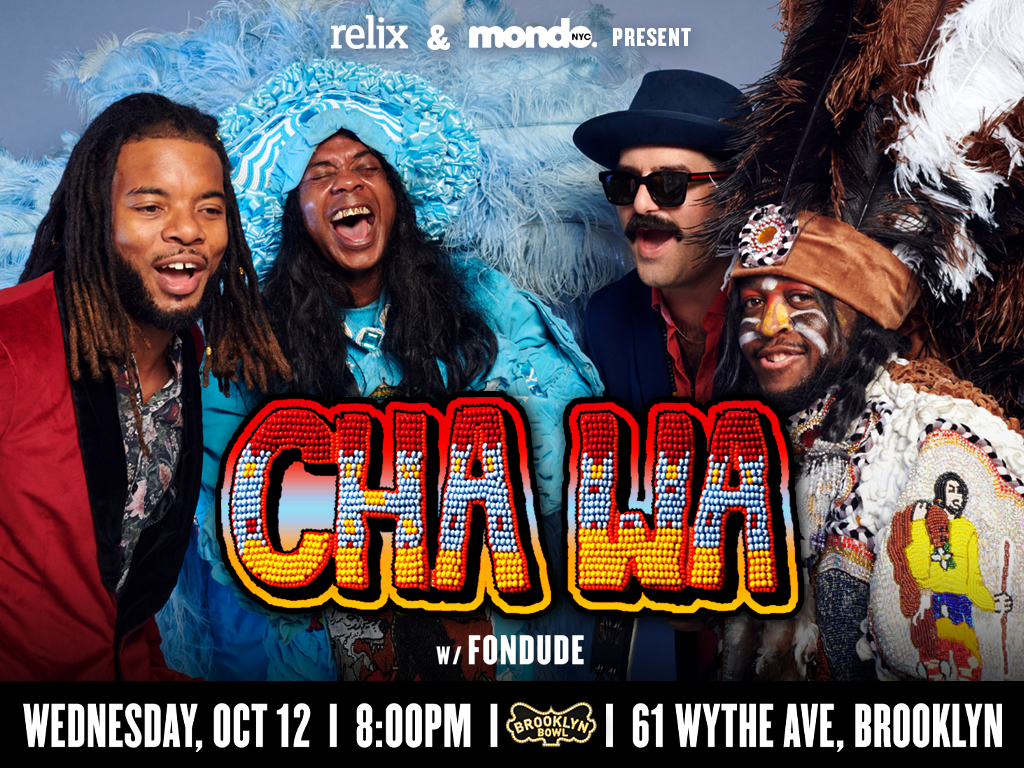 Event Info
Venue Information:
Brooklyn Bowl
61 Wythe Avenue
Brooklyn, NY 11249
Valid photo ID required at door for entry
Doors: 6:00 PM
Show: 8:00 PM

Mondo.NYC is a music and tech conference and music showcase festival celebrating its seventh anniversary.
We are creatives, inventors, connectors, educators, entrepreneurs and fans. Leaders from the fields of music, technology, arts, activism, politics, academia, human rights, law, finance, sustainability and wellness who gather to pursue actionable best practices, technological innovations, career pathways, and equal opportunities for all communities during this time of economic and social volatility.

Please visit www.mondo.nyc for details about the conference, additional showcases and our networking events.
Based on the latest local guidelines, attendees are no longer required to provide proof of vaccination for entry into this event. Be sure to check your venue website for the latest updates and guidelines as entry requirements are subject to change.
An inherent risk of exposure to COVID-19 exists in any public place where people are present. COVID-19 is an extremely contagious disease that can lead to severe illness and death. According to the local health authorities, senior citizens and guests with underlying medical conditions are especially vulnerable. By visiting our establishment, you voluntarily assume all risks related to the exposure to or spreading of COVID-19.
Artist Info
Cha Wa
In 2021, Cha Wa released its third album, the Grammy-nominated My People, on Single Lock Records as the follow-up to 2018's Grammy-nominated Spyboy. But the true history of the music goes back much further.

The first documentation of Mardi Gras Indians in New Orleans dates back to the late 19th century. These were African-American men who paraded on the city streets on Fat Tuesday morning and St. Joseph's Night in celebratory groups, playing handheld percussion like glass bottles, tambourines and cowbells. They shouted and chanted in a unique dialect that scholars have tried to explain the roots of, but never quite agreed on. "Cha Wa" is a traditional Mardi Gras Indian shout from which the band took its name; so is "jock-a-mo-fee-nah-nay", familiar to music fans from the enduring tune "Iko Iko." Some suggest that Black Masking Indian phrases can be traced to Native American languages, which is a distinct possibility since the culture is meant to pay tribute, in song and spirit, to the Native American groups that gave shelter to fleeing slaves.

My People is Cha Wa's first project with Single Lock, the respected Muscle Shoals and New Orleans-based record label. Single Lock has been dedicated to teasing out the threads and throughlines of creative tradition in Southern music, from legendary veterans like the Blind Boys of Alabama and Donnie Fritts to young torchbearers like Cedric Burnside and St. Paul and the Broken Bones, drawing a map of South's diverse musical identity. The sweeping palette of unmistakably New Orleans sound on My People fits beautifully into that mission.

Some of the songs are deliberately, powerfully organic and raw, like the raucous closer "Shallow Water" – a traditional call and response tune that was recorded live at the storied Indian barroom Handa Wanda's in under an hour as the first take. Others embrace sounds of more recent vintage, like the fierce, taut title track, powered by industrial-strength horns, or the playful, swirling organ on "Bow Down." The shivering piano that introduces "Morning Glory," punctuated by yelps and drum slaps, is a taste of Dr. John's own Mardi Gras Indian-tinged '60s psychedelia; "Love in Your Heart," is a swellingly gorgeous slice of vintage, romantic soul powered by Angelika "Jelly" Joseph's passionate vocals. Throughout, there's plenty of propulsive, syncopated second-line rhythm, joyful shouts and Indian swagger – it's an album as unstoppable, alive, and multi-voiced as a parade moving through the streets.

The clattering, hollering song of Mardi Gras Indians on the move is primal and powerful. There's a feeling that you're somehow witnessing a deeper, stronger spirit breaking through the structures that govern city life, and the only thing more arresting than the sound is the sight of it: the Indians wear towering, elaborate suits that require months' worth of work, topped with billowing ostrich plumes in riotous colors and festooned with painstakingly hand-beaded patches and panels that glitter in the sun or under streetlights: Some of the beadwork art might be Native American or African imagery, in homage to the culture's roots, and some might depict images from an Indian's own community, or personal life.

The Mardi Gras Indian sound had crept into broader culture already in pop and R&B form with 1950s and '60s hits like "Iko Iko." The first time the greater public really got a at look at what Indians were about, though, was on the covers of two funky 1970s releases from the Wild Magnolias, which featured Monk Boudreaux: the first a close-up of a beaded and bejeweled patch, the second featuring the band fully suited up, blazing with color like a gang of extraordinary birds. These albums, which melded the traditional percussion and chants with slick, gritty and electric New Orleans funk, began a new chapter in the Indian tradition. Cha Wa bears that torch today, and also expands its horizons: the music on My People is a collage of multiple New Orleans sounds, from second-line brass to hip-hop to smooth soul music. That is, after all, how Southern stories get told – passed down through the years, acknowledging history as each generation adds its own part of the tale.

Bandleader and drummer Joe Gelini was first captured by the sound of '70s New Orleans funk, the Meters and the Neville Brothers, in high school. "My mind was blown by that New Orleans style of drumming, all those incredible rhythms," he said. Later, as a student at the Berklee College of Music, he had the chance to take a lesson from the great New Orleans drummer Idris Muhammad. "And I had this moment of clarity – he said, all these rhythms we're playing are based on Mardi Gras Indians."

After graduating, Gelini moved to New Orleans and made himself a student of the sound. He was such an apt one that he quickly began playing with Monk, soaking in the rhythm and the culture both onstage and at more informal neighborhood practices, as well as out in the streets. "I felt like such a guest of the culture, and I also felt like family," he said.

New Orleans culture exists uniquely in time. It treats its musical history with reverence: origins a century old, or more, are always audible in the sounds that define it, from jazz to brass-band to Indian music. Yet it constantly welcomes new growth, too – funk and hip-hop and contemporary R&B meld easily with all of its venerated sonic traditions, keeping the city's singular culture vital, vivid and honest.

My People is the latest in the catalog of a young band that has always typified this essential part of the character of America's most interesting musical city. It sounds like New Orleans today.

"We try to take the influence of Monk and Bo and Willie Tee [from the original Wild Magnolias] back in the day, when they were interpreting the music of their time – the deep funk, disco, Afrobeat and tinges of reggae," said Gelini. "And we're also trying to interpret and write new music that we're inspired to play that's relevant to our generation, and our current social environment."

With regard to the latter, a chilling cover of Bob Dylan's "Masters of War," fronted by guest Alvin "Youngblood" Hart and textured by its African-influenced arrangement, stands out as a timely statement of protest. But at its core, the Mardi Gras Indian tradition itself is as much a defiant one as it is a celebratory one. For Black people, like the first Indians, to take to the streets in a display of beauty and power was dangerous a hundred years ago; it still is, of course, today. To take joy in their own loud voices and physical glory – crowned in feathers and jewels - is its own certain kind of protest. My People feels like pure joy, a distillation of generations of New Orleans expression, but it also never fails to remind us how hard-won that joy was and still is: not least in the tense, funky and explosive title track, with its declaration "My people, we're still here."

"Mardi Gras Indian songs are inherently songs about freedom," Joe Gelini said. "And that struggle is as relevant today as it's ever been."