Sunday,
September
25th
, 2022
Friday Night Jams Presents
Bowl Hashanah: Rosh Hashanah at Brooklyn Bowl and Hidden Melodies Revealed 15
Celebrate the Jewish New Year!
Doors: 6:30 PM
/
Show: 7:00 PM
All Ages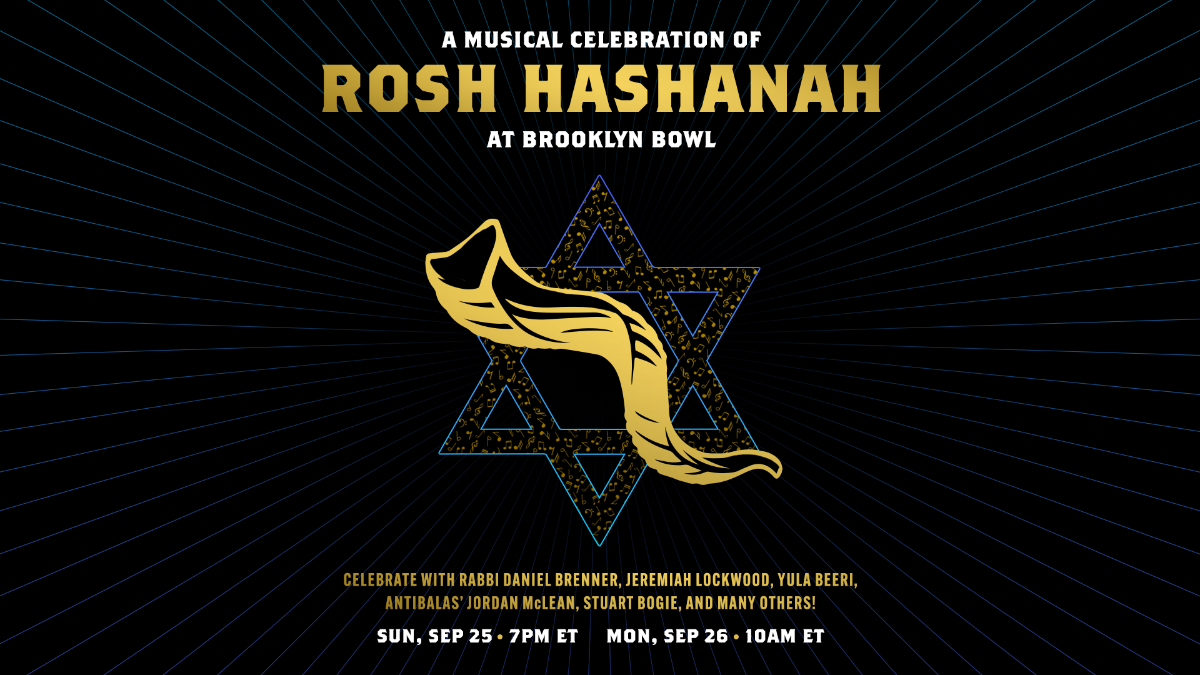 Event Info
Venue Information:
Brooklyn Bowl
61 Wythe Avenue
Brooklyn, NY 11249
Celebrate the Jewish New Year with Rabbi Daniel Brenner, Jeremiah Lockwood Antibalas' Jordan McLean and many others!
Be sure to check out
becausejewish.com
and FANS.live for info on Kol NIdre and Yom Kippur service opportunities.
Bowl Hashanah includes:
* Rosh Hashanah morning services led by Rabbi Daniel Brenner with musical director Jeremiah Lockwood, Antibalas' Jordan McLean, Yula Be'eri , John Bollinger, Stuart Bogie, Antibalas' Timothy Allen and Yusuke Yamamoto!
* 15th anniversary celebration of Jeremiah Lockwood's Hidden Melodies Revisited
* Plain-sense explanations of the religious aspects of the holiday.
* Prayer
* Shofar blowing + Meditation
Hidden Melodies Revealed 15
Standing at the intersection of ritual, rock concert, and theatrical performance, The Sway Machinery's shows have come to be known as an experience of New York City culture, offering a unique point of entry into the tradition of
khazones
(Eastern European Jewish liturgical music). The band's breakthrough project was a 2007 performance called, Hidden Melodies Revealed. This event that was held on the first night of Rosh Hashanah and was framed as a concert version of ritual music, reconfigured through the sounds of 21st century rock and international popular music and framed in an iconoclastic performance that integrated storytelling, experimental animation and an orientation towards pleasure and community.
In celebration of the 15th anniversary, The Sway Machinery presents
Hidden Melodies Revealed 15
at Brooklyn Bowl on the first night of Rosh Hashana: September 25, 2022. This new iteration of the concert-ritual will celebrate the widening circles of cantorial revival, and Yiddish experimental expressive culture that have emerged in the last decade. Offering a counterpoint to The Sway Machinery's futurist sound, the evening will feature a "radical traditionalist" band performing new arrangements of Jewish ritual music on strings, led by virtuoso violinist
Jake Shulman-Ment
, and featuring vocalists including Midwest Ska pioneer and Yiddishist
Shahanna McKinney-Baldon
(more guest to be announced shortly!). The resulting worlds of sound will cross boundaries of time, calling upon ritual, invoking the power of ancestors to imagine radical futures.
The Sway Machinery's current line-up of Jeremiah Lockwood (guitar and vocals), Yula Be'eri (bass and vocals), John Bollinger (drums), Stuart Bogie (tenor saxophone) and Jordan McLean (trumpet) will be enhanced by long-time bandmate Timothy Allen (guitar) and special guest Yusuke Yamamoto (organ). Hidden Melodies Revealed 15 is produced in collaboration with Neighborhood.
Artist Info
Bowl Hashanah
Rabbi Daniel Brenner
Rabbi Daniel Brenner, named by Newsweek Magazine as one of America's most influential rabbis, has played key roles in some of the most creative organizations in the religious world, including CLAL-the National Jewish Center for Learning and Leadership, Auburn Seminary, Birthright Israel, and Moving Traditions, where he currently serves as the chief of education. Brenner's latest Jewish cultural arts project, Klezmer Aerobics, was featured as a select pick in the Weekend Arts section of The New York Times.
Jeremiah Lockwood
music director, composer, singer, guitarist –Just returning to live in Brooklyn after completing his PhD at Stanford University, Jeremiah is an interdisciplinary scholar and a musician with deep roots in cantorial music and the blues. Jeremiah is currently a Research Fellow at the UCLA Department of Ethnomusicology and the lead researcher of the Cantorial and Synagogue Music Archive, an initiative that seeks to preserve and disseminate the private music collections of elder cantors. Jeremiah has played around the world as leader of The Sway Machinery and is currently developing a new blues duo, Gordon Lockwood, with drummer Ricky Gordon.u tell your story online can make all the difference.
Jordan McLean
Jordan McLean is a New York City-based composer, arranger, bandleader, trumpeter, producer and educator. McLean has been active in the professional music world since 1992, having performed, recorded and collaborated with a multitude of musicians, ensembles, and performance organizations in the leading studios, festivals, and concert halls around the world.
Yula Beeri
(born Yuli Yael Be'eri) – Singer and Musician


An Israeli musician, and performer. She has been performing music in New York City for the past fifteen years. Yula is the founder of the music and arts collective Yula & The Extended Family and The HIVE NYC. Her projects include punk-rock outfit "Nanuchka", electronic trio "Kiss Slash Crooked Smile", "Hydra" vocal trio and "Indiga" vocal trio.
John Bollinger
John Bollinger is known in the New York scene as an explosive force, his fearsome groove and bone shattering bursts of energy adding an incredible excitement to his wonderful feel for a multiplicity of genres. He has worked with, among others, Barbez, Nanuchka and Guignol.