Thursday,
July
28th
, 2022
Nolafunk & Brooklyn Bowl Present
Bonerama
Dead Meat
Doors: 6:00 PM
/
Show: 8:00 PM
21+ Years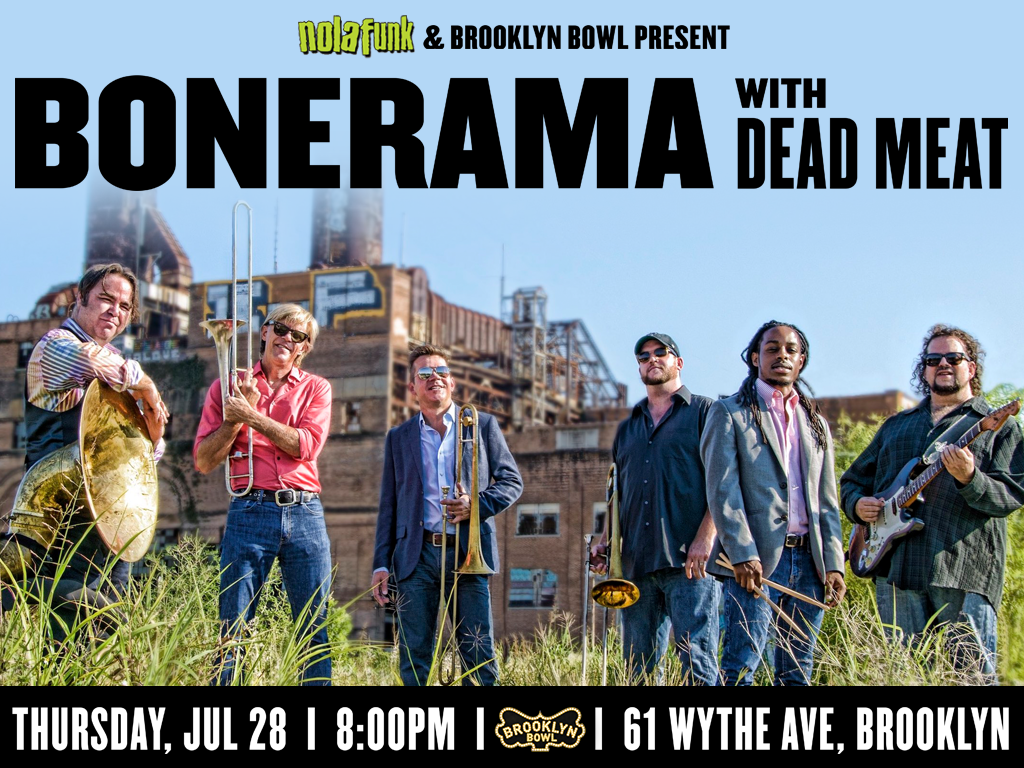 Event Info
Venue Information:
Brooklyn Bowl
61 Wythe Avenue
Brooklyn, NY 11249
Valid photo ID required at door for entry
Doors: 6:00 PM
Show: 8:00 PM
Based on the latest local guidelines, attendees are no longer required to provide proof of vaccination for entry into this event. Be sure to check your venue website for the latest updates and guidelines as entry requirements are subject to change.
An inherent risk of exposure to COVID-19 exists in any public place where people are present. COVID-19 is an extremely contagious disease that can lead to severe illness and death. According to the local health authorities, senior citizens and guests with underlying medical conditions are especially vulnerable. By visiting our establishment, you voluntarily assume all risks related to the exposure to or spreading of COVID-19.
Artist Info
Bonerama
Bonerama has always been hailed as "unlike anything you've ever heard before".
It's the best way to describe this 20-year-old powerhouse touring band from New Orleans, LA. In
addition to changing the way people think about the trombone, the sound of 
Bonerama has
become an influence and contribution to the sound of New Orleans music today.
 With newer acts
such as Trombone Shorty and Big Sam's Funky Nation on the national music scene, it's New Orleans
that has benefited with a newfound reputation as being a bonafide "Trombone Town". These
bands all carry the trombone like the trophy it truly is in New Orleans. Bonerama helped cement
this in present day New Orleans music culture.
The band has performed and recorded with countless national artists such as R.E.M., OK Go, Tom
Morello, Wayne Kramer (MC5), Jill Sobule and so many more, all while bringing their distinctive
sounds from New Orleans to a national spotlight. Festivals and events such as Monterey Jazz Fest
to High Sierra Music Festival, Jam Cruise, Bear Creek Festival and of course the New Orleans Jazz &
Heritage Festival outline some of the extensive festival work this band is involved with. National
television appearances on CBS (Late Show with David Letterman), HBO (Comic Relief, Treme) and
CNN has further exposed Bonerama to a wide range of unsuspecting new viewers.
"I never knew the trombone could do that." -Audience members everywhere.
While enduring lineup changes, member displacement, tragedy and loss over the years, the song
for Bonerama has remained the same; being centered around their beloved trombone, city, and
culture while striving for greatness with a fun spirit.
Whether it's their inventive covers or funky, rocking originals, rest assured, Bonerama will take you
on your most memorable RIDE ON THE SLIDE!
The new studio album "Bonerama Plays Zeppelin" in 2019 on Basin Street Records and was a top
seller at the New Orleans Jazz and Heritage Festival and Louisiana Music Factory during the festival.
This is Bonerama's seventh major release after Live at the Old Point (2001), LIVE From New York
(2004), Bringing It Home (2007), You Are Not Alone (2008, OKGo and Bonerama), Hard Times
(2009), Shake It Baby (2013), Hot Like Fire (2017).
In addition to being their debut release on Basin Street Records, the album features some fantastic
robust and colorful packaging created by New Orleans artist and beloved musician Molly Reeves.
Bonerama -- now in their 20th year of changing the way you think about the trombone and New
Orleans Music.
Bonerama is:
Mark Mullins – Trombone / Lead Vocals and band co-founder
Craig Klein – Trombone / Lead Vocals and band co-founder
Greg Hicks – Trombone / Vocals
Bert Cotton – Guitar
Matt Perrine – Sousaphone / Electric Bass
Walter Lundy – Drums
Dead Meat
Dead Meat is an electrifying tribute to The Grateful Dead. They have become a fan favorite known for their moving harmonies, high-energy blocks of music and routinely pushing the limits of Dead's vast catalog. The band's unique renditions of timeless classics make them a must see, whether you're a life long Dead head or a casual listener.
Just Announced
Brooklyn
Friday Night Jams Presents
Celebrate the Jewish New Year!
Doors: 6:30 PM /
Show: 7:00 PM
Brooklyn
Friday Night Jams Presents
Celebrate the Jewish New Year!
Doors: 9:30 AM /
Show: 10:00 AM