Saturday,
February
3rd
, 2024
Young Gun Silver Fox
with 79.5 and Ursula 1000
Doors: 6:00 PM
/
Show: 8:00 PM
21+ Years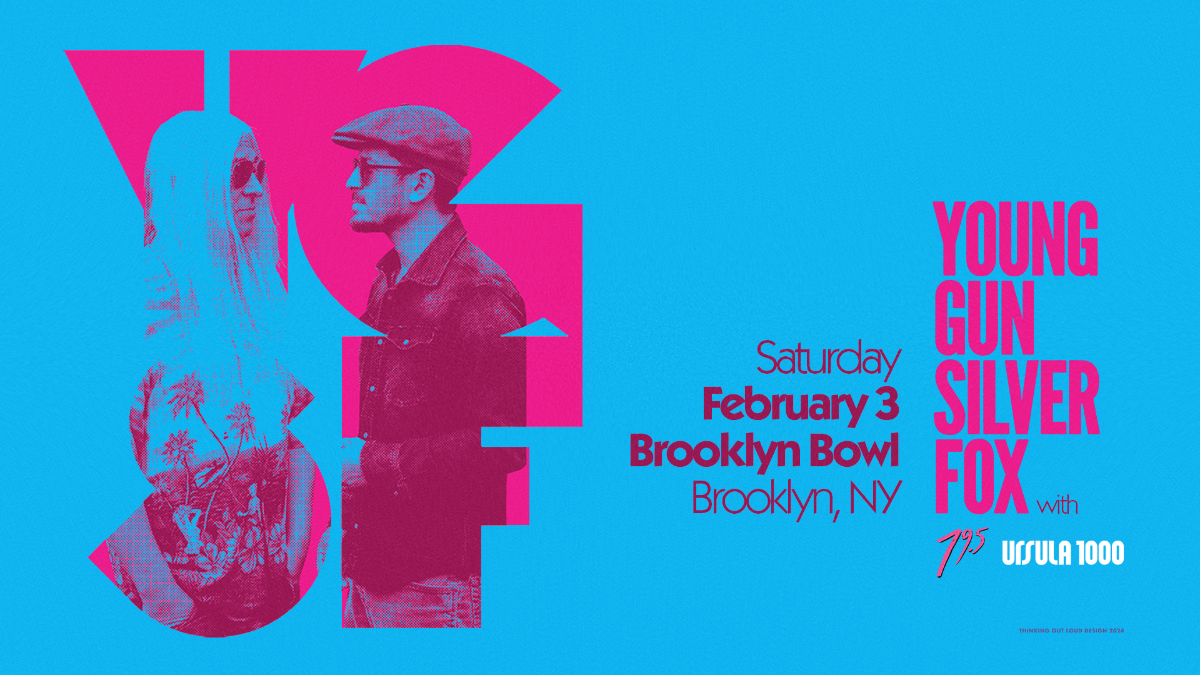 Event Info
Venue Information:
Brooklyn Bowl
61 Wythe Avenue
Brooklyn, NY 11249
Valid photo ID required at door for entry
Doors: 6:00 PM
Show: 8:00 PM
Artist Info
Young Gun Silver Fox
79.5
Attempting to pigeonhole 79.5 into something as narrow as a single genre would be an ill advised, if not impossible, task. The New York City band sounds like someone spinning a radio dial with such passionate intensity that all the stations blend together into a single, transcendent, almost spiritual force. It's disco to the beat of modern house; it's a Supremes cover of a Cardi B banger; it's Roland Kirk playing jazz through one saxophone, funk through another, and the most earwormy pop tune the 1970's could muster through a third. It's an experience—one so effecting that with only a self-released 12" single in circulation, 79.5 had been written up twice in
The New Yorker
on the merit of their live sets alone.
Still, all this mixing and matching, this manic twirling of an FM dial, might seem like a bit of a mess: a recipe for ungrounded noodling and static. And perhaps it would be, were these disparate influences not anchored so solidly by the delicate crunch of singer and keyboardist Kate Mattison's Fender Rhodes. The Rhodes is the throbbing heart of 79.5, the melodic grit that gives its pristine vocals their edge. And like Mattison, it is the touchstone around which the band was built.
Though the genesis of 79.5 was defined more by an organic growth than a singular event, the band could begin its origin story in 2011, the year Mattison renamed her band after an imaginary radio station, one that acted as a mercurial melting pot for genres as varied as house, soul, disco, jazz and new jack swing, all seasoned with an AM Gold crackle. Whenever, wherever 79.5 began, the band that has since coalesced around Mattison's Rhodes is comprised of individuals who have an inextricable connection between music and their paths through life.
"Boy Don't Be Afraid," the first single off of Predictions, showcases the sleek musicianship and palpable joy that course through entire record. Produced by Big Crown Records co-founder Leon Michels, Predictions is a timeless journey through a New York City dreamscape—where spring never ends, the clubs never close, and new love is always right around the corner of the next city block. Mysterious, classy, and underscored with a simmering passion, the record captures the infectious mood of 79.5's live sets, transporting listeners directly to the front of the stage.
There's a reason radio stations as eclectic as 79.5 don't exist. People tend to gravitate towards a specific type of music in a given moment, one that syncs up with their emotional state or that satiates their particular taste. But somehow the blend of influences 79.5 has synthesized hits a sweet spot that feels at home in nearly any moment, any setting. Disc Jockeys across all wavelengths love to remind their listeners not to "flip that dial," but tuned into 79.5, it's unlikely anyone would ever want to.
Ursula 1000