Saturday,
June
24th
, 2023
W.I.T.C.H.
Death Valley Girls, Abraxas
Doors: 6:00 PM
/
Show: 8:00 PM
21+ Years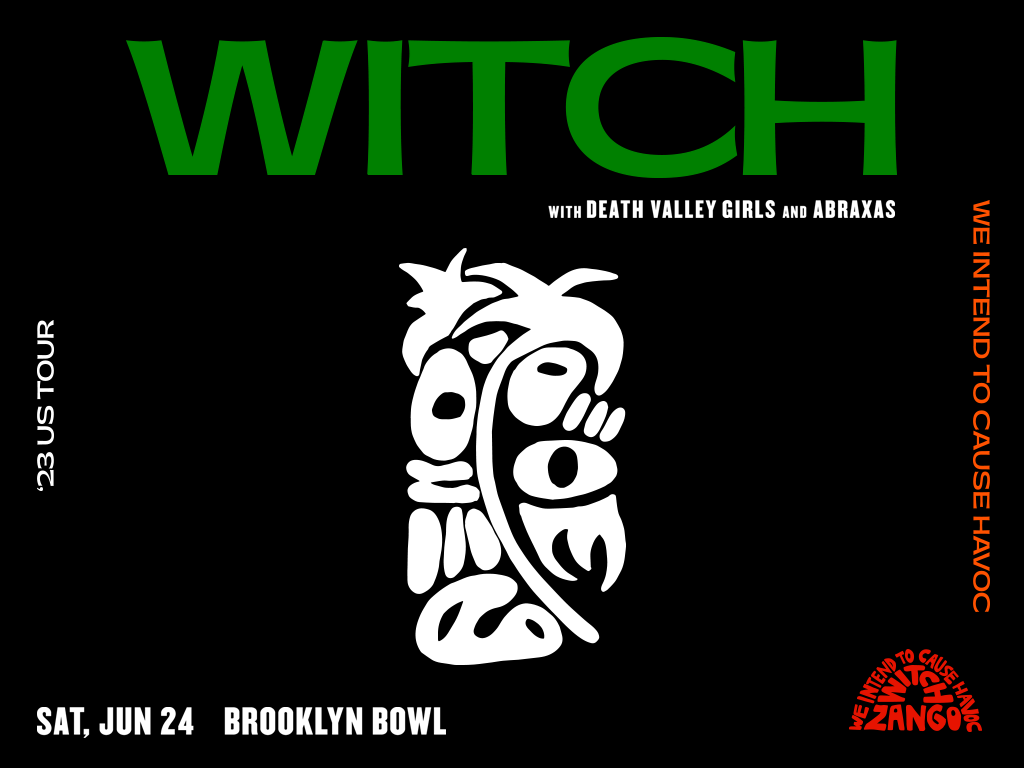 Event Info
Venue Information:
Brooklyn Bowl
61 Wythe Avenue
Brooklyn, NY 11249
Valid photo ID required at door for entry
Doors: 6:00 PM
Show: 8:00 PM
Artist Info
WITCH (W.I.T.C.H.)
W.I.T.C.H. (We Intend To Cause Havoc) were the biggest rock band in Zambia in the 1970s and spearheaded a new genre dubbed Zamrock, fusing influences that ranged from the Rolling Stones to Black Sabbath and James Brown and mixing them with traditional African rhythms and bush village songs. At t the peak of their popularity, the band often needed police to keep fans at bay while their lead singer Jagari - whose name is an Africanisation of Mick Jagger's - riled up crowds by stage diving from balconies and dancing manically as the WITCH's blend of psychedelic rock and African rhythms permeated the surrounding atmosphere.
Jagari is the charismatic sole surviving original member of the band. As Zambia's economy stagnated and the country buckled under the AIDS crisis, WITCH fell apart. Jagari retreated to a life of quasi-anonymity as a university music professor before being wrongfully arrested during Zambia's toughest hour. Now a man in his 60s, he spends his time mining gemstones hoping to strike it rich, until very recently the band being just a nostalgic memory of his youth.
Largely unknown outside of their home country, WITCH finally got the exposure they deserved when Now Again Records reissued their entire discography in 2012. This allowed Jagari to play outside Africa for the first time and for a new generation of fans to discover his music. In 2016 he began a collaboration with Dutch musicians Jacco Gardner and Nic Mauskoviç, and together with them, in September 2017 WITCH headed out on its extremely successful first-ever European Tour. In the Fall of 2019, WITCH embarked on their first North American tour. They return to the states including this show at The Drake on 10/9 following the screening of the documentary at the Amherst Cinema on 9/7.
Death Valley Girls
LA mystic-rock mainstay Death Valley Girls return with the announcement of their upcoming LP, Islands In The Sky, out February 24th via Suicide Squeeze Records. With the announce comes cosmic lead-single "What Are The Odds" accompanied by a video of the band reincarnated in red beehive wigs at an epic pool party, quickly expanding into an exploration of existing in parallel universes and multidimensional space/time.
About the track, lead-member Bonnie Bloomgarden offers: "When we wrote "I'm a Man Too" we were trying to revisit No Doubt's "I'm Just a Girl" but through a new lens. "What Are the Odds" is in the same way an investigation /revisitation of Madonna's "Material Girl" but with a DVG spin. We love to think about consciousness, and existence, and we very much believe in some type of reincarnation, but also that this experience isn't linear, there isn't a past and future, there's something else going on! What is it? Is it a simulation, are we simulated girls??!"
For the better part of a decade, LA's scrappy rock n' roll mystics Death Valley Girls have used their music as a means of tapping into a communal cosmic energy. On albums like Glow In The Dark (2016), Darkness Rains (2018), and Under the Spell of Joy (2020) the band challenged the soul-crushing banality of modern society and celebrated "true magical infinite potential" through a collage of scorching proto-punk riffs, earworm melodies, far-out lyrics, and lysergic auxiliary instrumentation. But on their latest album Islands in the Sky, Death Valley Girls' songwriting mastermind Bonnie Bloomgarden uses the band's anthemic revelries as a guidebook to spiritual healing and a roadmap for future incarnations of the self. And while these may be the loftiest aims of Death Valley Girls to date, the resulting music is also by far their most infectious and celebratory.
The seeds for Islands in the Sky were planted while Bloomgarden was bed-ridden with a mysterious illness from November 2020 to March 2021. "When I was sick I had to sleep most of the day. I kept waking up every few hours with an intense message to take care of the island, feed the island…I have no idea why, but making music for the island kept coming up."
Before her illness, Bloomgarden's primary focus was writing songs to help other people deal with their own suffering. But something in her shifted, and she began to turn her focus inward. "When I was sick I started to wonder if it would be possible to write a record with messages of love to my future self. This was really the first time that I consciously thought about my own suffering and what future me might need to hear to heal. I struggled so much in my life with mental health, abuse, PTSD, and feeling like I didn't belong anywhere. And I don't want anyone—including my future self—to suffer ever again. I realized that if we are all part of one cosmic consciousness, as we [Death Valley Girls] believe, then Islands in the Sky could serve not only as a message of love and acceptance to myself, but also from every self to every self, because we are all one!"
If this sounds too cerebral or esoteric, don't worry. At its core, Islands in the Sky is a party—a riotous, danceable, sing-a-long celebration of life, love, and mystery. The bulk of the album was channeled into being when Bloomgarden and drummer Rikki Styxx went out to a cabin in the California woods on New Years Day 2022 to hunker down and harness the songs from the ether. Further bolstered by Larry Schemel's guitar prowess and the addition of new bassist and co-lead singer Sammy Westervelt, Death Valley Girls set out to make their most ambitious and exciting record to date at Station House Studio in Echo Park.
Islands in the Sky opens with a patient, hazy, aura fueled synth, organ, and Schemel's dusty guitar twang on "California Mountain Shake"—a love song to our future selves, as evidenced in the song's confession "I'm still in love with you." The slow-burn yields to "Magic Powers," where Death Valley Girls teach us how to harness the hard times, abuse, and feelings of being alone, abandoned, or powerless in your life into magic powers, all while channeling the pomp and swagger of '90s big-budget rockers like Elastica and Garbage. This segues into the title track, an anthem fully deserving of having an entire album share its name. Imagine Rush's "Freewill" without the math but with an even more triumphant chorus and an openness to otherworldly possibilities. From there we have "Sunday," which uses the swirling organ, soulful vocals, emotional bombast, and the hip-shaking climax of a classic Percy Sledge tune as a foundation to Bloomgarden's lyrical examination of coping with the struggles of her past. Still not a convert? Just one spin of "What Are the Odds" and you'll be singing along with the chorus of "we are living in a simulated world, and we are simulated girls."
On side B, the self-empowerment song-talisman of "When I'm Free" makes a reappearance after initially showing up in late 2021 on a split 7" with Le Butcherettes and getting a scorching remix treatment from Peaches in early 2022. The fall 2021 digital single "It's All Really Kind of Amazing" closes out the album, serving as a reminder that all the answers to all the secrets are already inside you. Fittingly, Bloomgarden states that the soaring finale to Islands in the Sky "was fully 100% channeled from my guides to remind me even when everything seems shitty in the world, and it doesn't seem fair to be happy about anything, the earth and the universe are still really amazing."
Suicide Squeeze is proud to release Death Valley Girls' Islands in the Sky to the world on vinyl, CD, cassette, and DSPs in early 2023.
Abraxas
Carolina Faruolo (ex-Los Bitchos) and Danny Lee Blackwell (Night Beats) had been friends and
mutual admirers of each other's musical projects for years, though with Faruolo residing in the
UK and Blackwell residing in Texas, their interactions were limited. Yet as was so often the case
for many of us during the shelter-in-place stretches of 2020, geographic proximity wound up
being a non-issue as our socializations became almost exclusively online endeavors. In this era
of isolation and uncertainty, Faruolo and Blackwell invented their own private escape to Latin
rhythms, colorful vistas, and smoky revelries under the project name of Abraxas. Combining
their shared love of Wendy Renee, Los Destellos, doo-wop and R&B, they crafted their debut
album Monte Carlo by bouncing ideas across the Atlantic.
"Planet Abraxas is a world filled with jungles, mist-covered rivers, panthers lurking in the night,
desolate shopping malls, Neolithic citadels and sand-worn walls," Blackwell says of the muse
behind Monte Carlo. "The nights are usually dense with fog and the air is filled with the sounds
of cicadas and faraway drumming." This visual manifestation of their sound stands in stark
contrast to the environment in which the songs were written. "I remember the feeling I got the
first time Danny added vocals to one of my tracks," Faruolo recalls. "I was sitting on my sofa in
rainy Manchester in the middle of winter. I pressed play and the song just made my heart jump.
It instantly felt special and, more importantly, it felt like a perfect portrait of both of us."
Uruguayan-born Faruolo grew up with the tropical beats of cumbia and the psychedelic flavor
of classic chicha artists, and it became her mission to infuse those sunny influences in her work
as a UK musician. Blackwell's work under the Night Beats handle involves the fusion of outlaw
soul and R&B with a resourceful DIY spirit. Despite the apparent contrast in their styles, the two
musicians bonded over their reverence for Selena and Sade, exemplars of the humid pulse and
sultry spirit of their respective approaches. As Abraxas, their distinctive musical perspectives
created a sound that encompassed the tropicalia of Os Mutantes, the scrappy songwriting of
Cleaners From Venus, and the trippy production of Lee "Scratch" Perry, though the duo is quick
to assert that they were finding their own distinctive voices rather than adhering to pre-existing
stylistic codes and constraints. And indeed, Monte Carlo feels rooted in tradition but blossoms
into its own unique timbres and vibrations.
Monte Carlo opens with "Sunrise State (of Mind)," where a hypnotic cumbia beat serves as the
bedrock for cosmic guitar leads, hazy choral melodies, and Blackwell's seductive vocals. From
there, the album continues its steady Latin pulse on "Mañana," a perfect soundtrack to feverish
nights in dancehalls, sipping on caipirinhas and sharing cigarettes with strangers on the
dancefloor. Across its twelve tracks, Monte Carlo unfurls a myriad of exotic influences, from the
Eastern melodies and guitar trills on "Sultan," through the dub-inflected stomp and scorching
fuzz of "La Estampida," and on to the Anatolian psych-funk of album closer "Göbekli Tepe."
Blackwell recorded his contributions with the assistance of engineer Chris Maciel at his studio
the 22nd Dimension in Pomona, California and Faruolo recorded her parts in Manchester,
England at Brunswick Mill. While Abraxas conceived their material in bedrooms and studios six
timezones apart, the music on Monte Carlo sounds like a live band in the throes of an ecstatic
performance. And Abraxas plans to make the live incarnation of the band a reality when
conditions allow for it. Until then, listeners can bask in the invented world of Abraxas and all its
exotic and enticing splendor across the twelve tracks of Monte Carlo. Suicide Squeeze Records
is proud to present Monte Carlo to the world later in 2022 on digital and vinyl formats.