Funky, feel-good, greasy, grooving...
The Brooklyn Holdouts
Apple Juice Jones
Doors: 6:00 PM
/
Show: 8:00 PM
21+ Years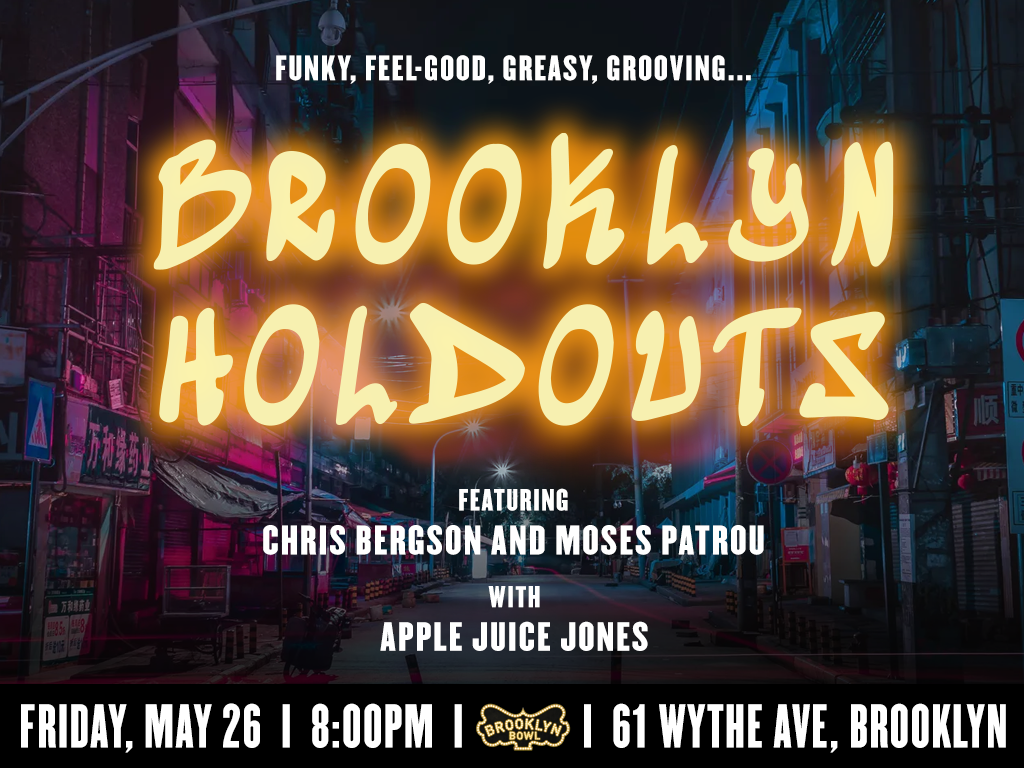 Event Info
Venue Information:
Brooklyn Bowl
61 Wythe Avenue
Brooklyn, NY 11249
Valid photo ID required at door for entry
Doors: 6:00 PM
Show: 8:00 PM
Based on the latest local guidelines, attendees are no longer required to provide proof of vaccination for entry into this event. Be sure to check your venue website for the latest updates and guidelines as entry requirements are subject to change.
An inherent risk of exposure to COVID-19 exists in any public place where people are present. COVID-19 is an extremely contagious disease that can lead to severe illness and death. According to the local health authorities, senior citizens and guests with underlying medical conditions are especially vulnerable. By visiting our establishment, you voluntarily assume all risks related to the exposure to or spreading of COVID-19.
Artist Info
The Brooklyn Holdouts
Guitarist Chris Bergson and organist Moses Patrou - two stellar, deeply soulful singers - have joined forces as The Brooklyn Holdouts. Drawing on the funky, feel-good, greasy, grooving organ trio tradition, The Brooklyn Holdouts seamlessly navigate Blues, R&B, Soul Jazz, Rock and Americana. Alternating lead vocals, these two powerhouses are also both renowned songwriters drawing on their 20+ years on the New York scene delivering "gut-busting NY blues." (MOJO.)

Together, Bergson and Patrou deliver original material that is rollicking, witty and spontaneous. Their two voices have enormous character as they trade off singing songs with rich melodies/harmonies, tell-tale lyrics, and funky back beat feels that drive the Blues guitar and Hammond soul organ trio, making the Brooklyn Holdouts an absolute must-see in 2023.

Hailed as "the New York street poet with a blues soul" (MOJO), Chris Bergson has been described by the UK's Blues Magazine as "one of the most interesting blues-inspired songwriters...a kind of Edward Hopper of the blues." ROLL Magazine writes: "Chris Bergson plays the kind of guitar you can build a house on - it's B.B. meets Steve Cropper meets John Scofield."

Offbeat Magazine describes Moses Patrou's music "…as if the Meters had gone to Memphis at their most potent point and gotten some of that Hi Records shine. Swelling jazz organ, fat beats, and lots of soul."

"Moses is well on his way to leading us out of the land of predictable pop bondage & into an unpredictable land of milk & honey. His music and lyrics always inspire and entertain." - 60 Minutes
Apple Juice Jones
Apple Juice Jones explores songs anchored in spirited storytelling and composition. Drawing on influences from folk, jazz and rock, AJJ always leaves room for sonic exploration inspired by the present moment

The Philly based band has released several tracks since their 2020 debut album, Rainbow Blues, and have weathered the passing of founding frontman and lead guitarist Teddy Kradzinski, whose life ended with much left unsung in September 2021. Their sophomore album, Angel Number 77 (Fall 2022), and subsequent singles Mamacita & Whale Song (Spring 2023), showcase an evolution in AJJ's compositional approach and lyrical flair, unfolding with urgency to reveal new faces and moods at every turn. All but one of the seven tracks on Angel Number 77 were penned by Kradzinski in the most restlessly prolific era of his life and represent only a small fraction of his yet to be released music the band will continue to shepard into the world. Just like AJJ's live show, the record is loose at the edges, placing you in the room during raw takes of songs recorded during practice at the band's home studio in 2020 and 2021.