No Bowling This Evening
Summer Salt
The Rare Occasions, Addison Grace
Doors: 6:00 PM
/
Show: 8:00 PM
All Ages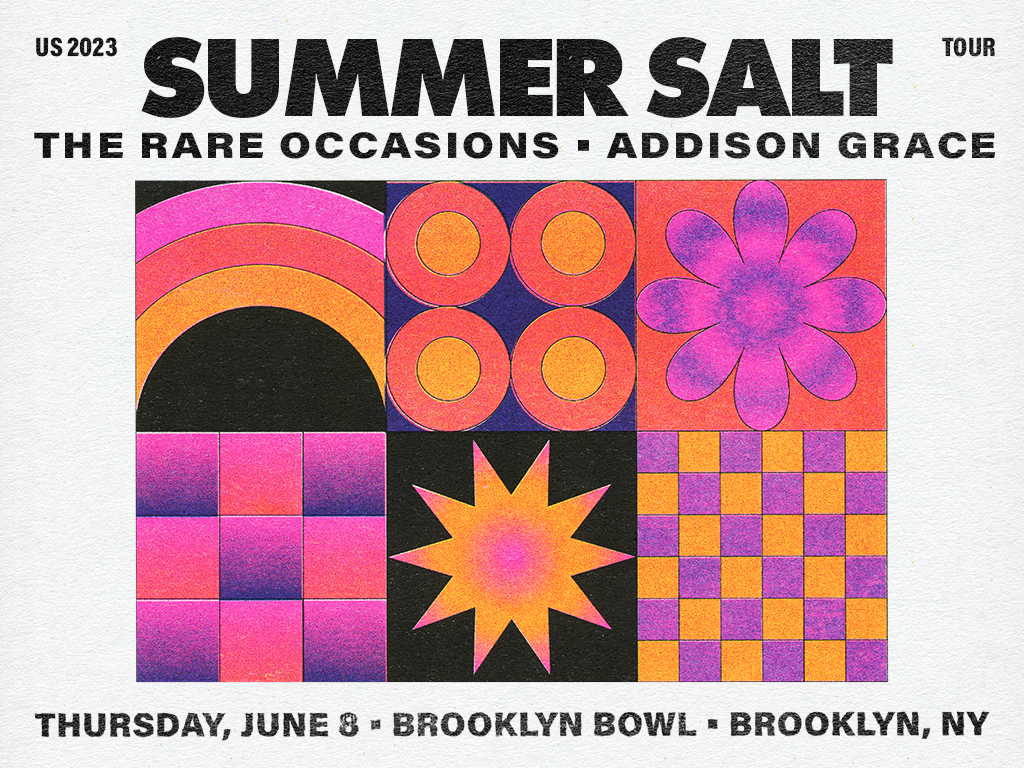 Event Info
Venue Information:
Brooklyn Bowl
61 Wythe Avenue
Brooklyn, NY 11249
Valid photo ID required at door for entry
Doors: 6:00 PM
Show: 8:00 PM
Based on the latest local guidelines, attendees are no longer required to provide proof of vaccination for entry into this event. Be sure to check your venue website for the latest updates and guidelines as entry requirements are subject to change.
An inherent risk of exposure to COVID-19 exists in any public place where people are present. COVID-19 is an extremely contagious disease that can lead to severe illness and death. According to the local health authorities, senior citizens and guests with underlying medical conditions are especially vulnerable. By visiting our establishment, you voluntarily assume all risks related to the exposure to or spreading of COVID-19.
Artist Info
Summer Salt
Campanita, the new record from trop-pop duo Summer Salt out May 19 on Wax Bodega, is a breezy, blissful, and intimatemonument to love, family, and everything in between. Its 12 tracks meander through sun-soaked and rose-tinted memories,deep rooted relationships and loss. The album drifts across a palette of dreamy jazz, bedroom pop, beachy bossa nova, anddesert-night indie rock. There are guitars, keys, and gorgeous, cloud-light harmonies, but there are strings, synths, horns,and harmonicas, too.Campanitatakes its title from a nickname given to Terry's sister, Madeleine, by their grandmother. When Maddie and Terry'scousin, Angelina, passed away in January 2021, Terry was shaken to his core; it was the first time he'd experienced thiskind of loss. He became determined to create something that would live on and celebrate the life of both his sister andcousin forever.The process of creating the record allowed Terry to stay close to the two of them, and the end result is a work that will notdie: it will live on forever, drifting through the heavy, warm southwestern air."The easiest place for me to put some of the energy I was feeling through this time was into something tangible, makingsomething that will be permanent," says Terry. "I was thinking, 'This can't be over, her life can't be over, so I need tocontinue.' So that was just something I ran with, and it's been a beautiful process making this album."The band will celebrateCampanita, their fourth full-length release, with a full US headline tour beginning in May. The LP is abold step forward in Summer Salt's skyward career arc, which has built from auspicious Austin, Texas roots to count morethan one million monthly listeners on Spotify and nods from both Live Nation'sOnes To Watch and American Songwriter.Throughout the record's creation, drummer, percussionist, and keyboardist Eugene Chung experimented with new sonicelements, building a sound that's fuller and more textured. "As we get older and write more songs, Matt and I are gettingmore interested in the production side of things and trying to make things sound a little different than what we've beendoing," says Chung.Lead single "Campanita" is the first introduction to the record, with starry, gentle chordingbefore Chung's drums fade in likean engine rattling to life, propelling waves of hummed background vocals and Terry's easygoing southwestern tenor: "Youare so smart, and you're gorgeous, Campanita/But you're good, and that is why I need ya," he climbs onthe chorus. Itborrows from a phrase Terry and his sister would repeat jokingly to one another, while the song "Macaroon" name checksMaddie with a pun: "Hey, Mad love for you," Terry sings. A later track, "Sana," which is based on an old Spanish nurseryrhyme, was written and performed by Terry's cousin and fellow band member Anthony Barnett. Being one of Maddie'sfavorites, the song was recorded as a dedication, with the hush and mellow sound of Anthony singing in Spanish.Terry says of the writing process and the difficulty in writing about something so emotional, "Sometimes when I would bewriting lyrics, it almost felt like they were gifts. It was like they were given to me."Terry and Chung composed the songs while living apart—Terry in Dallas, Chung in San Francisco. They self-recorded muchof the material before meeting in Fort Collins, CO in December 2022 to finish at The Blasting Room. Chris Beeble producedand engineered, and Joe LaPorta mastered the record. Anthony Barnett and Winston Triolo contributed guitar, bass, andbacking vocals, and will join Summer Salt on their headline tour this spring.More than any record before it, Terry and Chung are excited to putCampanitainto the world. "It's here forever," says Chung."Time can't take this away from us."
The Rare Occasions
The Rare Occasions are an LA-based, New England-bred indie rock band known for their explosive garage rock anthems with catchy vocal harmonies.
Brian McLaughlin (singer) and Luke Imbusch (drummer) have been making music together since their early teenage years. They formed The Rare Occasions while attending college in Boston where they met Jeremy Cohen (bassist). Since then, the band have toured nationally, won the John Lennon Songwriting Contest, and released a vast catalog of music online.
In 2021 the band released their first album as a trio, Big Whoop, which received significant press and radio play. Around the same time, their 2016 track "Notion" went viral on TikTok and continues to make waves, topping Spotify's viral chart in the US and several other countries, and later landing on Billboard's alternative charts and top 100 singles charts in the UK, Ireland, and Canada.
The Rare Occasions released their new EP,
Attaboy
, on November 4th, 2022. The first single off the EP "Seasick" has already garnered the attention of radio DJs across the country including SiriusXM's Alt Nation with the second single "Not Afraid" being an explosive follow up. After sharing
Attaboy's
hard-hitting riffs, danceable grooves, and ear-catching melodies with audiences across the nation on their Fall 2022 headline tour, the band has shifted its efforts towards new music in 2023.
Addison Grace
Addison Grace has fast proven a phenomenon with their one-of-a-kind brand of intimate songcraft, a seemingly irresistible melding of mesmerizing bedroom pop, sharp humor, and an utterly individual online persona. The 21-year-old UT-based singer, songwriter, and social media star – who is non-binary and uses he/they pronouns – drew immediate attention with their breakthrough debut EP, IMMATURING, earning acclaim for their character-driven tales of unrequited love and teenage uncertainty, all etched with candor, wit, and originality. Songs like "I Wanna Be A Boy," "Sugar Rush," and "Makes Me Sick" proved Grace's pop breakthroughs, affirming the gifted young artist's own human and artistic identity while offering a distinctively anthemic voice to the voiceless. The latter track earned praise from Billboard as "a heartbreaking anthem dedicated to self-sabotage, where Grace details their exploits in navigating the lovesick feeling they're caught in." "Grace makes queer indie pop anyone can appreciate," raved Shondaland, "rooted in deep emotion and powered by his gloriously evocative voice." Things have moved at lightspeed for Grace since the spring 2022 release of IMMATURING, from the snowballing popularity of their social media platform to an ongoing string of live runs that has included treks alongside such like-minded artists as cavetown and Ricky Montgomery as well as their first ever US headline tour – a sell out at nearly every stop. Each new adventure has seen Grace's music reaching more and more people, their seemingly private songs now ringing out in increasingly larger venues. "In my head, I still see myself as this 21-year-old that played at coffee shops and just kind of wrote music for themselves," Grace says. "But now, rather than just being another face in the crowd, I'm the person on stage. That's still so jarring to me, but also really exciting, and I can't help but be so grateful to have gotten there relatively fast." Grace demonstrates the many lessons learned over the past year with their ambitious sophomore EP, THINGS THAT ARE BAD FOR ME. Songs like "If Nobody Likes U" and the unorthodox first single, "Pretty Girl," exult in Grace's own journey of personal growth and self-evolution while also pushing the boundaries of how that story can be told. Grace has spent considerable time working with rising producers and co-writers, including Andy Seltzer, Cameron Hale, Alex Wilke, Jake Aron, and songwriter Charli Adams, but the often provocative results are unquestionably all their own. "I like to test the waters of typical things that you don't talk about," Grace says. "I think I've tested it before with 'I Wanna Be a Boy," but that was still leaning into a very stereotypical queer story. And now, as I've gotten more comfortable with my identity and just being who I am without apology, I'm really lucky to have an audience that lets me talk about these intricacies of queerness." Indeed, Grace's songs touch upon themes previously unheard in modern pop. "Pretty Girl" in particular stands out, its irresistible energy and powerhouse hooks carrying one of Grace's most candid lyrics thus far, stirred by "the grief that happens after you come out." "Usually you get these really happy or dramatic stories of coming out," Grace says, "where people are finally living as themselves and so happy. And that's true. For me, personally, I was happy to finally exist as someone who was trans masculine. But I was also sort of grieving that some people that I loved, and were very close to me, still wanted me to be the girl that they knew. There was one really prominent person I had been in love with, a person who still to this day I consider a soulmate, but the thing was, they weren't attracted to men, they were only attracted to women and I kind of almost blamed myself for them not being able to be attracted to me anymore. It's this weird feeling of wanting to be a guy for me, but also wanting to be a girl for them. It was so thoroughly confusing. The whole point of 'Pretty Girl' is to emphasize that I know, to them, I'm always going to be that pretty girl but I'm not going to get back into that closet of self-hatred just to be with them. It's like a weird conflict of, I miss you but I don't want to change myself." As their unconventional journey to approach new terrain, Addison Grace admits time feels both condensed and moving faster than they had ever previously imagined, their sense of self constantly colliding with their perpetual motion as a artist. Having come so far so fast, Grace is more eager than ever to test their adventurous spirit as they growing into their own skin like all of us, expressing it through what is already a truly inimitable personal chronicle told through glorious song after song. "From when I was 19 to 21, those two years are such a drastic difference," says Addison Grace. "The first music that I released and how my style was then, it's completely different to how it is now. And it's going to keep doing that. When I'm 23, I'm going to look at my 21-year-old self and be like, it's the same person but drastically different."