Saturday,
February
17th
, 2024
Spin Doctors
Paris Monster
Doors: 6:00 PM
/
Show: 8:00 PM
21+ Years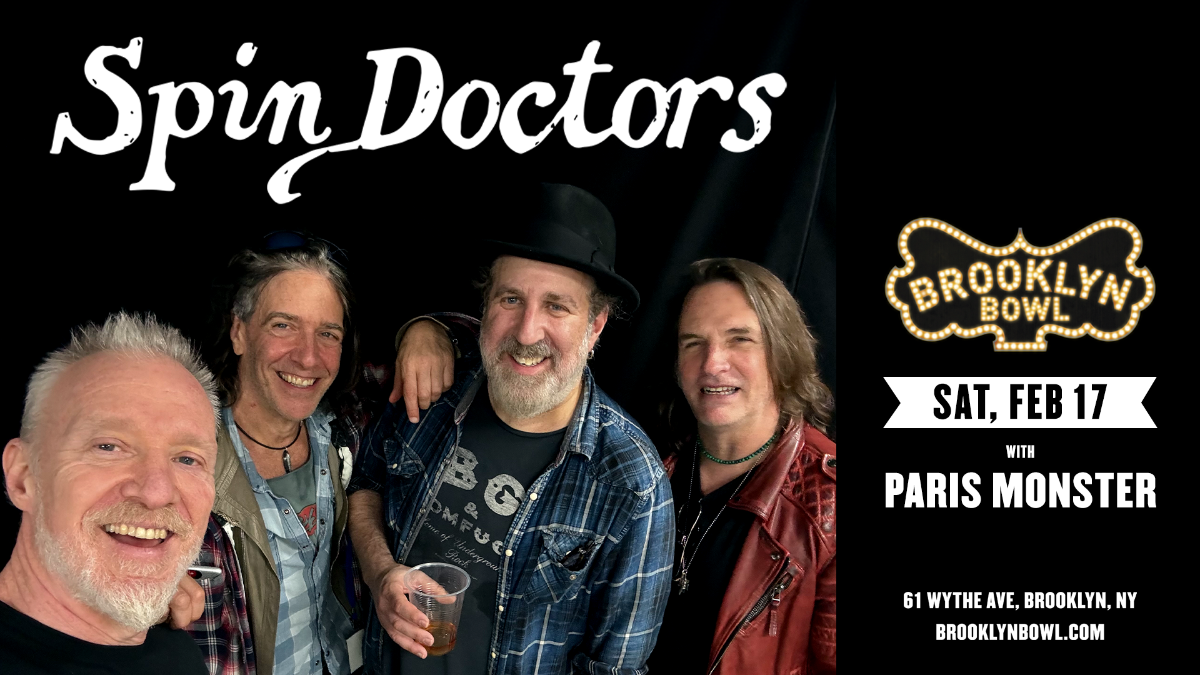 Event Info
Venue Information:
Brooklyn Bowl
61 Wythe Avenue
Brooklyn, NY 11249
Valid photo ID required at door for entry
Doors: 6:00 PM
Show: 8:00 PM
Artist Info
Spin Doctors
Thirty years. It's an eternity in rock 'n' roll, and a marathon for the bands who fly its tattered flag. Revisit the class of 1988, and the casualties are piled high: a thousand bands that blew up and burnt out. In this chew-and-spit industry, the Spin Doctors are the last men standing, still making music like their lives depend on it, still riding the bus, still shaking the room. They've never been a band for backslaps and self-congratulation. Even now, plans are afoot for a seventh studio album and another swashbuckling world tour, adding to their tally of almost two thousand shows. But faced with that milestone, even a band of their velocity takes a breath for reflection. "I'd never have guessed," admits drummer Aaron Comess, "this would have turned into thirty years of making great music together."

Like all the best rock 'n' roll mythology, the final page of the Spin Doctors' biography remains forever unwritten. But if the band's story is to begin anywhere, it should be at New York's New School university in the fall of '88, when a fateful door-knock sparked the first meeting of Comess and guitarist Eric Schenkman. Trading as the Trucking Company, Schenkman, local legend John Popper and a charisma-bomb vocalist named Chris Barron had been making a glorious noise in the clubs downtown. But when Popper committed himself to Blues Traveler, the remnants sought new blood. Having assured Schenkman that he'd "check them out," Comess formed a ferocious rhythm section with Bronx-raised bassist Mark White. "When I first met them," recalls White, "I thought, 'These are some funky-assed white boys.' I'm the black guy in the band, and they had to teach me to play the blues."

Led by relentless touring, the album sold steadily – but within a year, Epic had declared it "dead" and pushed the band to return to the studio. "But we decided to go back on the road," says Comess, "as we felt the buzz building and believed in the record. Sure enough, within a few months, Jim McGuinn up in Vermont started playing "Little Miss Can't Be Wrong" and it went to #1. He wrote to the head of Epic, telling him they'd be crazy not to push this band. That was the fuel that lit the fire."

Barron still recalls the circus when Pocket Full Of Kryptonite exploded in 1992 ("When we were selling 50,000 records a week, I'd walk into a mall to buy underwear and 300 kids would surround me"). Pass a record store and you'd hear the tills ring, as that all-conquering debut album marched towards 10 million sales. Pass a news-stand and you'd see the lineup staring back from the cover of Rolling Stone. Flick on MTV and you were serenaded by planet-straddling follow-up hit "Two Princes," whose irresistible groove and scream-it-back chorus took it to #4 on the Top 100 singles chart and more US radio spins than any other rock 'n' roll song in 1993. "When you're freaking popular," says White, "and people are throwing themselves at you, if you don't like that, you're on the wrong planet."

Long-term strategy has never been the Spin Doctors' style. While cultural commentators have long since given up plotting the trajectory of this most unpredictable band, it's a revelation to learn that the lineup themselves have no road map. "For the next album," considers Barron, "I kinda want to stay spontaneous. I'd personally like to make a quarter-turn and do a rock record. But I have a feeling it's gonna get funky. Y'know, there's that great quote from Keith Richards when he went to meet Mick Jagger at AIR Studios to make Steel Wheels. And he told his wife – 'I'll either be back tomorrow or in a month'. I think that's how it's gonna go for us, too."

Thirty years. A thousand twists. But whatever happens down the road, rest assured that the Spin Doctors will always be the last men standing, still making music like their lives depend on it, still riding the bus, still shaking the room. "It's been a great ride," considers Comess. Then he adds: "So far…"