Thursday,
April
20th
, 2023
Limited Admissions at Doors
Scary Pockets
David Ryan Harris
Doors: 6:00 PM
/
Show: 8:00 PM
21+ Years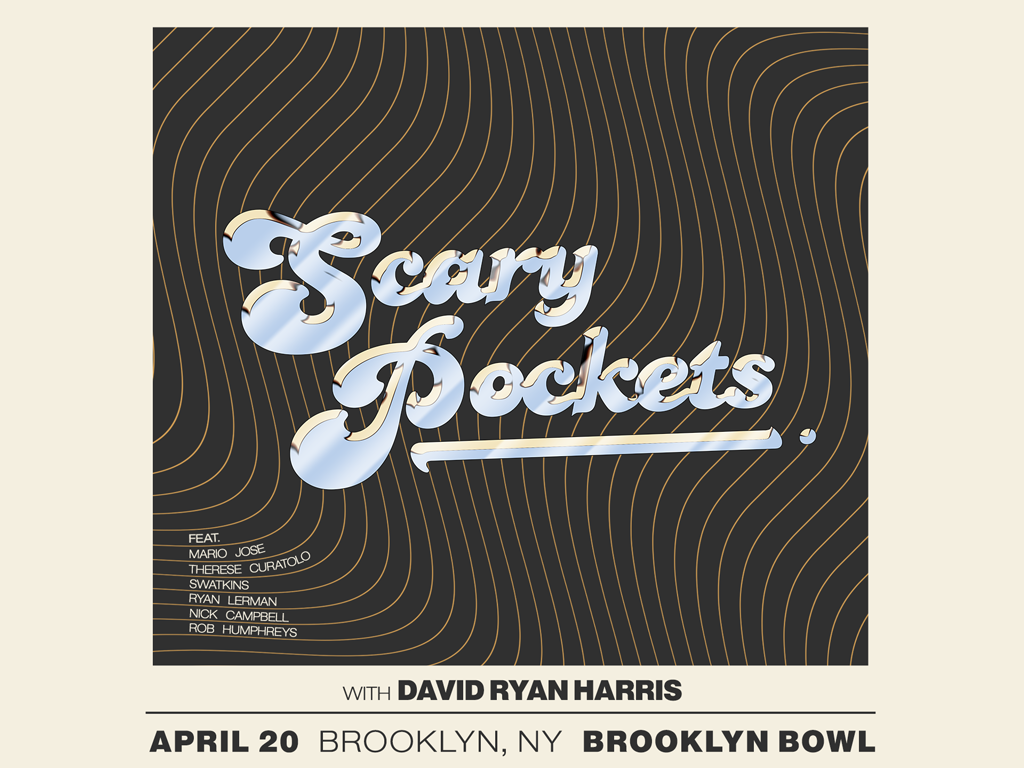 Event Info
Venue Information:
Brooklyn Bowl
61 Wythe Avenue
Brooklyn, NY 11249
Valid photo ID required at door for entry
Doors: 6:00 PM
Show: 8:00 PM
Based on the latest local guidelines, attendees are no longer required to provide proof of vaccination for entry into this event. Be sure to check your venue website for the latest updates and guidelines as entry requirements are subject to change.
An inherent risk of exposure to COVID-19 exists in any public place where people are present. COVID-19 is an extremely contagious disease that can lead to severe illness and death. According to the local health authorities, senior citizens and guests with underlying medical conditions are especially vulnerable. By visiting our establishment, you voluntarily assume all risks related to the exposure to or spreading of COVID-19.
Artist Info
Scary Pockets
Scary Pockets are a rotating roster of world-class musicians who release live funk reimaginations of familiar songs every week.

Since their first recording session in 2017, Scary Pockets have released 300+ videos that have been watched over 234 million times for over 540 million minutes on YouTube where their channel has 1M+ subscribers. Their songs have been streamed 117 million times on Spotify by 640,000 monthly listeners.
Scary Pockets' 200+ collaborators (so far) include all-stars like David Ryan Harris, Larry Goldings, John Scofield, Joey Waronker, John Mayer, Darren King, Sean Hurley, James Gadson, Darren Criss, Antwaun Stanley, Judith Hill, Bruno Major, Reeve Carney, Derek Hough, Bill Wurtz, Joey Dosik, Lee Sklar, Joe Bonamassa, Theo Katzman, Rachael Price, Lizzy McAlpine, and Joshua Radin, to name a few.

The 2023 Scary Pockets touring lineup consists of Pockets fan favorites Mario Jose (vocals), Therese Curatolo (vocals), Nick Campbell (bass), Swatkins (talkbox, keys), Rob Humphreys (drums), Ryan Lerman (guitar), and Ariel Posen (guitar). The show will feature an opening set by legendary singer/songwriter David Ryan Harris.
David Ryan Harris
David Ryan Harris. "Sounds like a law firm, tastes like analog tape," says the soul singer/songwriter and guitarist. "I heard music, melodies and stories in my head as a child. It never went away and I hope it never does," he says.
Born in Chicago and raised in Atlanta, David was drawn to the blues after hearing songs by Son House, Robert Johnson and others. Growing up at a time when Prince, Parliament-Funkadelic, Stevie Wonder and other musicians were stretching the boundaries of popular music, he began to understand that music could not and should not be limited by our often narrow views of what it should be.
In 1991, David co-founded Follow For Now, a band that combined all of the influences that had been shaping his musical vision: Bad Brains meets Stevie Wonder and Public Enemy in Memphis. While the band had a short life, it was David's launching pad, as it allowed him to taste the fruits of such a strange mess of musical ingredients. He signed to Columbia Records in 1997, released a self-titled record and began to spread his wings as an artist, writer and producer. In 2000, he signed to Elektra with the band Brand New Immortals. Shortly after releasing an album, the label folded and the band followed suit.
Today, David Ryan Harris calls Los Angeles home, but is internationally recognized for playing guitar and singing in John Mayer's band from 2004-2012. He has also had the pleasure of writing with, playing with and/or producing artists from Dave Matthews, Cassandra Wilson, Derek Trucks, Santana, Marc Broussard, and Guy Sebastian. Most recently, he produced and co-wrote six songs on Indie.Arie's album, Songversation.
Since his major label days, David has independently released many singles and solo albums, including the wildly popular 2007 LP, The Bittersweet. On October 23, 2015, he released his fourth full-length album, Lightyears, which includes co-writes with Derek Trucks, Susan Tedeschi, Tyler Lyle and Joe Gil among others. The LP also features guest appearances by John Mayer, Indie.Arie and Nikka Costa. "Lightyears is me sending up a flare into the darkness from where I live," says David. It's a soulful look into my life. My past and how it informs my present. My sense of hope, my sense of humor."