Saturday,
June
10th
, 2023
RJD2 (Live Band)
The Du-Rites
Doors: 7:00 PM
/
Show: 8:00 PM
21+ Years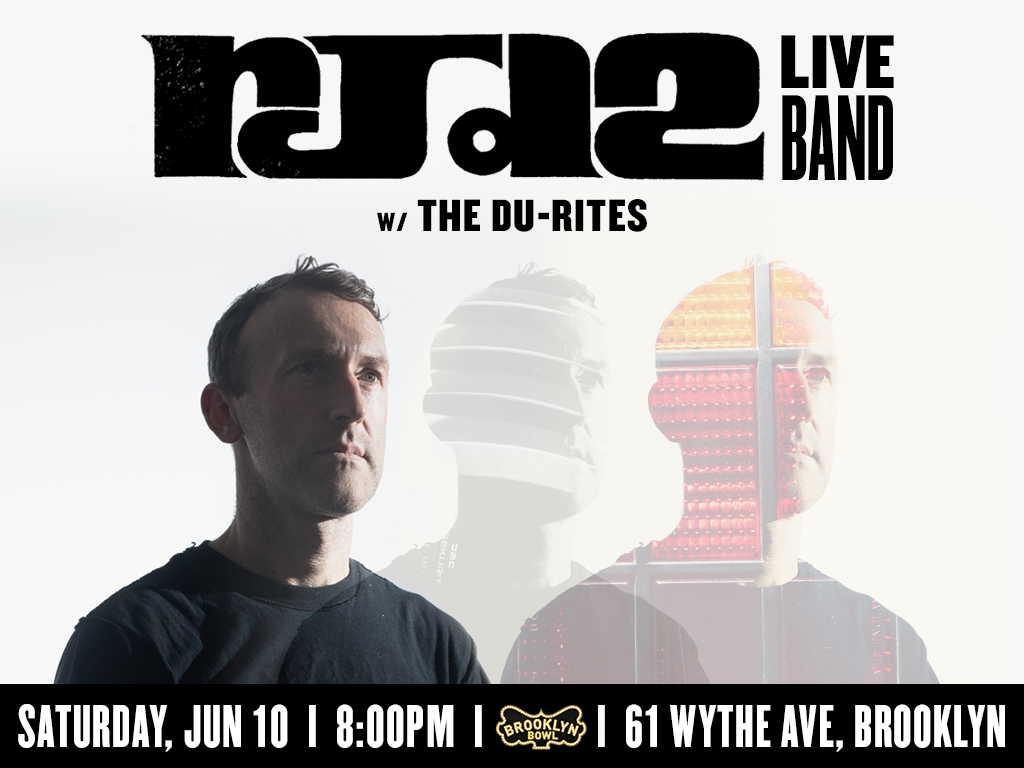 Event Info
Venue Information:
Brooklyn Bowl
61 Wythe Avenue
Brooklyn, NY 11249
Valid photo ID required at door for entry
Doors: 7:00 PM
Show: 8:00 PM
Artist Info
RJD2
Dame Fortune is the deliciously eclectic sixth album from veteran producer and crate digger extraordinaire RJD2, out March 25th on RJ's Electrical Connections. It's a wondrous beast, recorded over the past year while living in Philadelphia, before returning to his hometown of Columbus, Ohio. Streaked with Philly's rep for deeply felt soul music while maintaining a playful sense of adventurousness, Dame Fortune features guest vocalists Son Little (aka Aaron Livingston) and frequent collaborator Phonte, while also presenting the bombastic hip-hop sound that marked RJD2's breakthrough album, Deadringer, and even an orchestral composition for the societal unrest experienced in this day and age (called "PF Day One."..the PF standing for "Post Ferguson").

"Living in Philly provided a context for a lot of soul music that I had liked," RJD2 says on the city's influence on Dame Fortune's sound. "I didn't have any cultural context for this music that I liked -- it was just music that I had stumbled across as a beat making nerd. Philly was a place where there were enough people who had the same musical vocabulary that I did, which made the music more than something I had just discovered on my own."

The debut single, "Peace of What," features Jordan Brown and draws inspiration from 1990s rap legends Main Source's 1991 single "Peace Is Not the Word to Play." "When I hear people talk of peace in America, the discrepancy between our words and our actions can get fatiguing," he says on the inspiration behind the song. "I was trying to reflect the experience of people I know, which often feels like 'We're not ACTUALLY trying to do anything about this problem in our country.'"

Thought-provoking and undeniably entertaining all at once, this latest exhibition of musical virtuosity is a crystal-clear reflection of RJD2's cinematic aspirations, reminding listeners that it's always rewarding to expect the unexpected. RJD2 will tour throughout 2016 in support of Dame Fortune and his 20-year-plus-career.
The Du-Rites
The Du-Rites couldn't have been born from more divergent musical
backgrounds for an instrumental funk band. Buenos Aires-born Pablo Martin -
guitar, bass, synthesizers - brings decades of experience in punk rock, Latin
and pop; native New Yorker Jay Mumford (aka J-Zone) - drums, keyboards,
percussion - honed his ear and skills in funk, hip-hop and soul-jazz. With Pablo
holding down guitar duties in the legendary Tom Tom Club and Jay doing studio
drumming for and/or being sampled by the likes of Danger Mouse, Dan Aurbach
(The Black Keys), Adrian Quesada (The Black Pumas), Madlib, Lord Finesse,
Binky Griptite (The Dap-Kings) and others, their work casts a wide net outside

the band. So in a genre like funk that can lean towards the derivative, The Du-
Rites' individual paths ensure rules will be bent, but the respect for the innate

emotion and groove of traditional funk music holds steady.
Formed in 2013 after a decade-plus knowing one another, Jay and Pablo began
developing their chemistry and sound during holiday jam sessions and
rehearsals with Pablo's rock band. In 2016, they released their eponymous
debut as The Du-Rites to a warm reception, and followed with the meat and
potatoes funk of 2017's Greasy Listening; 2018's TV detective show film
score, Gamma Ray Jones; their first live LP (Soundcheck at 6) in 2019; 2020's
pandemic-crafted, psychedelic outing, A Funky Bad Time, and 2021's EP
release, Pressure, which experimented heavily with jazz influences and Italian

soundtrack vocals. A slew of 7" single releases over the years were the in-
between baby steps for The Du-Rites' growth and provided a canvas to remain

consistent without repeating themselves. Their seventh album, Plug It In, will be
released later this year.
Their work hasn't been reserved to their own releases as a band, either. In 2018,
The Du-Rites served as the primary composers and rhythm section for "Rock,
Rubber, 45s," the theme song from NYC legend Bobbito Garcia's film of the
same name. The song featured jazz legends Eddie Palmieri and Robert Glasper,
and put The Du-Rites in esteemed company. They showed their versatility with a
remix for a Ghostface Killah (Wu-Tang Clan)-led tune from French DJ/Producer
Wax Tailor and got their feet wet as the backing band on Latin Soul tunes from
Mimi Maura. They've also collaborated with percussionist Elson Nascimento
(Sun Ra Arkestra) and keyboardist Money Mark (Beastie Boys) on
their recent material. Live, Jay and Pablo are joined by Bill Harvey (bass) and
Bruce Martin (keyboards and percussion).
To be influenced by so much, yet mimic nothing while keeping a distance from
repetition is just a less succinct way of saying The Du-Rites du what they du.