Thursday,
October
19th
, 2023
Próxima Parada
with Sean Carroll, Olive Klug
Doors: 6:00 PM
/
Show: 8:00 PM
21+ Years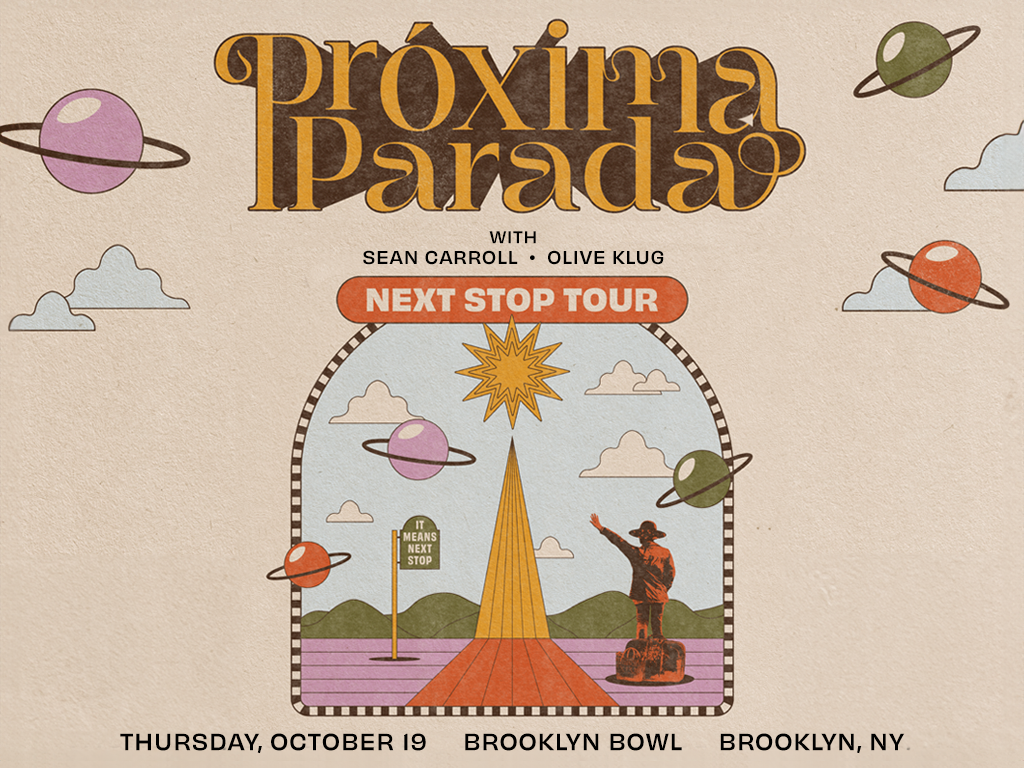 Event Info
Venue Information:
Brooklyn Bowl
61 Wythe Avenue
Brooklyn, NY 11249
Valid photo ID required at door for entry
Doors: 6:00 PM
Show: 8:00 PM
Artist Info
Próxima Parada
Próxima Parada means 'next stop' in Spanish and Portuguese. As college students in San Luis
Obispo, California taking the bus to school, at every stop they'd hear, "Now approaching, próxima
parada..." 100 times a day. The name is an invitation to the present moment, a reminder to not be
too focused on the destination and to appreciate every stop along the way.
After ten years of next stops, their songs have become more and more focused on personal
growth and groove, where each player adds just what's needed and makes up a piece of a
whole. Some songs are sunny and light-hearted indie soul, others have a late-Mac-Miller mellow
vibe, all the while speaking to who they are working to be.
What began as a group of college friends wanting to spread joy to their local community has led
to national tours where people let loose and feel whatever they need to feel. It's already been an
incredible journey with their songs reaching a global audience online, and they're just getting
started. 2023 brings Próxima Parada's strongest album to date and much touring.
Sean Carroll
Sean Carroll is a Brooklyn Based Indie Soul artist. He has at moments been a bread baker, a whiskey seller, and is currently an artisanal pasta maker, but he has always been a musician. Drawing from influences like Gary Clark Jr. and D'Angelo and bolstered by his schooling at the esteemed Clive Davis Institute, Sean frequently packs some of NYC's best rock clubs. At his shows and in his music it's hard to deny that Sean was born to sing and to be on stage. Central to the music is Carroll's singular voice that draws on the soft control of some of soul's best vocalists while evoking the growl of the blues in equal parts. It's a voice that begs to be heard, the kind of voice that's hard to forget.
Olive Klug
A key player in the new wave of contemporary folk singers, Olive Klug is an independent singer/songwriter with a rare vocal gift. Self-styled after genre icons like Joni Mitchell and Brandi Carlile, Olive is known for their beautiful tone and vividly honest storytelling. Their sound is reminiscent of the Golden Age of American Folk Music, but with a uniquely modern lyrical sensibility.