Wednesday,
March
1st
, 2023
Faherty Sun Sessions 10th Anniversary
Moon Taxi with special guest Forester
In support of the Surfrider Foundation
Doors: 6:00 PM
/
Show: 8:00 PM
All Ages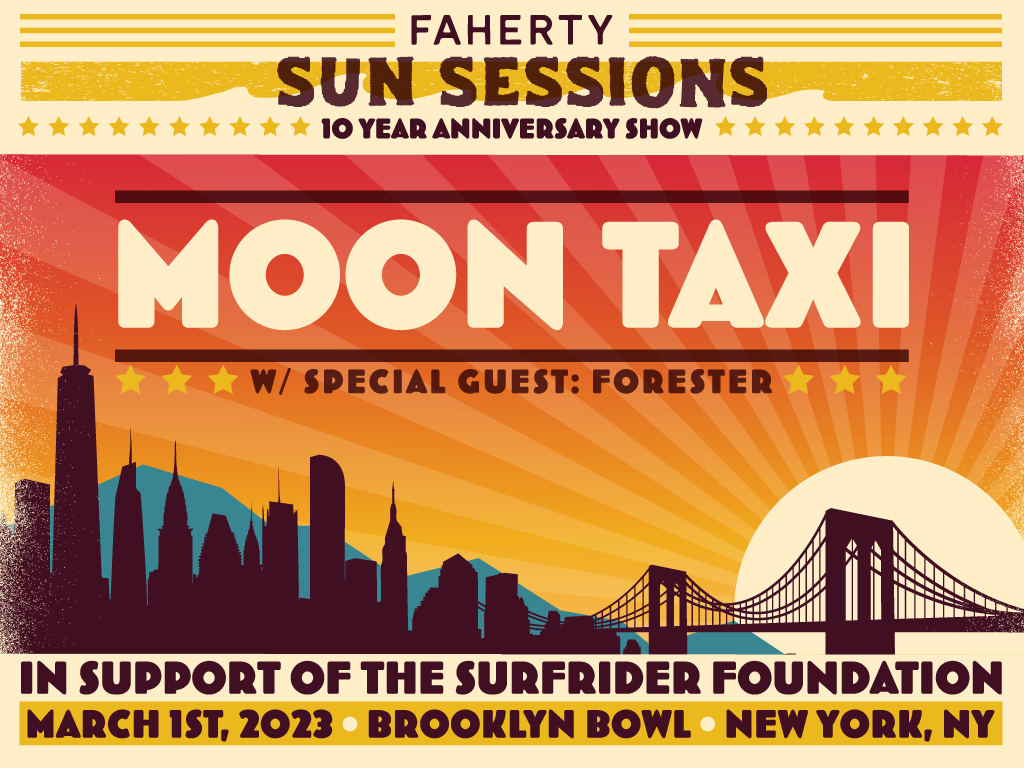 Event Info
Venue Information:
Brooklyn Bowl
61 Wythe Avenue
Brooklyn, NY 11249
Please note that with the purchase of a ticket you are agreeing to receive marketing communications from Surfrider Foundation to activate your membership.
It's Faherty's 10 Year Anniversary and we're kicking off this milestone in true Faherty style – rockin' out to great music, surrounded by community and good vibes.

Join us for our most epic Sun Sessions concert yet with a lineup of performances from some of our favorite musicians: L.A. based indie electronic duo, Forester, and headliner, Nashville-based indie-alt rock band, Moon Taxi.
With each ticket purchased, a portion of proceeds will go to supporting the work of our longtime partner, Surfrider Foundation and will entitle the ticket holder to a free Surfrider membership at their local chapter. Learn more on Surfrider and their mission below.
Founded in 2013 by twin brothers Mike and Alex Faherty, Faherty is a family-run business fueled by purpose and optimism. The brand's goal is to build a new American legacy by creating high-quality, sustainably-minded, feel-good favorites that will bring joy to wear. Alongside the brothers is the third co-founder and Alex's wife Kerry Docherty, whose legal background in human rights has contributed to her success as the brand's Chief Impact Officer. With Faherty's passion for mindfulness and community integration, Kerry brings the lifestyle brand full circle with their acclaimed Sun Session programming, Native partnerships, sustainability initiatives, and many more campaigns and nonprofit partners dedicated to giving back.
The Surfrider Foundation is a nonprofit grassroots organization dedicated to the protection and enjoyment of our world's ocean, waves, and beaches for all people through a powerful activist network. Founded in 1984 by a handful of visionary surfers in Malibu, California, the Surfrider Foundation now maintains more than a million supporters, activists, and members, with over 200 volunteer-led chapters and student clubs in the U.S., and more than 800 victories protecting our coasts. Learn more at
surfrider.org
.
Artist Info
Moon Taxi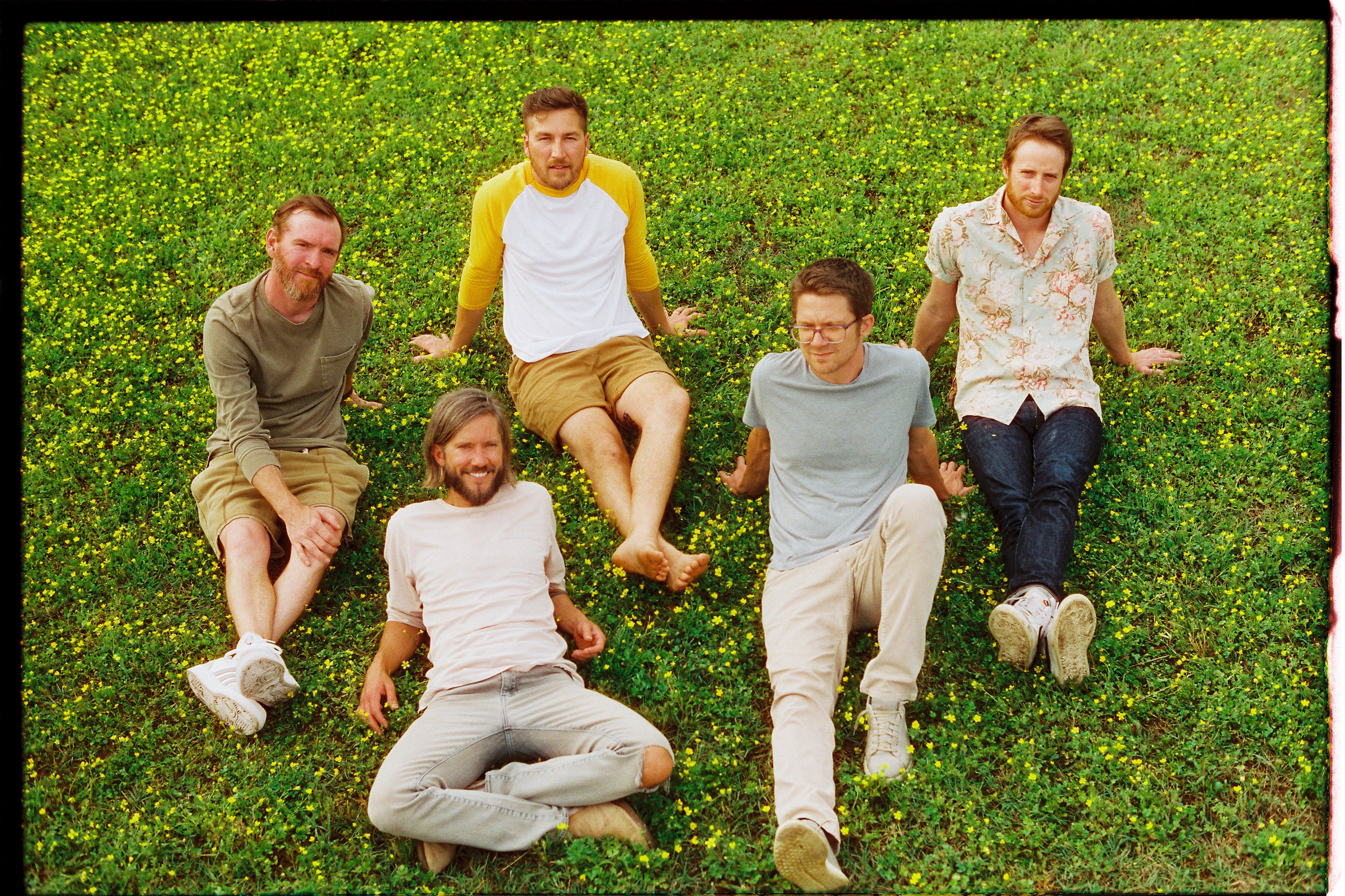 Once again ready to push the boundaries of their genre, Nashville based indie alt-rock band Moon Taxi is back with their sixth full length album, Set Yourself Free. With tracks ranging from rock to synth to pop to bluegrass, the new lineup showcases what 15 years as a band gets you: a polished, classic sound without fear of exploration. The five-member group- vocalist/guitarist Trevor Terndrup, lead guitarist Spencer Thomson, bassist Tommy Putnam, keyboardist Wes Bailey, and drummer Tyler Ritter- stepped back into their roots to create an album primarily written and recorded by themselves and set for release on their own label, 12th South Records.
"It was really rewarding for each of us. The last record had quite a few co-writes- this record did not. We challenged ourselves to write most of the material on our own and that's really something to hang your hat on these days when you typically hire an outside writer or producer," said Bailey on the band's creative process. "We really tried to look inward and do a lot of that on our own." Remote collaboration on Set Yourself Free started for the group during the pandemic, but 15 years of working together made that transition a smooth one.
"During the pandemic, we got used to FaceTime songwriting. For better or worse, it's been a great way for everyone to collaborate remotely. The lyics for the title track, Set Yourself Free, were even written on a 5 way call. And the song shows that collaborative color throughout. The idea of falling back on someone you trust is so important nowadays. But truly it's how we've tried to operate as a band for all these years." said Terndrup.
"You know, we've been a band for a while and we know each other really well. We spend a whole lot of time together, so it's not that foreign to be able to get on a call and get your point across to anybody else in the band. We know each other well enough to be able to accomplish that," added Putnam.
The album was finished through work in a few Nashville studios with the help of producer and collaborator, Brennan Aerts.
Despite a more fragmented process, the band regards Set Yourself Free as more reminiscent of their early work, citing it as fresh and exciting. Ritter believes they have a fan favorite on their hands- something that will re-energize the old fan-base as well as draw in new listeners. Without a set sound in mind, the group was free to mold the record into what feels like an authentic Moon Taxi album.
"We didn't exactly sit down and have an agenda for what the album was going to sound like. We just worked on songs for a long period of time and then the last couple of months have been more of a discovery process – discovering what we've actually been doing and trying to make sense of the whole thing," says Thomson. "So instead of going for some goal that we set out for, it was more just exploring things and seeing how they all work together. We just leave all our opinions in and that makes it more like a Moon Taxi record- it's all our inside input rather than outside input."
The 13-song record covers a number of genres in a sequence that remains interesting listen after listen. The opening song, "Walk Out," is a fully instrumental piece that features each member of the group. "It starts out with a really simple melody and just morphs into this thing we can all play on top of," Bailey observes. "I think it's what our fans want to hear – that aspect, the performance of it. You can hear our hands and fingers in a lot of these tracks that maybe got lost on some of the previous efforts. For me, that's really exciting.
Another band favorite is "Classics," which was released as the first single from the record. The chorus line, "raise your glasses to the classics," resonated quickly with the group as they recalled its debut at Hangout Fest when they used that line as a pre-performance toast. Driving and catchy, this song is an instant reminder of the songs we all live our lives to.
An ode to Thomson's hometown of Bowling Green, Kentucky, "Evergreen" brings a bluegrass vibe to the album and features Grammy winning artist Molly Tuttle. Thomson had been hoping to write "a little nugget" about his beloved town, but after Bowling Green was hit by a tornado in 2021, the right words finally came to him. With endearing harmonies and a folky melody, "Evergreen" will surely inspire many listeners to book tickets to visit home.
With five previous albums under their belt, Moon Taxi had, and took, the opportunity to think outside the box and make some reaches, both musically and lyrically. "I think a lot of that freedom comes with having done it for a long time and on album number six, you're no longer trying to find your sound like you are in earlier albums. You can kind of do what you want and then objectively look at it towards the end," said Putnam. "You just trust yourself and your ear."
Set Yourself Free showcases the skill of a fully developed and practiced group of musicians. Free from the barriers of genre and self-definition, Moon Taxi presents a fresh and bold take on their sound.
Forester
Los Angeles-based indie electronic duo, David Parris and Xander Carlson, make lush soundscapes both inspired by and evocative of views from a mountain, deep pink sunsets and stars on a clear night.
The longtime friends launched the Forester project in 2019, working nine-to-five gigs and making music at night. They achieved immediate success with their debut single "Spark" – a deep exhale of a track that was picked up by independent label Lowly Palace and which has since collected more than 7 million total streams. The song also caught the ear of Kygo's Palm Tree Records, where Forester signed in 2020. The Forester catalog now encompasses three albums: 2019's Kerosene, 2020's A Range Of Light and
2022's Watercolor. Recording at locations including a cabin high in California's Sierra Nevada Mountains, the guys have honed a sound that fuses indie folk with melody-focused electronic music. Together, these LPs have collected an incredible 72.7 million global streams, in addition to a growing fanbase made up of both longstanding dance fans and scene newcomers. Forester has played this music for tens of thousands of fans at festivals like Outside Lands and as the opener for Kygo at massive stadium shows in Oslo and Mexico City.