Saturday,
April
29th
, 2023
LTJ Bukem
Armanni Reign, Anthony Kasper, T.R.A.C.
Doors: 11:00 PM
/
Show: 11:30 PM
21+ Years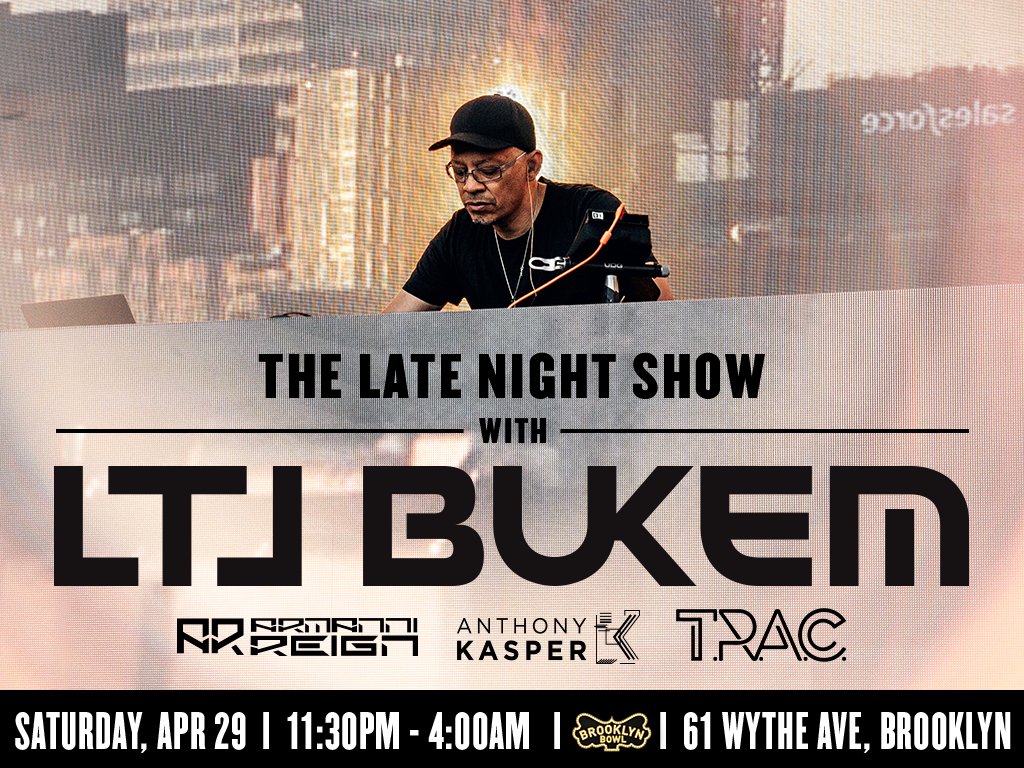 Event Info
Venue Information:
Brooklyn Bowl
61 Wythe Avenue
Brooklyn, NY 11249
Valid photo ID required at door for entry
Doors: 11:00 PM
Show: 11:30 PM
Based on the latest local guidelines, attendees are no longer required to provide proof of vaccination for entry into this event. Be sure to check your venue website for the latest updates and guidelines as entry requirements are subject to change.
An inherent risk of exposure to COVID-19 exists in any public place where people are present. COVID-19 is an extremely contagious disease that can lead to severe illness and death. According to the local health authorities, senior citizens and guests with underlying medical conditions are especially vulnerable. By visiting our establishment, you voluntarily assume all risks related to the exposure to or spreading of COVID-19.
Artist Info
LTJ Bukem
Just who is LTJ Bukem? Ground breaking DJ? Inspirational musician? Record label entrepreneur? Club visionary, perhaps? When the man behind those wire rimmed glasses and that disarming smile writes his job description just what does he put? The man who took the drum and bass concept from a small venue off London's Charing Cross Road to the nation's superclubs and then onto the international stage? The geezer whose records launched breakbeat into a brand new galaxy of sound? Or maybe he just writes 'Renaissance man for a digital age'. In truth LTJ Bukem is all of the above. Although he wouldn't like to admit it, LTJ Bukem is the living embodiment of the post-acid house entrepreneurial creative spirit. He is a mild mannered energy flash whose panoramic musical vision has found success in every area he has explored. From running sound systems to cutting up breaks at raves, from relocating the heart of breakbeat culture to redefining the spirit of drum and bass, the man known to his friends as Danny Williamson has sat at the forefront of breakbeat evolution, lighting the way with little more than a zest for life and a love of music. In other words, LTJ Bukem is a man on a mission!

Bukem's first introduction to music, like so many others, was through piano lessons as a child. Unlike many however, the young pianist turned out to possess a natural talent and he quickly moved through the piano grades. Classical music represented the soundtrack to his home life. Both parents having a passion for Rachmaninov and Tchaikovsky that rubbed off on their son. However it was when the family moved to Watford and Bukem changed music teachers that he developed his first true musical love. Thanks to a progressively minded teacher - Nigel Crouch - he was then introduced to the world of jazz fusion, a style which has informed his work ever since.
In the mid eighties, at the age of seventeen, Bukem discovered the joys of clubbing. The teenager regularly checked out the local soul clubs and legendary rare groove all dayers. As a keen record buyer he soon became interested in the idea of putting over his own version of the club soundtrack and before long he became involved with a sound system. During this time he also ran a jazz funk band, although this never presented itself as a serious past-time; just fun. The DJing was his main thing and by 1987 he gained something of a reputation for his sets. However it was in 1988 that Bukem first realised that DJing could offer a full-on career.

In 1990, LTJ Bukem got his first big break - at 'Raindance'. Booked to play between 1 & 2 AM in front of 10,000 people, it was the first true test of this fledgling DJ's skills. It may have taken all of his mates to push him onto the stage but it proved to be a set that he'll never forget. From the first track he "ripped it up" and LTJ Bukem, the world class DJ was truly born.

Naturally, Bukem then ventured into the studio to record a track which was to become one of the most influential records of the era. This 12" titled 'Logical Progression' surfaced on the newly formed Vinyl Mania imprint. At once anthemic and relaxing it offered the first true blueprint to Bukem's sonic vision.
By the time of his follow up to 'Logical Progression' Bukem had set up his own imprint. Run from a small office in Harlesden, London, the label was christened 'Good Looking' and its debut offering came in the shape of 'Demon's Theme'. Finished in mid 1990 and pressed up onto dub-plate, Bukem dropped it into his sets for a full year to test the reaction before he finally released the track officially in July '91. 'Demon's Theme' immediately caught the imagination of many people, its soulful combination of rushing breaks, lush ambience and mellow vibes opening up fresh vistas within the increasingly dark ambience of the rave.
Bukem's next release was 'Apollo' in '92, however his biggest breakthrough came with his next release 'Music' in 1993. In 1994 Bukem unleashed '19.5' while the release of the similarly epic 'Horizons' coincided with the opening of the legendary 'Speed' at the Mars Bar in London. This was an important time for Bukem. The label was gaining ground with its growing catalogue of must-have tunes and Bukem's own in-demand DJing. The launch of 'Speed' was intended to run hand in hand with the growth of Good Looking while also offering a focal point for the growing drum and bass scene. After a shaky start, which almost forced the night into closure, 'Speed' quite literally took off one night in the summer of '94.
Typically, Bukem made the most of this situation. He used the sudden media limelight to forward his vision, highlighting Good looking Records and its label roster. In 1995 the label licensed a compilation to London Records. Titled 'Logical Progression' it featured exclusive cuts from the roster alongside older tracks and is still one of the highest selling drum & bass compilations to have been released. "I wanted to see the label grow, I wanted to invest in the people who were signed to the label, so the move had to happen. It was never simply about LTJ Bukem, it was about Good Looking Records, Logical Progression and the sound."

Bukem's own music never took a back seat. There were remixes (including astounding reworks of Jodeci's 'Feenin' and Michelle Gayle's 'Sweetness'), his own additions to the label compilations and a collaboration with David Arnold on the infamous James Bond theme to 'Thunderball'
In the midst of all this rampant activity Bukem also managed to release the 'Mystical Realms EP' in March '98. The EP featured 'Twilight Voyage' with sombre flute refrains, chopping keys and an outer world ambience. The vocal and instrumental versions of 'Orchestral Jam', with its urgent break, echo dropped sonar and dissonant violins, and final track; the reflective, Herbie Hancock-esque 'Journey Inwards'. Three tracks, each representing a deeper development of the Bukem sound, further underlining Bukem's position as a sonic leader of post rave breakbeat culture.
Bukem continued to produce and mix some of the World's best Drum & Bass and cross-over compilations that have ever been put out. Titles such as 'Progression Sessions', the 'Earth' volumes and further instalments of the 'Logical Progression' series have become notorious for the new and exciting directions that Bukem has always strived to take, but without losing sight of his original musical roots and all the things that inspired him in the beginning.
The start of the 21st century saw LTJ Bukem continuing on his extraordinary musical odyssey with his long awaited solo album 'Journey Inwards'; A diverse and multi directional album of drum 'n' bass, soul, downbeat and house tracks that opened the eyes of those that had no faith and warmed the souls and inner belief of those that did. He has also added to his impressive remixing portfolio with his interpretation of 'The Essence' by jazz legend Herbie Hancock. On top of this he has continued the 'Progression Sessions' series of live mixes captured on CD, featuring storming performances recorded live in The USA, Tokyo and Germany. Bukem also compiled the highly acclaimed 'Soulfood' and 'Soul Addiction' compilations and released not one but two 'Producer' series CDs.

Fast-forward to 2007 and after a well earned "holiday" and a carefully considered climate change in the music industry - Bukem and his label re-entered the fray with new quality releases including the much anticipated Double A sided 12" featuring 'Switch' by LTJ Bukem and the mighty 'Drum Toolz' by MC Conrad and Furney on the flip – Released November '07 on Good Looking.

Bukem and his label are back on their mission, 2008 will see many new projects and a few familiar concepts updated for this new era of audio / visual consumption.
Watch this space…

All the while LTJ Bukem will continue to spread the gospel of the Good Looking sound - setting the main stages of the world alight with his stunning DJ sets.

"It's all a matter of opinion!"


Label Information - goodlooking records

"Bukem & goodlooking stepping back into the limelight"

LTJ Bukem has been an integral force in the develo...
LTJ Bukem has been an integral force in the development of Drum and Bass for well over 10 years and without his input, it is hard to imagine how the shape of our music would look today. He can, almost single-handedly, be held responsible for the conception and development of the more soulful side of Drum and Bass that he has since become renowned for. Labelled "Intelligent Drum and Bass" at the time, LTJ Bukem chose not to accept the new moniker, claiming that it suggested other examples of the genre lacked intelligence; a viewpoint that over the years has earned him respect from some of the scene's biggest names.

Born Danny Williamson in 1967, LTJ Bukem was raised in Watford by Baptist Parents. Danny's first interaction with music came at school, with him studying trumpet, whilst also playing the piano and drums; all of which are evident in his productions. After his expulsion from school at the age of 16, a musically minded Danny set about becoming a DJ, taking influences from everything including Hip-Hop, Electro and Jazz, this eventually led him onto forming the Sunshine Sound System through which LTJ Bukem could play all the moments' hottest tracks.

As Drum and Bass began to develop from its early roots in Hardcore Techno into the many subgenres we all know today, LTJ Bukem stepped us his game; setting up the highly respected label Good Looking Records with infamous business partner, Tony Fordham in the early 90's.

The label was not solely developed as an output for LTJ Bukem's work, but also as a platform; enabling him to showcase new up-and-coming producers. Artists including Peshay, PFM, Blame, Makoto and Blu Mar Ten can all be traced back to the early days of Good Looking with many going on to form successful individual careers.

Goodlooking's first full releases, did not focus solely on LTJ Bukem, but consisted of a compilation of some of the finest producers of the time. The first Album 'Logical Progression' consisted of tracks from LTJ himself alongside Peshay, PFM and Aquarius. The album's release in 1996 cemented Drum and Bass as a new form of Dance Music that was here to stay and LTJ Bukem's style opened up these new forms to a much wider audience.

Several years after the formation of Good Looking Records, sister labels began to form, acting as a stable for similar artists, many of which featured originally on Good Looking. Initially, Looking Good Records was set up to house the artists' growing production output. As the labels continued to develop; continuing to release the revolutionary rollers that it was becoming renowned for, LTJ Bukem wanted to expand; taking it further than the instant classics he had already released such as 'Music', 'Horizons' and 'Demons Theme.' Another sister label was founded 2 years later in 1996, Earth. The Earth imprint acted as on outlet for the more eclectic music of Good Looking, comprising of 7 volumes over an 8 year period, the Earth volumes symbolise the Good Looking ethos that if music sounds good then it should be embraced; the variety of tracks that appear on the albums vary from up-tempo jazzy Drum and Bass to more down tempo ambient tracks, whilst still seeming to compliment each other.

There had been much anticipation as to when LTJ Bukem' solo album would be finished, with many wondering why he was shying away from the project. The truth was, the time was not right, and in 2000 'Journey Inwards' dropped into the hands of a record number of Good Looking lovers. Heralded as a key point in Good Looking' history, it marked a turning point in the labels' output; with individual artist albums slowly beginning to emerge as well as continuing to release the highly successful Earth series and what some see as the highlight of the Good Looking releases; The Progression Sessions CDs.

These CDs have been the mostly widely received of all the Good Looking releases; with a collection of 10 releases that cover LTJ Bukem and fellow Label-mate MC Conrad's touring schedule over the last 10 years. With the releases featuring live mixes from just a selection of the many countries that the Good Looking Camp has travelled to. Countries including Japan, America and Germany have all featured and are a true example of how far and wide LTJ Bukem has travelled, pushing the boundaries of Drum and Bass.

Things seemed to quieten down after the Millennium, and rumours began circulating that the Good Looking Camp had begun to dwindle. These rumours were quashed with the huge 2004 release of 'Golden Girl' by Makoto with the vocal talents of MC Conrad. The tune heralded a welcome return for Good Looking with it receiving airplay from everyone from Friction to Fabio.

As for the future, things really are looking good! With the hugely anticipated new album from Makoto dropping early this year, Good Looking has a pipeline full of projects ready for release in 2008. As well as regular 12" instalments; the first new release being the double A sided 'Switch' by LTJ Bukem & 'Drum Toolz' by MC Conrad & Furney, Good Looking plan to release a DVD featuring 'Bukem In Session' – Live at Exit Fest 2007, a brand new volume of the legendary 'Earth' series, a debut album by MC Conrad, a 'Logical Progression' DVD and not forgetting LTJ Bukem's second solo album 'What Price Art'. These projects all signal firm steps back into the limelight for Good Looking.