Friday,
September
22nd
, 2023
PK.KID spinning before, between, and after Dopapod
Dopapod
w Club d'Elf ft. members of Dopapod + special guests
Doors: 6:00 PM
/
Show: 8:00 PM
21+ Years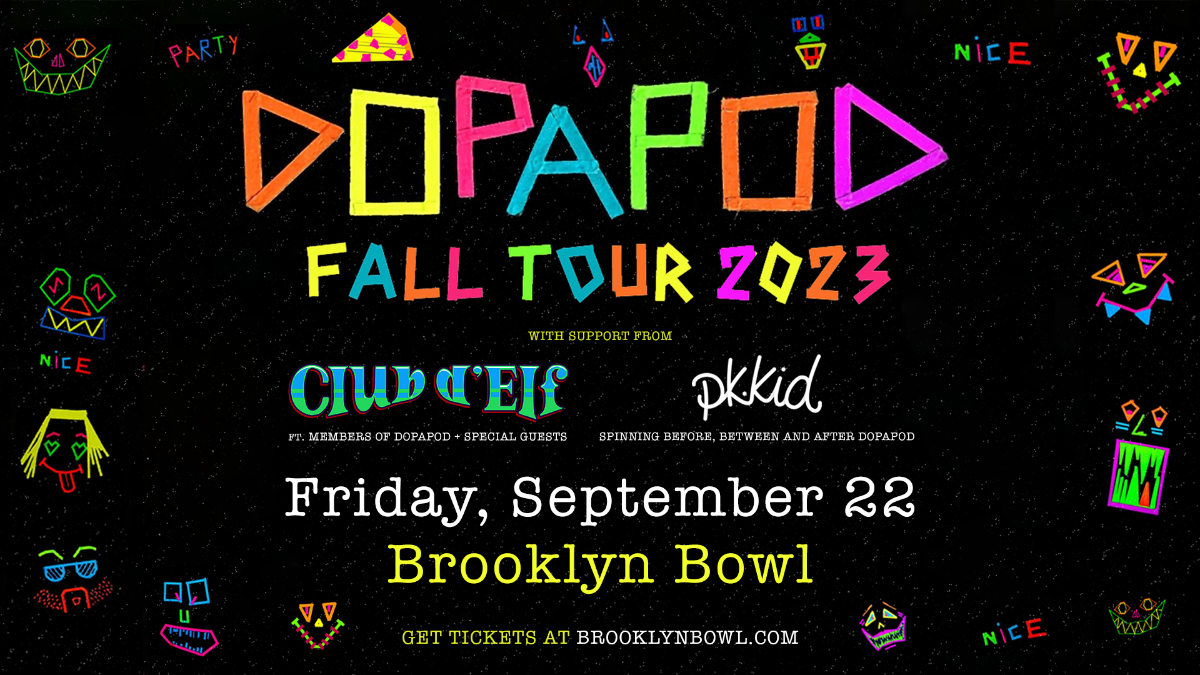 Event Info
Venue Information:
Brooklyn Bowl
61 Wythe Avenue
Brooklyn, NY 11249
Valid photo ID required at door for entry
Doors: 6:00 PM
Show: 8:00 PM
Artist Info
Dopapod
The quartet Dopapod—Eli Winderman [keys, vocals], Rob Compa [guitar, vocals], Chuck Jones [bass], and Neal "Fro" Evans [drums]—present albums as experiences meant to be shared out of your speakers and on stage. Traversing time travel, palindromic labyrinths, and binary pairs in a greater cohesive mystery, Dopapod's forthcoming self-titled album ties the conceptual ends of the group's discography, while charting a path forward. The group's hypnotic hybrid of funk, rock, jazz, bluegrass, and electronica has packed shows coast-to-coast, and earned acclaim from Rolling Stone, Guitar World, Glide Magazine, and more, while reeling in millions of streams online. Their immersive, expansive vision as a group continues to conjure alchemy nearly fifteen years into their journey with the release of their seventh album, Dopapod out in spring of 2022.
Club d'Elf
Club d'Elf has been helping audiences lose track of time for twenty five years with its mesmerizing synthesis of Moroccan traditional music and electronic, dubbed-out funk. Circling about bassist/composer Mike Rivard and drummer Dean Johnston, each Club d'Elf performance features a different line-up, drawn from a constellation of some of the most creative improvisers from the jazz, DJ, rock & world music scenes of Boston, NYC and beyond. The band's music draws from a startlingly wide spectrum of styles, including jazz, hip hop, electronica, avant garde, prog-rock and dub. Under the tutelage of member Brahim Fribgane (who hails from Casablanca) the band has absorbed Moroccan trance music, which is now an essential part of the mix. Diverse audiences are drawn to Fribgane's mesmerizing oud stylings, and Rivard's commanding playing of the Moroccan sintir. Trance forms the central core of the Club d'Elf aesthetic, weaving together the band's various influences.
In April 2022 the band released its latest album, 'You Never Know', which rose to #2 on the Relix chart. The record unfurls upon kaleidoscopic clouds of spiced smoke, shifting from chopped dub-jazz through trance epics that reimagine Boston as a city of bazaars. Club
d'Elf pay tribute to the music and musicians who have been primary influences, with half the album being covers of gnawa, Miles Davis, Joe Zawinul, Moroccan band Nass el-Ghiwane, and Frank Zappa. The other half consists of original music inspired by Rivard's personal journey into darkness following a near death experience in the remote jungle of the Peruvian Amazon.
"You Never Know is a wide ranging romp, full of serenity, chaos, longing, improvisation and peerless musicianship inspired by music from India and Morocco as well as the maverick jazz of Miles Davis and Frank Zappa." - Banning Eyre, Afropop Worldwide
PK.KID
100% VINYL 100% VINYL 100% VINYL

PK.KID is a Brooklyn based disc jockey cooking up hot wax, served ice-cold in finely crafted journey-sets. Dishing out jazz inflected house, rare groove disco, funk fusion and so much more… plated au naturel on 100% pure vinyl. Preparing you prime cuts only, intended for overconsumption in discotheque or warehouse!

Poured neat? PK.KID spins NYC clubs and lounges weekly, offering occasional live act support from the booth for groups including Soulive, Oteil & Friends, and Lotus.