Friday,
January
5th
, 2024
Brooklyn Reggae + Winooski Organics Present
Brooklyn Reggae Night feat: SunDub, Mighty Mystic, and Anant Pradhan & Larry McDonald
Amy Wachtel + Digital English + JonnnyGo Figure
Doors: 6:00 PM
/
Show: 8:00 PM
21+ Years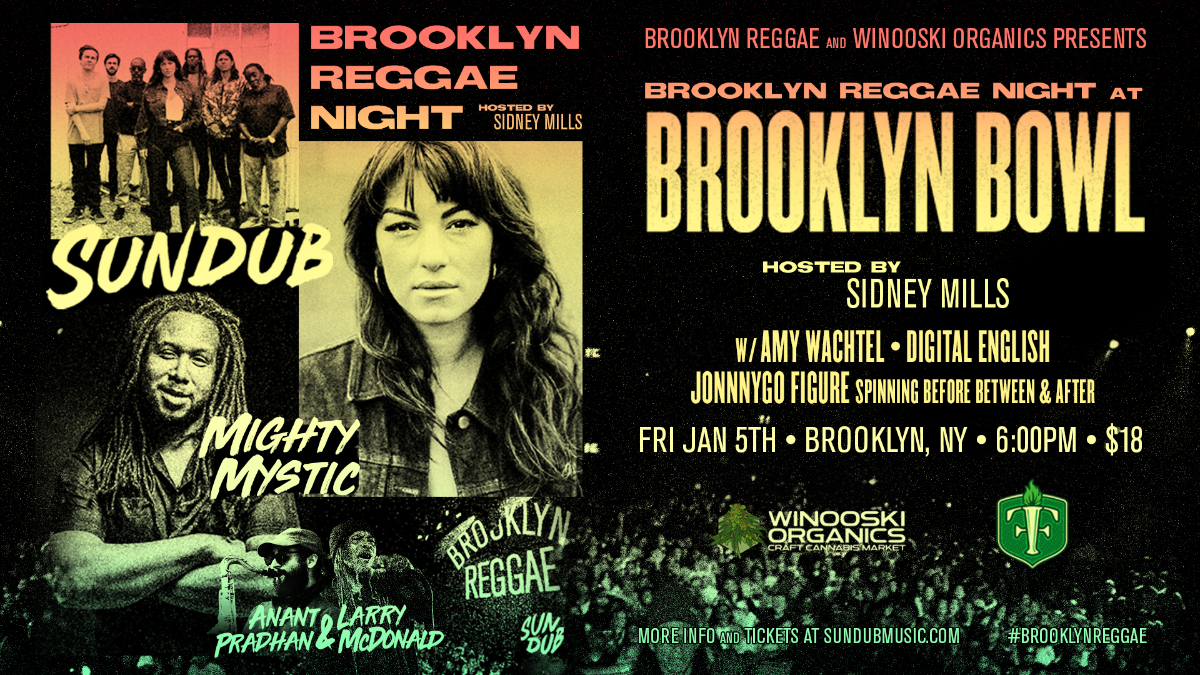 Event Info
Venue Information:
Brooklyn Bowl
61 Wythe Avenue
Brooklyn, NY 11249
Valid photo ID required at door for entry
Doors: 6:00 PM
Show: 8:00 PM
Artist Info
SUNDUB
Reggae and soul music fans worldwide are leaning in for a closer listen to Brooklyn-based SunDub, which consistently delivers potently soulful and authentic performances of its own original songs of protest, spirituality, love and justice as well as revamped classics such as "Ain't Nobody" (Rufus & Chaka Khan). Anchored by a core quintet including brother and sister Joanna (lead vocals) and Ben Teters (vocals-drums), Finnegan Singer (guitar), Josh T Carter (bass), and Eric "The General" Toussaint (vocals-keys), the band has amassed millions of streams of its 2019 debut album "Burden of Love." Within a few short years of securing its foothold in the roots music scene in New York City, SunDub began touring and recording, often joined by reggae royalty Ruff Scott, The Chronic Horns (Easy Star All-Stars), Larry McDonald (Lee Scratch Perry, Gil Scott-Heron) Victor Rice and Sidney Mills (Steel Pulse).
Mighty Mystic
Considered one of the leaders in the East Coast Reggae Movement, reggae artist Mighty Mystic's fresh sound and musical diversity has proved to be a magnet for music lovers in search of something refreshing and new. It has attracted listeners of all ages, and from all walks of life. A charismatic man on a mission: Mighty Mystic has gone from being a fan of reggae music, to being a contributor to the art. On November 24, 2010, after releasing singles for nearly four years, Mighty Mystic released his debut, full-length album "Wake up the World" which hit iTunes, Amazon, and everywhere digital downloads were sold, by storm. The album peaked at #4 on iTunes Reggae Charts, and unleashed 17 brand new original tracks, mixed with fan favorites out into the world. Mystic shares, "My album can be summed up in one word: Universal. Music is life, and life is very broad, so I wanted to design something that can suit all people, that was my mission with this album."

Mighty Mystic has turned himself into one of the more highly sought after U.S based Reggae artist on today's scene. His brand of "HARD ROOTS" Reggae mixed with elements of Rock and Hip Hop has proven to be a magnet to young music lovers all over and continues to grow rapidly. He has toured and shared the stage with some of Reggae's biggest names such as Steel Pulse, Damian Marley, Lee Scratch Perry, Barrington Levy, Buju Banton, Shaggy, Collie Buddz, Badfish, Sean Paul, Dirty Heads, SOJA, John Brown's Body, and Beenie Man to name a few. Mystic has headlined several popular Festivals and sold out some of the more prestigious venues across the U.S., i.e. the Paradise Rock Club - MA, Middle East - MA, Port City Music Hall - ME, Nectars – VT. It's a common occurrence to see his devoted fans travel hundreds of miles from concert to concert to see him live and partake in the mystic aura. Mighty Mystic is currently in the final stages of recording his sophomore album which is due out early 2013.
Larry + Anant
Recalling the sounds of 1960's and 70's Jamaica, saxophonist Anant Pradhan seeks to revive the traditions of the early innovators like Cedric Brooks & Roland Alphonso. Their ability to spin popular & traditional/roots music into something their own became one of the hallmarks of Jamaican music to this day. Anant continues this tradition alongside one of Jamaica's greatest percussionists, Larry McDonald, who calls Anant

"the steward of our music going forward."

Pradhan, an official member of the current touring group of the legendary Skatalites, has honed his musicianship under some of the greats of reggae music. A kindred spirit of McDonald, despite 50 years separating them, Anant Pradhan is a bonafide member of the next generation.
McDonald has over a half century history of recording and performing with a wide variety of artists including Gil Scott-Heron, Taj Mahal, Carlos Malcolm, and Lee "Scratch" Perry. He was honored in July 2011, at the 14th annual 'Tributes to the Greats' award ceremony in Jamaica, with a lifetime achievement award for his 50-year contribution to Jamaican music.
Embracing tradition & the uncharted —they come with an explosive sound that could only be the Anant Pradhan & Larry McDonald band (featuring members of the Skatalites, the Frightnrs, Far East, Antibalas, and the Dap Kings). Check out their debut release 'Sally's Song' on Brooklyn label, Names You Can Trust. More to come in 2024.