Back to all posts
Knockdown
Alley
Celebrate 5 Years Of Brooklyn Bowl Las Vegas All Month Long This March!
Posted On

Wednesday,
March
6th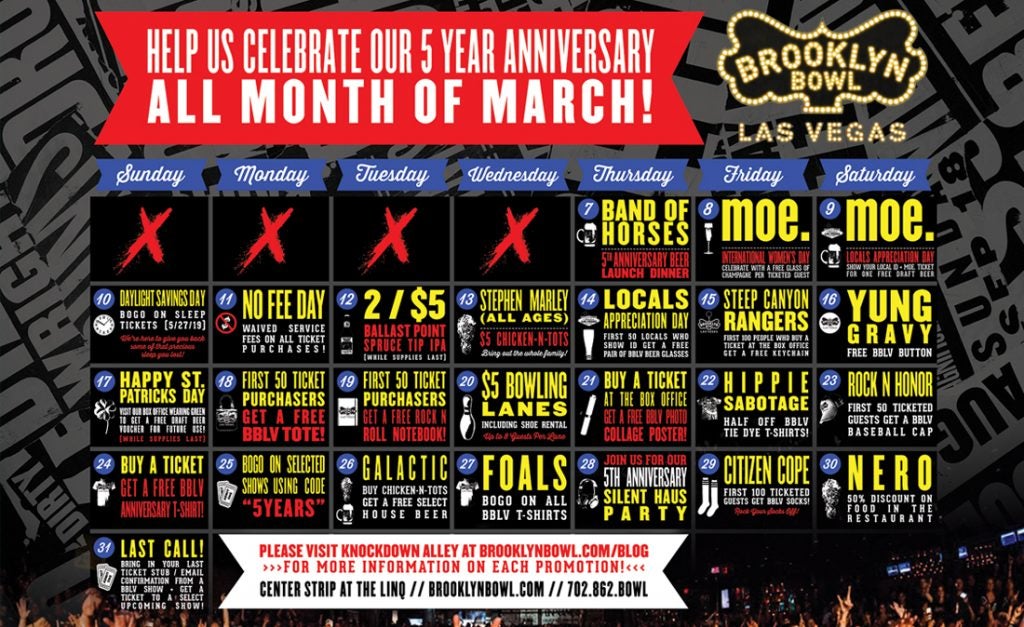 In March 2014, Brooklyn Bowl Las Vegas opened its doors with one mission in mind; to deliver the best concert experiences possible to the people of Las Vegas. Over the past five years, the memories made have been unprecedented, both by concert-goers and staff members alike. To commemorate, we've rolled out different promotional specials each day of March 2019 as a way to give back to the people that made this all happen. A.k.a. YOU!
Thank you for being our biggest fans. Thank you for the best five years imaginable. And thank you for being a part of many more to follow!
Check out the details for each promo listed below, and make sure to print out/save this calendar so you don't miss a day!
________________________
Thursday, March 7th:

Show: Band of Horses w/ She Returns From War (tickets: http://bkbwl.co/2Dd) Promo Event: 5th Anniversary Beer Launch Dinner (tickets: http://bkbwl.co/EVw) We kick of the celebrations with a special edition of one of our beer dinners! Be one of the first fans to try Brooklyn Bowl Las Vegas' exclusive new beer, Knockdown Punk Hoppy Lager, brewed locally by CraftHaus Brewery to celebrate our 5th Anniversary on THU, MAR 7. 🍺🍗🎶 Enjoy a four course dinner carefully paired with some limited edition brewskies AND the price includes entry to Band of Horses immediately following. Check out the full menu.

________________________

Friday, March 8th:

(Our official birthday!!!) Show: Night 1 of moe. w/ Pigeons Playing Ping Pong (tickets: http://bkbwl.co/EtJ) Promo: Celebrate International Women's Day with a free glass of champagne for every ticketed guest We'll be celebrating International Women's Day along with moe., who kick off their first show of a two-night-run with Pigeons Playing Ping Pong. Every ticketed guest is invited to enjoy a free glass of champagne. Cheers!

________________________

Saturday. March 9:

Show: Night 2 of moe. w/ Pigeons Playing Ping Pong (tickets: http://bkbwl.co/EtJ) Promo: Local Appreciation Day – Show your local Nevada ID and moe. ticket for one free draft beer. We couldn't have done it without you, show your local ID and ticket stub for a draft beer – on us.

________________________

Sunday, March 10th:

Promo: Daylight "Savings" Day – BOGO on Sleep tickets. (tickets: http://bkbwl.co/Eq8) We're here to give you back some of that precious Sleep you lost! Come down to the box office today and receive buy-one-get-one on all Sleep tickets for their MON, MAY 27 show.

________________________

Monday, March 11th:

Promo: No fee day – Waived service fees on all ticket purchases. No fees? Definitely no problem! Come to our box office today and pay ZERO service fees on all ticket purchases.

________________________

Tuesday, March 12th:

Promo: 2/$5 Ballast Point Spruce Tip IPAs (while supplies last) $5 never tasted so good! Spend your night at Brooklyn Bowl and receive 2-for-$5 Ballast Point Spruce Tip beers.

________________________

Wednesday, March 13th:

Show: Stephen Marley Acoustic Set - All Ages! (tickets: http://bkbwl.co/2DW) Promo: $5 chicken-n-tots Tonight's show is all ages, so bring out the whole family and enjoy $5 chicken-n-tots appetizers.

________________________

Thursday, March 14th:

Promo: Local Appreciation Day – First 50 locals who show Nevada ID get a free pair of BBLV pint glasses We couldn't have done it without you, so for the first 50 locals in the door tonight, show your local ID and receive a free pair of BBLV pint glasses.

________________________

Friday, March 15th:

Show: Steep Canyon Rangers w/ The All-Togethers (tickets: http://bkbwl.co/2Dl) Promo: First 100 people who buy a ticket at the box office get a free keychain You got them keys, keys keys. We've got your keychain! The first 100 people that buy a ticket at the box office today will receive a complimentary Brooklyn Bowl keychain.

________________________

Saturday, March 16th:

Event: Yung Gravy w/ bbno$ & Le$LaFlame (tickets: http://bkbwl.co/2Dz) Promo: Free BBLV button We all know it's important to accessorize, that's why all attendants of tonight's show will receive a free Brooklyn Bowl button (while supplies last.)

________________________

Sunday, March 17th:

Promo: Happy St. Patrick's Day – Visit our box office wearing green to get a free draft veer voucher for future use (limit one per customer) You don't need the luck o' the Irish for this deal. Simply visit our box office wearing green to receive a free draft beer voucher for future use (must be 21+).

________________________

Monday, March 18th:

Promo: First 50 ticket purchasers get a free BBLV Tote Secure the bag! Be one of the first 50 ticket purchasers at our box office today and claim a free BBLV tote bag.

________________________

Tuesday, March 19th:

Promo: First 50 ticket purchasers get a free BBLV rock n roll notebook Having trouble keeping track of what shows we've got coming up? Be one of the first 50 people to buy a ticket at our box office today and get a free BBLV notebook to write them down in.

________________________

Wednesday, March 20th:

Promo: $5 bowling lanes, including shoe rental (up to 8 guests per lane) Can't have rock without the roll! Lanes are $5 today, including shoe rental. Come bowl a few games with us. Each lane can accommodate up to 8 guests, so bring your friends!

________________________

Thursday, March 21st:

Promo: Buy a ticket at the box office, get a free BBLV photo collage poster (while supplies last) Are your walls looking a bit empty? Buy a ticket at our box office today and get a complimentary BBLV collage poster designed by Karen Barazza, featuring some of our favorite concert pics taken here by Kabik Photo Group.

________________________

Friday, March 22nd:

Show: Hippie Sabotage (tickets: http://bkbwl.co/2_n) Promo: Half-off BBLV tie dye t-Shirts The bond between hippies and tie-dyes is an unbreakable one. So tonight, all tie-dye Brooklyn Bowl t-shirts are 50% off during the Hippie Sabotage show.

________________________

Saturday, March 23rd:

Show: Rock N Honor w/ Adelitas Way, Taking Dawn, Silversage, Rockie Brown & The Las Vegas Emerald Society Piper Band" (tickets: http://bkbwl.co/E40) Promo: First 50 ticketed guests get a BBLV baseball cap Hats off to you, Las Vegas! The first 50 ticket holders to tonight's show receive a free BBLV baseball cap.

________________________

Sunday, March 24th:

Promo: buy a ticket, get a free anniversary t-shirt (based on availability) Every anniversary deserves a gift to celebrate, so we're giving away free, specially made, BBLV anniversary t-shirts today to everybody that makes a ticket purchase at our box office (based on availability).

________________________

Monday, March 25th:

Promo: BOGO on select shows using code "5YEARS" The only thing better than buying a concert ticket, is buying a concert ticket and getting one for free. Use code "5YEARS" at checkout for buy-one-get-one on select shows listed below. Here's to 5 more years! (Offer valid on MON, MAR 5 @ 12AM - 11:59PM) - Tue, Mar 26: Galactic w/ Erica Falls & Con Brio (tickets: http://bkbwl.co/2ZU) - Fri, Mar 29: Citizen Cope (tickets: http://bkbwl.co/2Mq) - Fri, Apr 5: Trevor Hall (tickets: http://bkbwl.co/2wE) - Wed, May 1: Tribal Seeds w/ Eli-Mac & Arise Roots (tickets: http://bkbwl.co/EVp) - Sat, May 4: Buckcherry w/ Joyous Wolf & Crash Midnight (tickets: http://bkbwl.co/2wh) - Sun, May 5: Colin Hay of Men At Work (tickets: http://bkbwl.co/2M6) - Sun, Jun 23: Long Beach Dub All Stars w/ The Aggrolites & Tomorrows Bad Seeds (tickets: http://bkbwl.co/EBX)

________________________

Tuesday, March 26th:

Show: Galactic w/ Erica Falls & Con Brio (tickets: http://bkbwl.co/2ZU) Promo: Buy Chicken-n-Tots, get a free select house beer Come in today and buy an order of chicken-n-tots and get a free select house beer to wash it down with.

________________________

Wednesday, March 27th:

Show: Foals (tickets: http://bkbwl.co/2ck) Promo: BOGO on all BBLV T-shirts We're helping you show off your BBLV pride. Come down to Foals tonight and get buy-one-get-one on all BBLV t-shirts at our retail store.

________________________

Thursday, March 28th:

Event: 5th Anniversary Silent Haus Party (tickets: http://bkbwl.co/ESQ) We've put on some truly iconic concerts here at Brooklyn Bowl over the past 5 years, from Robert Plant and Social Distortion, to Post Malone, Lauryn Hill, Khalid, and everything in between. Thanks to our house photographers from Kabik Photo Group, we have some of the most interesting and captivating live concert photos taken in Las Vegas. On THU, MAR 28 we will be transforming Brooklyn Bowl into a photo gallery to showcase these pictures. But there's more! Each photo will be for sale as part of a silent auction. There will be music all night through a silent disco donated by Sound Off. And each ticket will include a complimentary glass of our Knockdown Punk Hoppy Lager anniversary beer. The best part: all proceeds from the event will go the Life By Music foundation – a foundation founded in Las Vegas dedicated to inspiring underprivileged and at-risk youth through the power of music.

________________________

Friday, March 29th:

Show: Citizen Cope (tickets: http://bkbwl.co/2Mq) Promo: Rock Your Socks off – First 100 ticketed guests get BBLV socks Don't get cold feet! Show up early to tonight's show and receive a free pair of Brooklyn Bowl socks, limited to the first 100 guests.

________________________

Saturday, March 30th:

Show: Nero ft. Dr. Fresch & Wuki w/ Astronomar, Jace Mek, Stellar, Brett Rubin, Blvklist, IzzyLovesFood, Brian Campbell, Mondo & Blac-En (tickets: http://bkbwl.co/2my) Promo: Half-off on food in the restaurant Bring your appetites! Tonight we're offering 50% off on all food (must dine in restaurant).

________________________

Sunday, March 31st:

Promo: Last call – Bring in your last ticket stub/email conformation from a BBLV show and get a ticket to a select upcoming show Out with the old, and in with the new! Bring in an old ticket stub/email conformation today and receive a free ticket to one of the upcoming shows listed below. - Fri, Apr 5: Trevor Hall (tickets: http://bkbwl.co/2wE) - Wed, May 1: Tribal Seeds w/ Eli-Mac & Arise Roots (tickets: http://bkbwl.co/EVp) - Sat, May 4: Buckcherry w/ Joyous Wolf & Crash Midnight (tickets: http://bkbwl.co/2wh) - Sun, May 5: Colin Hay of Men At Work (tickets: http://bkbwl.co/2M6) - Sun, Jun 23: Long Beach Dub All Stars w/ The Aggrolites & Tomorrows Bad Seeds (tickets: http://bkbwl.co/EBX)