Back to all posts
Things to Know About the Adult Swim Festival Block Party
Posted On

Wednesday,
July
13th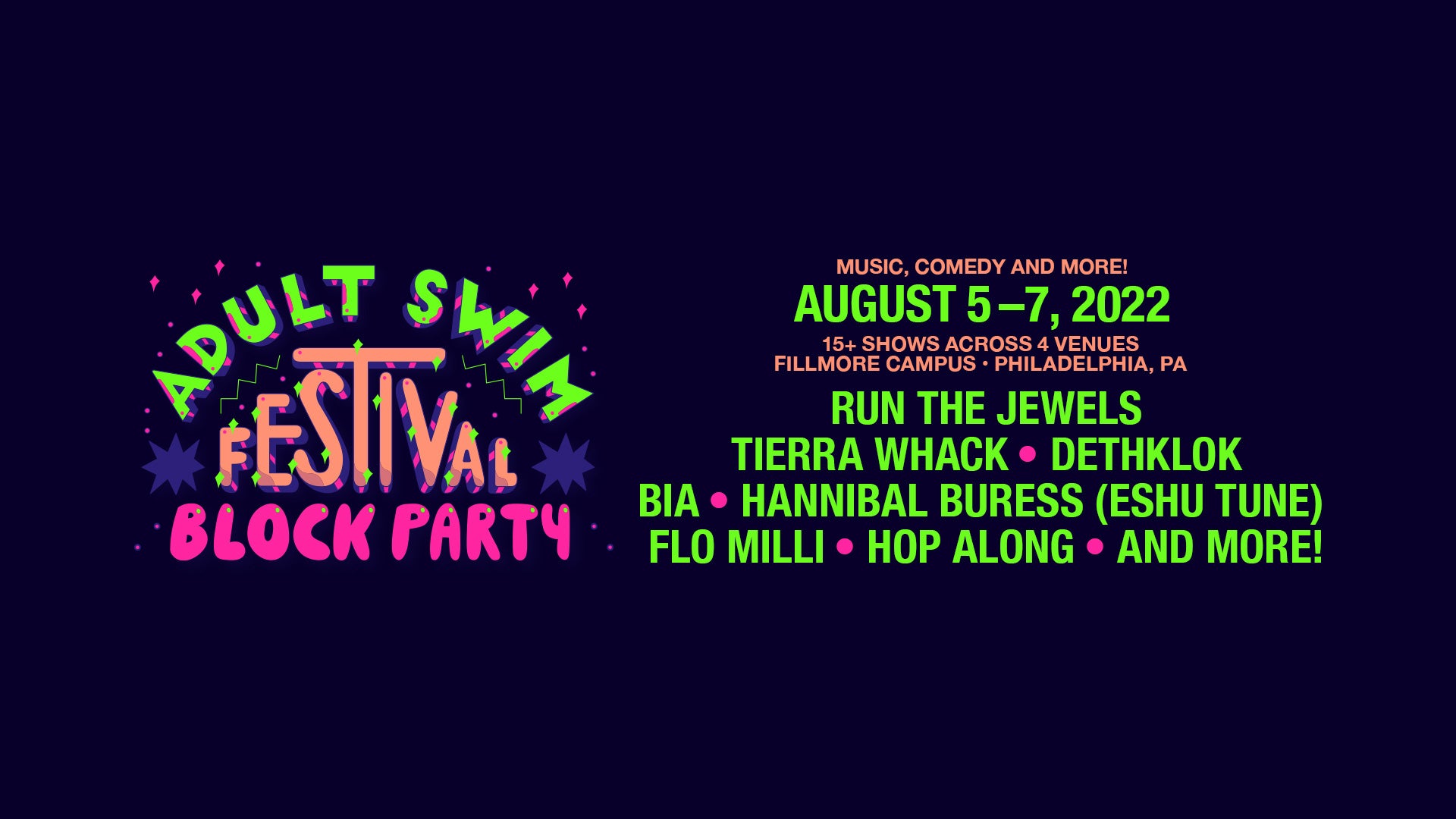 Things to Know About the Adult Swim Festival Block Party
---
For the first time ever, the Adult Swim Festival makes its way to the East Coast as a three-day block party right at our doorstep AUG 5-7!
You've undoubtedly heard the buzz around town, but it's important to get the full scoop on the inaugural Adult Swim Festival Block Party, so here are nine need-to-knows for the big weekend!
---
1. What is it?
The Adult Swim Festival Block Party is a curated series of shows at each venue of the Fillmore Campus wrapped around one amazing block party. The block party will take over East Allen St. and Canal St. as part of the Fillmore Campus with additional spaces at Other Half Brewing and The Foundry.
2. How do I get in?
Event tickets are sold separately but every ticket gets you into the Block Party. Buy a ticket to any event at The Fillmore, Brooklyn Bowl, or Punchline August 5-7 and you also get access to the Block Party all weekend.
3. When is it?
Come early for the Block Party and stay until close. Block Party will be open Friday, August 5 from 4:30-10:30PM and Saturday, August 6 & Sunday, August 7 from 12:00-10:30PM. There will be rides, attractions, food trucks, beer gardens, and more.
4. There's music
There are several music events all weekend including live performances from Run the Jewels, Dethklok, Tierra Whack, BIA, Flo Milli and more. Go to adultswimfestival.com for the full list of events.
5. There's comedy
The Punch Line Philly will have comedy shows all weekend. Don't miss back-to-back comedy with evening and late shows including sets from Rosebud Baker, Sam Jay, Jak Knight, Carmen Christopher and more. Full schedule at adultswimfestival.com. Tickets start at just $35.
6. There are games and attractions
Other Half Brewing's lawn will feature amazing rides and outdoor screenings - There will be a mechanical bull shaped like a hot dog, human claw machine, and so much more.
7. There's food
Hungry? The event will feature food trucks, beer gardens, and special dining menus at all venues. Wendy's and Klondike Bar will be on site hooking fans up with freebies all weekend long.
8. There are Adult Swim screenings
Need to cool off? The Foundry will have air conditioned screenings of your favorite Adult Swim series. Screenings will take place 2:00-7:00PM Saturday & Sunday and access is included with every ticket sold. Screenings will include Ambient Swim, Aqua Teen Hunger Force, YOLO: Crystal Fantasy, Space Ghost Coast To Coast, Teenage Euthanasia, Birdgirl, Tuca & Bertie, The Eric Andre Show, Smiling Friends, Metalocaypse and Rick and Morty.
9. Tickets are still available
Tickets are available now at adultswimfestival.com and you can also pick up tickets on site at the event. Day passes and VIP tickets are also available to customize your experience.