Back to all posts
Knockdown
Alley
12 of the Best NYC Movie Soundtracks for Your Self-Isolation Playlist
Posted On

Wednesday,
March
25th
in Blog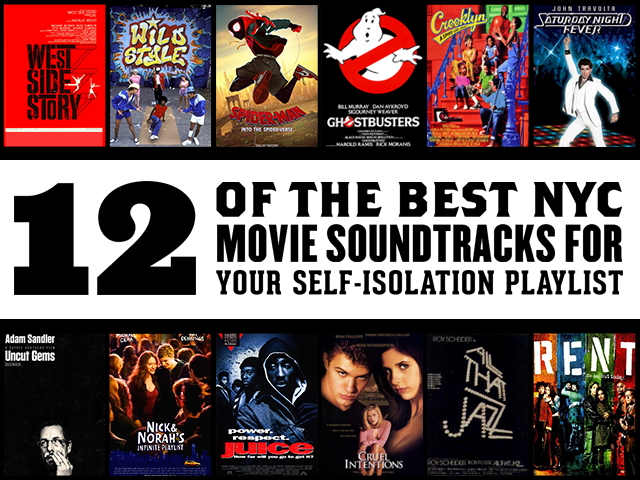 New York City has always been the home of cultivating iconic things. Whether it be movies, music, fashion, or food, our city's diversity manages to make waves when it comes to pop culture. To celebrate all that our city represents, we've compiled a list of classic movies filmed in NYC with an even more timeless soundtrack worthy of queuing up while we all continue to hunker down from home. We hope this list below brings some sunshine and variety to your existing self-isolation playlists. Take a deep dive into the tunes that helped conjure the greatest stories of our city and hey -- maybe you'll find your next favorite artist!
1. Do The Right Thing
Do The Right Thing strikes gold with this soundtrack. It's the perfect vibe for a summer night in the city, spiked with upbeat hip-hop and steamy slow jams straight from the late 80s. It's an important representation of urban culture, just as rap was emerging as a driving force within the scene. Artists like Public Enemy and Teddy Riley stand the test of time, and it even features Bowl regulars, Steel Pulse!
2. Saturday Night Fever
If you've ever gotten down and dirty on the dance floor at Gimme Gimme Disco or boogied hard to Abba, this one's for you. The Bee Gees take the feature on this soundtrack but don't overlook the groove-inducing beats of Kool & The Gang and Tavares. There's even a crazy, disco-fueled remix of Beethoven's Symphony No. 5. This soundtrack is the perfect playlist for your after-hours apartment dance parties. Just be sure to facetime us in!
3. Wild Style
Need some inspo for your DIY rap? Dive into the beats that started it all. Celebrated as the first hip-hop motion picture, this 1983 film has a soundtrack just as pioneering as the movie. None of the tracks were commercial hits, but they thrived in underground hip-hip scenes, sampled by upcoming rappers and MCs all around NYC, later including the likes of NAS and Common.
4. West Side Story
Need a dose of drama and suspense in your self-isolation? Look no further than the dramatic soundtrack of 10-time Oscar-winner, West Side Story. With a mix of spoken word and singing set to a full orchestra, this soundtrack does a great job of telling the tale of the equally fervent Jets and Sharks in this 60s take on Romeo and Juliet. The New York Philharmonic, under conductor Johnny Green, keeps things moving with furious momentum. The best listen is in order from start to finish, but if you only listen to a few, definitely include the largest dance number, "America" or the beautifully heartbreaking "Somewhere."
5. Crooklyn
Crooklyn's iconic soundtrack is full of smooth soul and R&B straight from Spike Lee's 70s world. Although only the beginning of the movie is based in Brooklyn, the soundtrack is so abundant in perfectly groovy tunes that it spans two volumes. From Sly and the Family Stone, Stevie Wonder, and Curtis Mayfield to the vibrant Joe Cuba, it's a feel-good trip (despite the film being quite dark at times) to the greatest decade of political and cultural movements.
6. Uncut Gems
Full disclosure, this is more of a score than a soundtrack, but its dark synths and vast soundscapes are a weird and wonderful trip into the world of the Safdie Brothers and Oneohtrix Point Never (aka Daniel Lopatin). It feels like a futuristic, CGI fever dream, and its surprising twists and turns almost act like a movie character itself. Visit this score if you can't shake the haunting genius of Uncut Gems out of your psyche.
7. Cruel Intentions
Cult classic, Cruel Intentions, closed out the 90s with a sultry, upbeat soundtrack of pre-Y2K hits. Edgy like the film itself, these songs are the perfect coupling to the Gossip Girl-on-steroids storyline. Revisit feelings of first love, first heartbreak, and all the drama in-between with this perfectly hokey collection of songs.
8. Rent
In the midst of this difficult time, Rent's soundtrack is the best reminder of why NYC is the greatest city in the world; The songs are moving and inspiring, and it perfectly profiles the incredible diversity that makes up our city. Genre-wise, it's a mix of rock, rap, and gospel, with each song championing the story of a youthful outsider. Since this is a musical, the songs can air on the cheesy side, but once you've watched the film, its power is hard to shake. Throw on the classic "Seasons of Love" to conjure up feelings about a greater purpose, or, for a newly-relevant theme song for this crisis, press play on the self-titled track, "Rent."
9. Nick and Norah's Infinite Playlist
2008's Nick and Norah's Infinite Playlist is the ultimate timepiece of indie music in the late 2000s. Its coming-of-age storyline follows two teens within the NYC music scene, and its soundtrack reflects what they would've been listening to at that time. From high-energy rockers, 60s The Dead, to indie-pop duo, The Submarines, this soundtrack is the perfect mix of underground and era-defining music.
10. Into the Spider-Verse
Just as Into the Spider-Verse was a departure from a typical superhero movie, it's soundtrack reflects the same modernity. Similar to Black Panther, the film acknowledges its cultural relevance and leans towards upbeat hip-hop. This fuels tracks like Post Malone and Swae Lee's collaboration, "Sunflower" and Duckwrth's "Start A Riot," both mirroring the vibrant animated action onscreen. Throw this soundtrack on for an upbeat companion to your at-home workout.
11. All That Jazz
The soundtrack to this semi-autobiographical tale, written and directed by the legendary Bob Fosse, is the perfect feel-good piece for your darkest self-isolation days. Put on "Everything Old is New Again" by Peter Allen or go back in time with the cabaret goodness of Bobby Darin's "Some Of These Days" for the big-band mood lift we all need. Who knows, the WWI classic "Pack Up Your Troubles in Your Old Kit Bag" might become your new mantra!
12. Juice
Although most tracks would end up on their respective artists' albums, and star of the movie, Tupac, isn't even featured on the soundtrack, Juice's collection of songs is a star-studded tribute to hip-hop and R&B's top luminaries. From crowd-favorite "Jump Around" by House of Pain to the gritty beats of "It's Going Down" by EPMD, this soundtrack is an adrenaline-fueled antidote for that mid-afternoon slump.