Lightning 100 Presents
Declan McKenna - The Big Return
Eli Smart
Doors: 6:00 PM
/
Show: 8:00 PM
18+ Years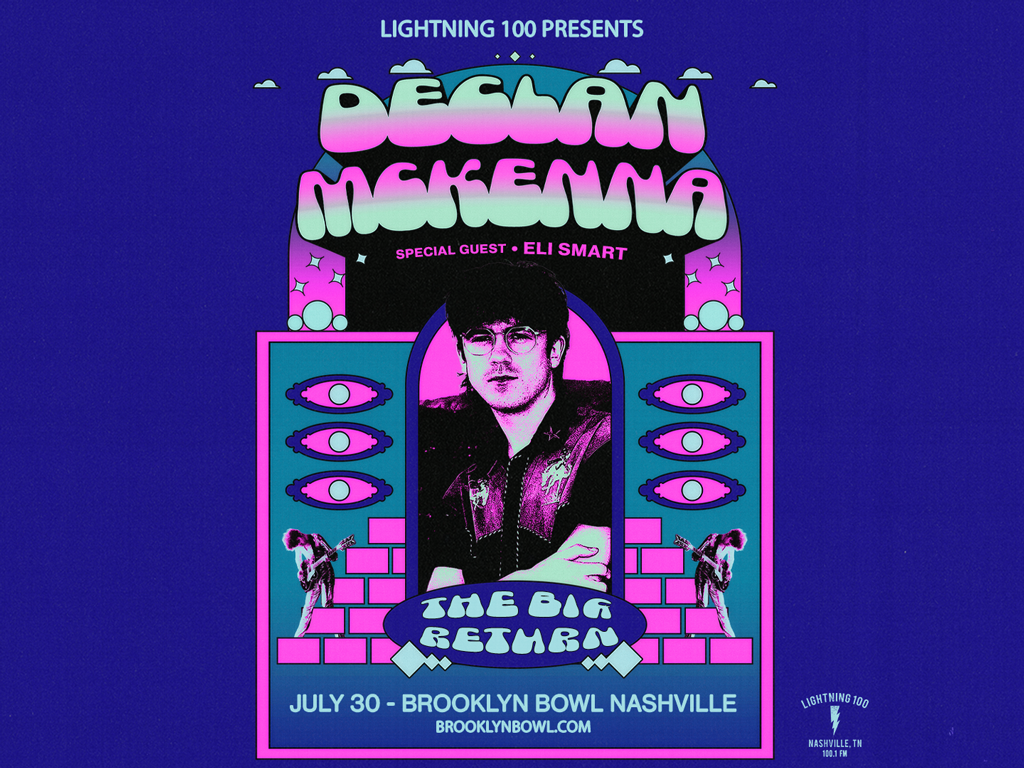 Event Info
Venue Information:
Brooklyn Bowl Nashville
925 3rd Avenue North
Nashville, Tennessee 37201
In order to prevent scalper activity there is a delivery delay on everyone's tickets. You will receive an email from Ticketweb 1 week prior to the show's start time and you can pull up the tickets off your phone and scan them at the door.

This event is 18+, unless accompanied by a parent or legal guardian. Valid government-issued photo ID is required for entry. No refunds will be issued for failure to produce proper identification.
This ticket is valid for standing room only, general admission. ADA accommodations are available day of show.
All support acts are subject to change without notice.
Any change in showtimes, safety protocols, and other important information will be relayed to ticket-buyers via email.
Want to have the total VIP experience? Upgrade your ticket today by reserving a bowling lane or VIP Box by reaching out to nashvilleevents@brooklynbowl.com
ALL SALES ARE FINAL
Declan McKenna Early Entry Package
One general admission ticket
Early venue entry
Specially designed Declan McKenna tote bag
Custom Declan McKenna socks
Exclusive signed printed photo of Declan McKenna
Commemorative VIP laminate
Limited availability 
For questions regarding the VIP packages, please reach out to info@future-beat.com. 
Artist Info
Declan McKenna
"Unstoppable Gen Z Icon" – The Big Issue
"The wonder boy of British Music" – Attitude
"A brilliant second album from indie's boy wonder" – ★★★★★ DORK
"Spaced-out storytelling from an indie wunderkind…a delight" – ★★★★ Q Magazine
"Star-spangled and confident AF… 'Zeros' is a lot of fun" – ★★★★ DIY Magazine
"McKenna's future looks intriguing…the work of an artist broadening his scope" – ★★★★ The Guardian
"electric, entertaining and thought-provoking" – ★★★★ NME
"McKenna is to Bowie what Sam Fender is to Bruce Springsteen" – ★★★★ Evening Standard
"Declan is proving a rare talent to watch" – ★★★★ Daily Star
"Zeros is the sound of an artist pushing his creative development, and enjoying himself as he does so. Exciting stuff" – ★★★★ The Independent
In late 2019, Declan Mckenna headed out to Nashville to record his second album, Zeros, with producer Jay Joyce. By September 2020, he was battling out for a number 1 record with The Rolling Stones. "Nashville is a great place to record because it's filled with a lot of creative people and music heads trying to escape LA." This idea of a refuge is fitting for Declan, who wanted to be away from the pressures of London or the drab consistency of home, allowing for an intimacy and a desire to explore on this super galactic album that can only really be pursued in a place that is unfamiliar. Zeros is playful, wonderfully strange and intensely musical, but there's a dark shadow looming throughout. It's Coors Light and cowboy boots escaping a Silicon Valley dystopia.
Whilst Declan might have lost that particular battle by a whisker to Jagger and his cohorts on the very last day of sales, it showed just how far Declan had come since his arrival as a slight in stature, big ball of fizzing teenage energy only a few years earlier. The boy most likely to had very quickly become the young man to beat.
But for all the chart noise and colourful media presence, it's the music that does the lionshare of the talking. Zeros is a curious, unique and bold record that is teeming with fresh ideas and nods back to eras that have no right to head up the charts in the year 2020. It's a very British trait to focus on age, but it simply has no right to be conceived by a twenty one year-old who was younger still in its writing. Opening track, You Better Believe!!! comes in hot, aggressive and excitable. It's a mean song, its accusational. You've changed. You're gonna die. The world's gonna end and everyone is going to forget you. It combines a retro, 70s space-race inspired energy with a modern tale of anxiety. Musically and lyrically, it provides a perfect blueprint to the album: 'So you know how it feels to wait at Heaven's gate for God,/ Watching your requiem on a screen… I'm sorry my dear,/ The Asteroids here.' "I began to understand where I was strong with lyrics. Something that frustrated me with the last album was people relying on buzzwords, even though my songs were never just about one thing, so I began to consciously write these more abstract narratives. I wanted to make a story out of it instead of enforcing too much of one idea into a song." Rather than allowing contemporary culture to explain away the record, we're challenged by Declan's kinship to the surreal, something closely connected to his inherent aversion to definition.
Be An Astronaut follows, a clear nod to Bowie in its pure operatic magic, "and also a big nod to The Waterboys and an accidental nod to Angels by Robbie Williams." Being brought up a Catholic and then coming of age during the environmental crisis makes for an obvious tension between the idea of forgiveness or consolation and having to take responsibility for your own actions and failings, right here and right now on Earth, "rather than looking up to the skies". It's fitting then, that this song simply appeared to Declan one day, almost fully formed, but whether it fell from Space or fell from Heaven its immaculate conception is like an answer to the question you've always asked. And yet, the answer isolates you further, pushing you deeper into the unknown:
'Those boys tell you what to do all the time,
On and later on you said I can just be what I want
And they said you're lying,
Well you were born to be an astronaut,
And you'll do that or die trying'
It's a song about being pushed to the periphery, because in the age of the internet you can always be an outsider, even if you're not the stereotypical outsider: "Its 'normal' vs 'normal', depending on what your definition of 'normal' is, and so you can't win. Be An Astronaut marks a conversation that's foreboding that loss or death or whatever it may be, because it's never just one thing." It's the beginning of the end: be it Bowie or Angels, Science or Religion, neither can save you now.
"In terms of my artistic development, it feels a major step on from my first record! With this album, if I'm performing as a character, I wanted it to give it everything- all the artists that I love like Dylan, Nick Cave or Bowie, are great storytellers because they give their characters really intense, sometimes strange voices." So Declan tends to encapsulate both a very human psyche and a more absurd, dystopian future, whether it's the tongue in cheek You Better Believe!!! 'We're gonna get ourselves killed/ What do you think about the rocket I built?' or the more harrowing Twice Your Size, "The Sun will melt what it can touch… / And wouldn't that be so nice/ listen to the man online for his good advice/ cut your hair cause it's full of lies." This small discrepancy is why we can connect to Declan's songs so effortlessly, because while they stand as a reflection of our own culture, they do not stand alone in this way, they are also the warped carnival mirror- funny, bizarre, otherworldly but always close enough to see a familiar face staring back.
Similarly, Beautiful Faces pokes fun at this un-reality. An anthem for a doomed youth, it is about young people in the modern world and how intimidating it can be. How scary it is to see so much and feel as though you're doing so little "so I wanted it to be a big song… Scary big. It very much relates to now, but I wanted to reimagine social media in this future-sphere where it has become even more immersive so that we cannot see where it ends and we begin." It's a song about aesthetic beauty – literal beauty- but also the false power we give to people and relinquish from ourselves. It's purposefully vague because we project our own anxieties onto it, in the same way that we allow these vapid exchanges with one another to metamorphosise into monsters that don't actually exist, but to us they actually do.
Daniel, a name that appears on two tracks, feels like one of these innocent victims, lost and pushed to the periphery within this desolate, destructive world the album has created. "You know, 'Daniel Is Still A Child' because he's lost in the aftermath, whether it's lost in the sauce, stoned, lost in some existential fear or lost his way in some VR game. Daniel is this kid who has so much to prove, he has so much in him but he's just continually being led astray because the world's telling him that he's not 'normal'." 'Daniel', it seems, exists as more of an idea than a person, an emotive floating figure, equipped with a laser-beam synth line and funkadelic, bassline- a cheeky wink at those cheesy 70s TV shows set in outer space, all oversized collars and hairy chests. "Social media isn't this alien spaceship, it's the reality in which young people are living in. And I found myself living in this reality. I'm not trying to create a story that's like 'bleep bloop isn't the future mad' we're living in that madness now!" This is why Declan's musical playfulness and lyrical humour in the face of all this destruction is so integral to the sound and feel of the record, and why these abstract characters are the only thing that Declan believes we can truly connect with in a world where fiction and nonfiction are "one and the same."
The truth can be absurd: just as funny as it is scary.
Ending on Eventually, Darling allows Declan to encapsulate this feeling of departure, and with it he brings the ambiguous finality that the entire album has been foreboding to a dramatic, anthemic head. Guitars and all in overdrive: "Whether its a death or whether its someone leaving or getting lost or being abandoned, people give up and people change or the world and society changes and we can't change with it, but we act like we're trying." These new-age platforms have created a (cyber)space where we are all united in the face of pain and suffering and disaster but our reality does not reflect that. In actuality, we all feel anxious, unloved, alone, and in a way that's okay, as the song goes: 'It was nice to meet you,/ For Love is but a fleeting friend/ we'll end up alone oh we know/ How easy it is to pretend.'
An entire generation has been born into a world where there seem to be multiple realities: social media, fake news, post-truth. But another reason for this alienation comes from the helplessness felt being born into a mess they did not create. The unshakeable confidence and boldness of Declan's voice and the stories he tells allows these songs to truly land; setting the tone for a world-building album, and this new world builds just as the world we know ends. His expansive, experimental structures and loss of inhibitions builds more than just a world but the entire sky and all the stars within it. These tracks and their characters are in constant conversation, they are subtly self-referencing, mature, complex and at times life-affirming but always unafraid to laugh… and Declan Mckenna is laughing hysterically as he pushes the big red button.
Eli Smart
In Hawaiian culture, there is the phrase kani ka pila -- the invitation to jam together in your backyard. Its essence is rooted to the Hawaiian spirit itself: the way that music and its easy sense of community are irrevocably bound together. There might be two or three guitars, a scattering of ukuleles, a homemade washtub pakini bass, and someone on spoons to hold down the rhythm -- a spontaneous, freeform blend of instruments until the small hours of the morning.

This is the energy Hawaiian-born singer-songwriter Eli Smart seeks to capture in his second EP, Aloha Soul. It's a title that is both a self-coined genre and an ineffable feeling that shares no English parallel, and across its five tracks, it's something Eli seeks to define.

Emerging with his debut project Boonie Town in 2021, his sound fused blue-eyed soul with the tropics of his home Kauai. With its playful melodies, it feels as gentle as a warm breeze in your hair; it's as easy on the ears as the island's infinite horizons are on the eyes. To listen to Eli Smart is to surrender to its peaceful rhythms, its 'Polynesian drift.'

But while Aloha Soul was wreathed in a certain optimism, it was written at a time of turbulence in Eli's life. At eighteen-years-old, he would uproot his entire life to attend university in Liverpool, the fabled city that birthed his greatest influence, The Beatles. While the music scene in Kauai was confined to light-hearted jams and beach parties, Liverpool offered a hive of like-minded creatives and a circuit anchored in an illustrious history. Drunk on the thrill of it all, Eli would carve out his sound with as many bands on as many open-mic nights he could involve himself with, all the while building an armoury of tunes that would draw larger and larger audiences. The strength of this live reputation and the release of his sleepy, sun-kissed debut single "Come On, Come On, Come On" earned the attention of Polydor. Having signed along the dotted line, it was all starting to happen for Eli Smart.

But within the very same week, the UK declared its first national lockdown, and Eli had to leave the country and the life he'd built with no certainty of when he'd ever return. Aloha Soul was born of this period of precarity, of transition, where there was the sense that nothing would ever be quite the same. But one thing remained constant: Kauai. Without tourists, Eli could experience his home in its purest sense. "It's put me in an altered state," he remarks. "The outside world felt very, very far away. There was this scary, but peaceful realisation that you're not in control, that you've gotta go with the flow." Returning home was like a much-needed exhale.

"It was a weird combination of escaping through music, while hopefully addressing some shit through it," Eli explains of the EP. Converting his childhood bedroom into a studio, he invited Mercury Prize winning producer Gianluca Buccellati (Arlo Parks, Lana Del Rey, Biig Piig) to help bring these five sketches to life -- the first time he had ever collaborated with a professional. In a suspended reality, they would fall into a sleepy, blissful routine of waking up, making their way to a friend's bakery (where Eli has a bagel named after him), and begin writing songs together. The only interruptions would be interludes to jump in the water and surf, Eli's twin passion: another way to escape the lethargic, circular rhythms of the day-to-day.

Together, Eli and Gianluca would blend today's technology with an analogue mentality. They weren't interested in producing immaculate sounds, but rather chased the timeworn crackles, an instrument's whims, the rasp of Eli's voice. It lends his music a quality that is altogether timeless, beholden to no single era, and yet evocative of all of them. Between rhythmic guitar and sugar-coated melodies, largely indebted to Eli's adoration of The Beatles, you will also hear the sounds of Hawaii itself: falsetto harmonies, lap steel guitars, slide guitars and ukulele.

Aloha Soul -- just like Eli himself -- is a direct product of its environment. Opening track "B-side" was written in London the summer the pandemic briefly loosened its grip; he had just broken up with his girlfriend after the forced separation put a strain on their relationship. While many of Eli's songs sound as if they are wreathed in sunlight, "B-Side" is deceptive, a track of resignation beneath those easy-going grooves. "We were never gonna make it that far," he sings: a shrug thinly veiled in a soaring falsetto. At the time, he didn't like the track, but recording it with Gianluca in Kauai accentuated qualities in the track that lay beyond London's influence.

There was a certain inevitability to Eli Smart becoming a musician. Since he was born, it has encompassed almost every facet of his life: it was a fact of his family, a unifying force in his friendships. His grandmother belonged to the pioneering all-female rock band Ace of Cups, who raised Eli with stories of touring with Jimi Hendrix and their adventures during the 'summer of love'; his grandfather is a "jazz wizard" who opened for Duke Ellington, who shares in Eli's affinity with creating universes from his instruments. His mother is a beautiful singer and songwriter who helped him pen lyrics even as a child, and his father, a jazz guitarist, taught him how to play. In and out of bands throughout his childhood, Eli would spend his free time helping at his family's record shop and music venue -- the only of its kind on the island.

"AM to PM" is a love letter to returning home to his friends and family, the sweet taste of unreality and a return to a simple way of living that made the state of the world beyond more bearable. Eli sampled the gentle patter of rainfall on the roof of his childhood home: a subtle but striking testament to the way his roots are woven into the EP's tapestry. With hazy harmonies and dozing rhythms, it's the soundtrack to chasing sunrise and sunsets, cruising around the island with his friends, blasting Donny Hathaway and Gladys Knight out of the sound system. Eli's first car was a companion unlike any other: a 1981 Mercedes Benz, white with leather seats and a sunroof. He saved for it relentlessly. After donating the car to the local university's engineering course, he would later discover the car had been totaled and abandoned, but "Baby Benzing," a song that unspools like a daydream, is an ode to that car and all the memories he made with it.

Yet, for all of Aloha Soul's rose-tinted reveries, there is also an undercurrent of knowing that the broader picture isn't quite so pretty. "Crying At The Comedy" is a confrontation of privilege, of ignorance -- the moments when Eli would feel alienated rather than enchanted on the island. "There are so many people back home who didn't even believe in Covid or were so far removed from the reality in their sanctuary that they didn't take any responsibility for the gravity of the situation," he explains. "It was tough and frustrating sometimes, people living in this beautiful paradise acting like they're in la-la land."

It's the final track, "See Through," that is undoubtedly Eli's favourite. With its baritone guitar, thick percussion and dreamy melodies, it's the one that best conjures a feeling of home that vocabulary can't hope to capture. "See Through is a tune that my mate Luca and I wrote and recorded back home in my little studio on Kauai. I had the intro guitar riff floating around for a while as well as a bouncy groove and a melody and I brought it to Luca and we wrote the tune around it together." Words might fail us, but for Eli Smart, the music says it all.