Tuesday,
March
21st
, 2023
Theory of a Deadman
Saint Asonia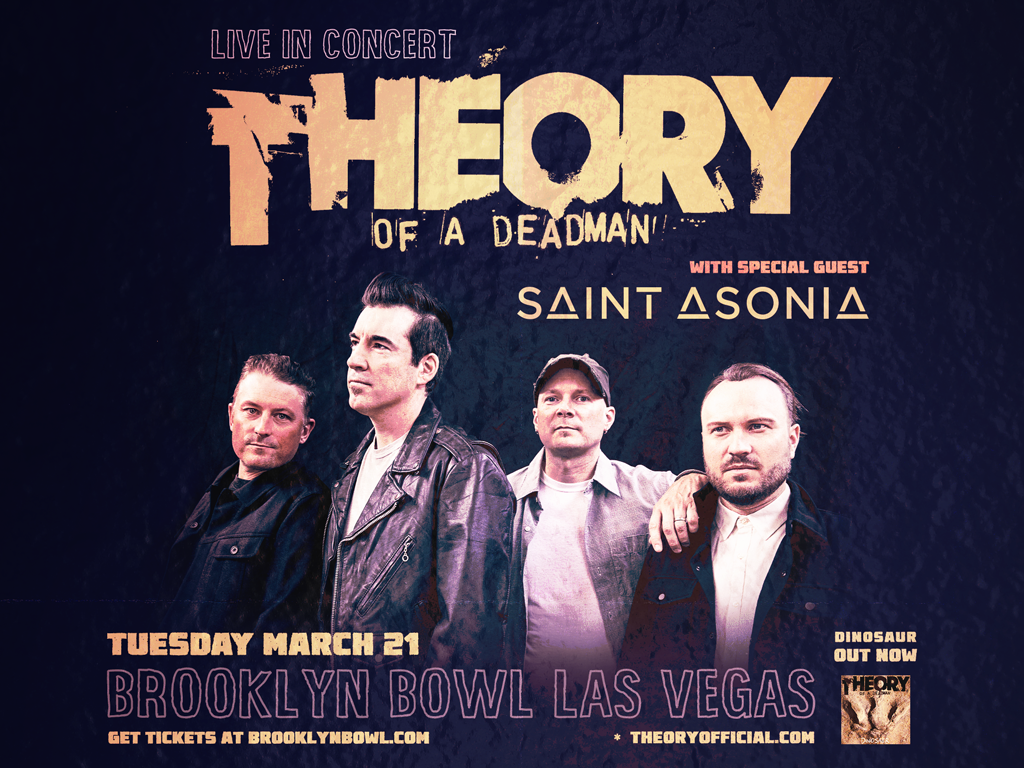 Event Info
Venue Information:
Brooklyn Bowl Las Vegas
The Linq Promenade
Las Vegas, NV
$29.50 General Admission
$32.50 General Admission (week of show)
$35.00 General Admission (day of show)

Artist Presale: Tuesday, November 15th @ 10am PST
VIP Packages: Tuesday, November 15th @ 10am PST
Songkick Presale: Wednesday, November 16th @ 10am PST
BBLV Presale: Thursday, November 17th @ 10am PST
Public On Sale: Friday, November 18th @ 10am PST


Based on the latest local guidelines, attendees are no longer required to provide proof of negative COVID-19 test AND/OR vaccination for entry into this event. Brooklyn Bowl encourages mask wearing and encourages you to get vaccinated if you aren't already! Be sure to check our venue website for the latest updates and guidelines as entry requirements are subject to change.


An inherent risk of exposure to COVID-19 exists in any public place where people are present. COVID-19 is an extremely contagious disease that can lead to severe illness and death. According to the local health authorities, senior citizens and guests with underlying medical conditions are especially vulnerable. By visiting our establishment, you voluntarily assume all risks related to the exposure to or spreading of COVID-19.
Free Local Parking
- Residents of Clark County who purchased a ticket will receive free parking the night of the show at any Caesars Self-Parking locations. The Parking Validation Machine is located inside the Retail Store of Brooklyn Bowl.
All guests must have a valid government/state issued ID for entry to the venue.

ALL SALES ARE FINAL. NO REFUNDS OR EXCHANGES

Tickets purchased in person, subject to $2.00 processing charge (in addition to cc fee, if applicable).

All general admission tickets are standing room only.

ALL TICKET PRICES SUBJECT TO NEVADA'S 9% LIVE ENTERTAINMENT TAX
*Advertised times are for doors -- show time not available*
Artist Info
Theory of a Deadman
With sky-high hooks, riffs as thick as a 2x4, rumbling grooves, and a razor-sharp sense of humor, Theory Of A Deadman) have quietly persisted as an unapologetic, unbreakable, and undeniable hard rock force with major multiplatinum hits and countless sold out shows in each of the past two decades. Jamming together in basements throughout high school, the band burst out of their small hometown of North Delta, British Columbia with the self-titled, Theory of a Deadman, during 2002. In addition to the double-platinum breakthrough album Scars & Souvenirs [2008] and gold-certified The Truth Is… [2011], they have notched a procession of hits, including the gold-certified "All Or Nothing," "Bitch Came Back," and "Lowlife," platinum-certified "Angel," "Hate My Life," and "Not Meant To Be," double-platinum "Bad Girlfriend," and triple-platinum "RX (Medicate)." As the biggest smash of their career this far, the latter marked their third #1 on the Billboard Hot Mainstream Rock Tracks Chart and garnered a nomination for "Rock Song of the Year" at the iHeartRadio Music Awards. They have logged two Top 10 debuts on the Billboard Top 200. In 2020, Say Nothing landed at #2 on the Billboard Alternative Albums Chart and #3 on the Rock Albums Chart. Plus, it earned praise from American Songwriter, Billboard, and Classic Rock Magazine who awarded it "4-out-of-5 stars." Now, the award-winning quartet—Tyler Connolly [lead vocals, guitar], Dave Brenner [guitar, backing vocals], Dean Back [bass], and Joey Dandeneau [drums, backing vocals]—once again deliver a barrage of anthems, beginning with the single "Dinosaur" and more to come.

Saint Asonia
By turning inward, Saint Asonia amplify every element of their signature sound. Skyscraping hooks soar higher, while arena-ready rhythms rattle harder. The guitars cut deeper, and the lyrics resound louder than ever. The quartet—Adam Gontier [vocals, guitar], Mike Mushok [lead guitar], Cale Gontier [bass], and Cody Watkins [drums]—find power and strength on their aptly titled 2022 EP, Introvert [Spinefarm Records].
Saint Asonia initially united two hard rock luminaries under a new banner. Respectively, Adam and Mike had each reached stratospheric heights in Three Days Grace and Staind, toppling charts, packing venues, and selling millions of records. As such, their union captivated audiences worldwide. In the wake of their 2015 self-titled debut Saint Asonia, Loudwire christened the band its "Best New Artist" at the Loudwire Music Awards. The 2019 follow-up, Flawed Design, yielded the blockbuster single "The Hunted" [feat. Sully Erna of Godsmack], generating over 15 million Spotify streams. In a "4.5-out-of-5-star" review, New Noise Magazine declared, "Any fan of hard rock (whether they've listened in recently or not) should give Saint Asonia a spin." Plus, Loudwire applauded it as one of the "The 50 Best Rock Albums of the Year." Not to mention, they toured with everyone from Disturbed, Breaking Benjamin, and Seether to Alter Bridge and Mötley Crüe.
Unfortunately, Flawed Design never received a proper tour due to the Global Pandemic. However, the musicians buckled down and wrote what would become Introvert during the downtime.
"The title was fitting with the way the songs were written," observes Adam. "We wrote and recorded individually. It's a weird situation to make a record and not be in the same room as your band. I felt like an Introvert when I was working on these songs."
This time around, they recorded with producer Anton Delost [Cleopatrick, Seaway, Hollow Coves] outside of Toronto. The producer injected a fresh perspective into the project as did recently welcomed drummer Cody (who played in Art of Dying with Cale). Meanwhile, Mike recorded remotely from his home studio in Connecticut.
"We had a blast with Anton," Adam goes on. "He played a big part in the sonic changes. It's a little different for us, but it's still pretty heavy. He understood what we were hoping to accomplish. It's Saint Asonia."
The guys initially teased out this phase with a heavy and haunting take on The Weeknd's "Blinding Lights," tallying millions of streams. However, they properly introduce Introvert with the single "Above It All." Airy electronics brush up against clean guitar as Adam declares, "It's time to take a stand and save our lives." A chugging verse gives way to an irresistible hook punctuated by a hummable guitar lead.
"It's the first one I actually wrote," he recalls. "I wrote it about standing up and paying attention to what you're told to do as a society and then making your own decisions. You're not necessarily acting or reacting as people want you to. We're all told so many things about what's right or wrong. There was a lot of misinformation. 'Above It All' is about making the right decision for yourself."
Then, there's "Chew Me Up" [feat. Johnny Stevens of Highly Suspect]. Johnny's bluesy timbre serves as the perfect counterpoint to Adam as the slow burning track builds towards a catharsis with teeth.
"We're big fans of Highly Suspect, so we were really excited to have Johnny on the song," he goes on. "Our styles are a little bit different, but he did his thing. It turned out amazing. Lyrically, it's about cancel culture. People are influenced by things online and try to be who they're not on social media platforms. There's a lot of pressure. The song is a realization it doesn't matter. The internet and social media can chew you up pretty quickly and spit you back out before you even know it."
Elsewhere, "Left Behind" culminates on a scorching guitar solo, while "Bite The Bullet" hinges on a thick bass line and candid lyricism.
"My dad passed away about a year ago, and 'Bite The Bullet' hits home," he admits. "He always used to use the phrase 'Bite The Bullet' when I was growing up. The song remembers him and how he told me you can't change things that are out of your control. It's a good reminder of my dad."
In the end, Saint Asonia connect closer than ever on Introvert.
"This band means a lot to me," Adam leaves off. "It's been an incredible outlet, and it's become a family. I love the guys and the freedom we have to create. I couldn't ask for a better situation. I hope people dig it and love the music. If you relate to it and drive down the road blasting it, that's the most I could ask for."

Just Announced
Las Vegas
With Special Guests: Terror Reid
Doors: 6:45 PM
Las Vegas
LIVE NATION PRESENTS
Malevolence - Architypes Collide
Doors: 5:30 PM