Saturday,
November
26th
, 2022
The Amish Outlaws
Doors: 8:00 PM
/
Show: 9:00 PM
21+ Years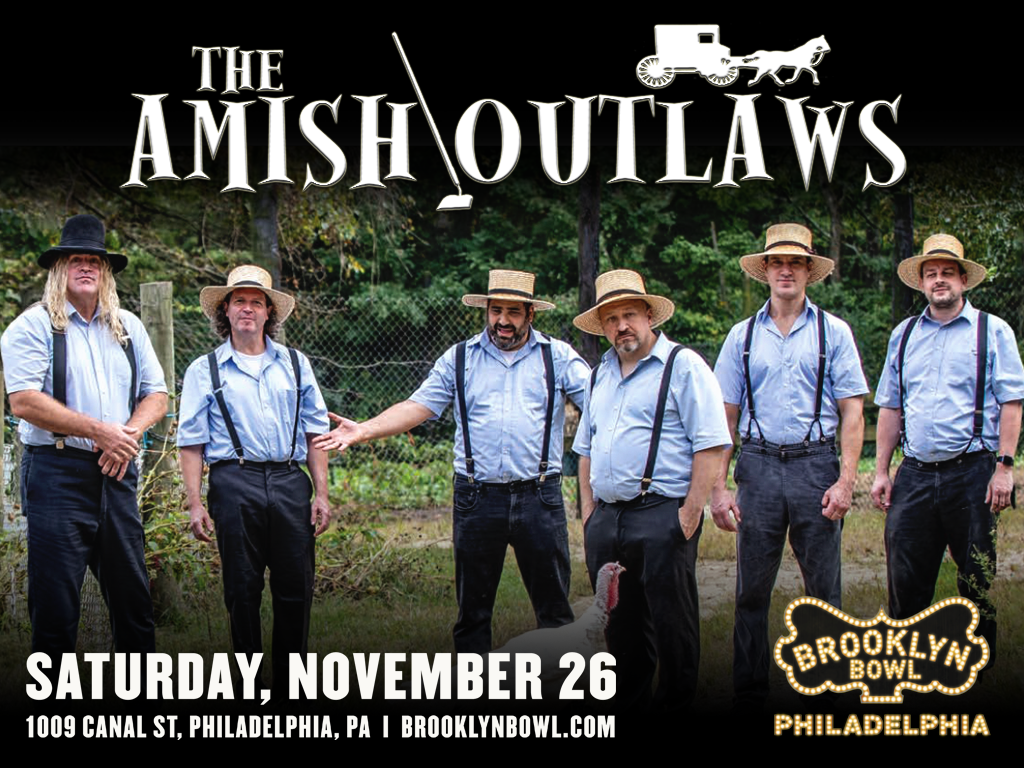 Event Info
Venue Information:
Brooklyn Bowl Philadelphia
1009 Canal Street
Philadelphia, PA 19123
Based on the latest local guidelines, attendees are no longer required to provide proof of negative COVID-19 test AND/OR vaccination for entry into this event. Be sure to check the venue website for the latest updates and guidelines as entry requirements are subject to change.

An inherent risk of exposure to COVID-19 exists in any public place where people are present. COVID-19 is an extremely contagious disease that can lead to severe illness and death. According to the local health authorities, senior citizens and guests with underlying medical conditions are especially vulnerable. By visiting our establishment, you voluntarily assume all risks related to the exposure to or spreading of COVID-19.
Valid photo ID required at door for entry.
This event is general admission standing room only.
Artist Info
The Amish Outlaws
It is a little-known fact that most Amish practice a tradition, similar to the Christian "Confirmation" and Jewish "Bar Mitzvah," called "Rumspringa" (literal translation: "running around") in which Amish children at the age of 16 have an opportunity to live free of the strict Amish code of conduct before deciding if they want to come back and be baptized into the Amish church. Surprisingly, virtually all of the youths return.

But sometimes they don't.

Four out of the original six of the members of The Amish Outlaws were born and raised in Lancaster, PA and had a strict Amish upbringing. No electricity from land lines, no alcohol, no musical instruments, but their spirits were too wild for the Amish lifestyle. Once they trampled in the Devil's Playground, there was no turning back. In the years since Rumspringa, the members of the Amish Outlaws have become very well acclimated to the pleasures and vices of the modern world… music, most of all.

It was this mutual love of music that brought the Outlaws together in a chance meeting at the 2002 Pocono Vacation Park "Rock and Roll Hootenanny." While their appearance drew snickers and stares from most of the crowd, they sat down together and the Brothers were soon like brothers, sharing not only the bond of having left the Amish life behind, but also the deep mutual love of music. Together they delved deeply into the 16 years of American culture they missed, watching endless hours of classic MTV, listening to the radio, CDs, records, tapes… anything they could get their hands on. But just listening and watching was not enough… the Brothers soon decided to form a band that combined their love of the modern world and their traditional upbringing. They met some non-Amish friends out in the world ("English" as we call the non-Amish), making them "honorary Amish" when they joined the band. Thus, with a bold lust for life and a fire for music and performance that can only come from 16 years of repression, The Amish Outlaws were unleashed upon the world.

There is no "typical" Amish Outlaws show, but the average crowd can expect to see men in full Amish garb releasing all of their pent up energy with an infectious joy. With a set that is always evolving as the Brothers discover more and more music and culture, The Amish Outlaws constantly surprise the audience and keep them guessing as to what they could possibly play next, from Johnny Cash to Jay Z, Lady Gaga to Snoop Dogg and Dr. Dre, Pitbull to Elvis Presley, Luke Bryan to Dropkick Murphys, to theme songs from the TV shows they have come to know. Throughout, The Outlaws spin yarns about the Brothers' upbringing and adventures since Rumpspringa. Amish Outlaw gigs are less performances than they are initiations into the life of an Amish Outlaw and parties celebrating the Brothers' new found freedom.