Tuesday,
October
4th
, 2022
Life by Misadventure Tour
Rag'n'Bone Man
Bre Kennedy
Doors: 6:00 PM
/
Show: 8:00 PM
18+ Years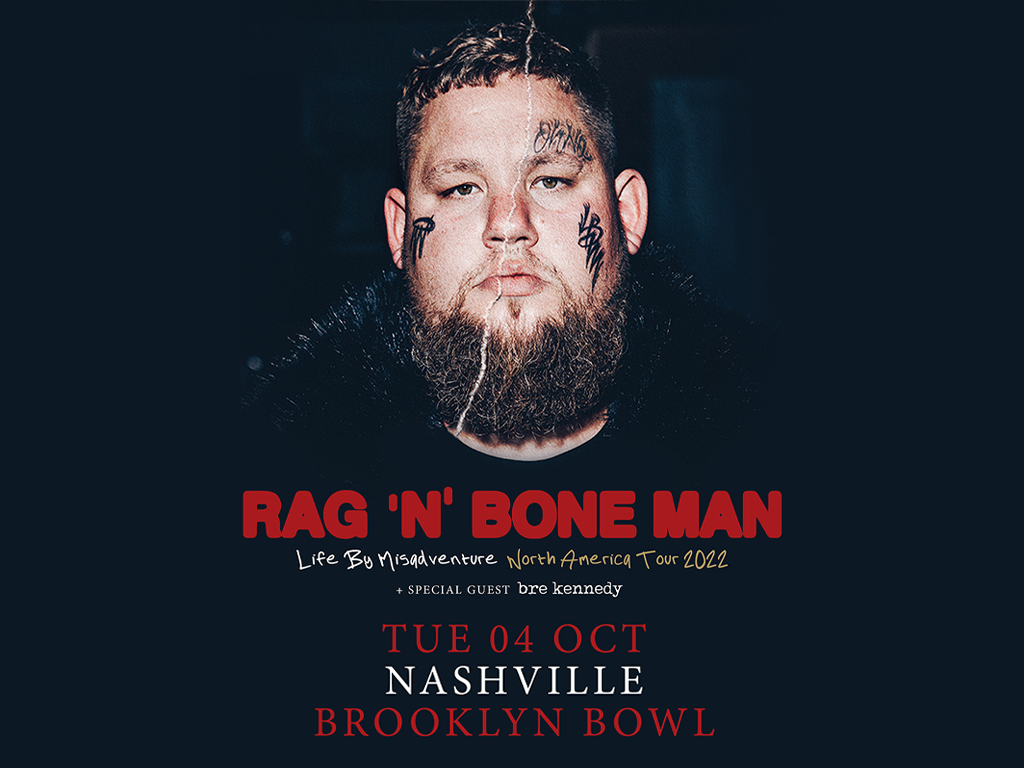 Event Info
Venue Information:
Brooklyn Bowl Nashville
925 3rd Avenue North
Nashville, Tennessee 37201
By visiting our establishment, you voluntarily assume all risks related to the exposure to or spreading of COVID-19.

Valid photo ID required at door for entry
This event is general admission standing room only.
All Support Acts are subject to change without notice.

If you are interested in reserving a bowling lane or a VIP Box in advance, please reach out to nashvilleevents@brooklynbowl.com.
Artist Info
Rag'n'Bone Man
Rag'n'Bone Man's second album opens with hope. It's in the sound of birdsong, filtering through the dawn sky in Nashville, where the artist born Rory Graham wrote these songs. It's in the lyrics – words of love to friends, family, his young son, and himself. And it's in his unmistakable voice, grown all the richer from experience as he delves into his past, present, and future. This is an album, as Graham puts it, about growing up.

Life by Misadventure is the culmination of more than a year spent writing and working with some of music's true greats. In Graham's performance, you hear a renewed sense of purpose and an entirely new energy. His 4x Platinum debut, 2017's Human, shot to No 1 in the UK upon release and became the fastest-selling album by a male artist of the 2010s, with Graham picking up both BRIT and Ivor Novello awards along the way.

Firmly established as one of Britain's most successful artists of the past decade, he is now poised to assert himself as one of its authentic and original talents. It's uncertain what fans are expecting but it certainly won't be this: a meticulously crafted album that is at once heartbreakingly personal and imbued with all of Graham's unique humour and spirit.

"We had quite a long time to live with the songs this time round," he says of the writing process. "Too often, how I'd done things before, was that we'd written a song and I had to sing it the same day, and that was the version we'd use on the album. This way, it was far easier to get real emotion into the music."

You can hear this from the off, on album opener "Fireflies". Written for Graham's son, Rouben, it encapsulates the wide-eyed magic of a child's first experiences, tempered by the artist's own weathering of life's storms. Over warm acoustic guitar tones he urges: "Don't let fear be a thorn in your side/ Keep your eyes on the light and let everyone know that you caught it." The track was co-written with Natalie Hemby, a songwriter most associated with the new Nashville sound of Grammy-winning artists such as Kacey Musgraves, Miranda Lambert and Maren Morris.

"Breath in Me", meanwhile, was penned with Nashville Hall of Famers Allen Shamblin and Mike Reid, best-known for Bonnie Raitt's "I Can't Make You Love Me" (consistently ranked as one of the greatest songs of all time). That same, exquisitely understated approach is heard on "Breath in Me" and throughout the record, melding impassioned vocal delivery, beautiful phrasing and lyrics that manage to be both tender and brutally honest.

"I was so honoured when [Reid and Shamblin] said they wanted to write with me," Graham says. "I didn't really want to go out to Nashville to work with pop writers. And Mike and Allen were so accommodating… It's not easy to write something personal in a room full of people you don't know. For some reason this wasn't like that." He had an idea of what kind of song he wanted to write, one that spoke of the intention to "be there for your child no matter what". The late John Prine provided much of the inspiration for those simple turns of phrase, and that touch of magic that makes the song such a stunning opening statement.

Contributing to Life by Misadventure is a crack team of musicians who have mastered their craft, and who recorded with Graham at the studio of Grammy Award-winning producer and multi-instrumentalist Mike Elizondo (Eminem, 50 Cent, Fiona Apple, Alanis Morissette) just outside of Nashville. Fans of Human will now be familiar with the work of Graham's longtime collaborators, including Ben Jackson-Cook (keys, co-songwriter and co-producer of the record alongside Graham), Bill Banwell (bass guitar, co-songwriter) and Desri Ramus (backing vocals). They are joined by such legendary artists as Grammy-winner Daru Jones (Lazaretto – Jack White), widely regarded as one of the finest drummers of his generation, and guitarist Wendy Melvoin, who joined Prince's band, The Revolution, when she was just 19 years old. These artists shared an intrinsic understanding of Graham's wish to keep his album free from any unnecessary embellishments, and instead convey the joy and immediacy of a band performing together in the same room.

"All You Ever Wanted", the first single to be taken from the record, epitomises this approach. The song references the nostalgia mingled with sadness upon witnessing the changing of hometowns and familiar places, contrasting perfectly with the driving energy of the instrumentation. "The influences for the music itself was a lot of new wave and punk," Graham says, noting how he referenced the pop-orientated sound of Seventies bands such as Blondie and X-Ray Spex. "With the lyrics, I'd felt sad looking around Brighton and London where I grew up… remembering all those cool places that aren't there anymore." The song thrives on a sense of restlessness and the need to move forwards, propelled by choppy rhythm guitars and the kind of thrilling, epic guitar solo many will have believed were all-but extinct from contemporary pop.

Asides from the musicianship itself, one of the most striking things about this album is how open Graham has made himself. "With the personal songs, it's not just about being honest to other people, but more me trying to be honest with myself," he says. "That's the thing about growing up, you have to realise stuff like that." Over the sparse keys and soft pattering rhythms that unfold on "Fall in Love Again", Graham is the most vulnerable he's ever sounded. "I'll avoid the conversation/ Say that I need my space, not 'cause I want to," he sings. "I will make some poor excuse/ Every time that I get close to you."

One thing Graham didn't want this album to be is a break-up record – "it's such an overdone subject", he observes. Just one song, "Talking to Myself", addresses the split from his long term partner and mother to Rouben in 2019. But it says all that needs to be said, and somehow manages to escape the trappings of the traditional "breakup song". Co-written with the Grammy-nominated, Nashville-based singer-songwriter Ruby Amanfu (Jack White, Beyoncé, H.E.R), this is a wrenching depiction of heartbreak, acceptance, and those roaring silences that transpire when communication breaks down. "It came out of a period of desperation, when I was spending a lot of time in one room by myself, drinking too much and taking too many drugs," Graham says. "I went a bit mad, really."

Many of these songs were inspired by other people going through their own struggles. "Alone" was written after conversations with a friend who told Graham about experiencing judgement from her family for not marrying and having children. "I really feel for women, because men don't get that kind of pressure from their families," he says. There's a whisper of Stevie Nicks in the opening verses – gorgeous sequences of tender guitar-picking – before that rousing chorus hits you right in the gut. On "The Party's Over", which urges someone to escape a toxic relationship and move on with the rest of their life, there are elements of Jeff Lynne's ELO, Oasis and Queen thanks to the song's bright piano keys, dramatic drum rolls and a scuzzy electric guitar line.

"Crossfire", a standout on an album of highlights, was inspired by a dream Graham had, "where God had had enough and pushed the button on everything". It follows the last two people left on the planet, with everything else wiped out. "Everyone had been waiting for someone else to make change happen," Graham explains. With its sharp piano hook, the instrumentation provides an urgent tone to emphasise Graham's critical take on apathy. He adopts a more optimistic tone on the good-natured "Somewhere Along the Way", which he says confronts "stupid man pride". "It's about realising how male bravado is so dumb… Asking for help doesn't mean you're weak." Hopefully Graham's male fans will take note: It's OK to ask for directions.

The single "Anywhere Away From Here" feels like a direct response to the sudden, overwhelming fame Graham experienced with the success of his debut single, "Human". When the lights go up/ I don't think I told you… That I feel out of place," Graham sings. "Pull me underground/ Don't know if you notice/ Sometimes I close my eyes and dream of somewhere else." On more than one occasion he found himself accused of snubbing the press on the red carpet, the reality being that Graham is naturally shy, and not one for crowds. "It's OK when you're a kid to feel out of place, but as an adult you're expected to fit in," he says.

If it's not clear by now, Life by Misadventure is a considerable step away from the heavy blues and soul influences of Human. The closest Graham veers is on "Time Will Only Tell", a Motown-leaning, gospel-fuelled jam that feels entirely prescient for the times we're in. "Changing of the Guard", meanwhile, takes its cues from Bruce Springsteen's songbook, with soaring melodies and glimmering, Eighties-influenced synths. "All of the partying, drinking and debauchery I'd been getting up to… I realised that all had to change in the months before Rouben was born," Graham says. Fitting with the album's overall theme of growing up, the song is told by a man who understands that how he deals with a life changing moment could make or break him: "This could tear apart a better man/ Or teach him how to hurt."
All of these songs have been purposefully recorded live to invite listeners in to the moment, as though Graham is performing in their room right there and then. Closer "Old Habits" takes this sound and amplifies it; recorded in Graham's garage, it has a startlingly raw quality, a gravitas, that sees the album end on its most profound note. "There are some country twinges on it, but it's not overdone," he observes. Having learned from and collaborated with Nashville's finest, Graham has created his second album using only the most essential components: musicianship, exquisite songwriting, heart and soul. This is a truly timeless work.

'Rag 'n' Bone Man's new album 'Life by Misadventure' is out
next year via Columbia
Bre Kennedy
Singer-songwriter Bre Kennedy creates music soaked in rich, timeless storytelling with
innate pop sensibilities. Influenced by mesmerizing talents like Brandi Carlile, Fleetwood
Mac, and Bonnie Raitt, Kennedy's delicate, raspy sound soars as she touches on
profound themes around life's messy moments. Kennedy reveals, "I usually try to have
a smile on when it comes to talking about the mess of being human."

Kennedy grew up in a musical household, taking in the greats like Tom Petty, Heart,
Aretha Franklin, and Carole King. After a brief stint in LA, she hopped in her Nissan and
headed to Nashville where she discovered her true musical identity. Kennedy admits, "It
was a lot of searching for what I wanted to say as an artist, and somehow I found that in
Nashville amongst a community of incredible songwriters who inspired me to make
music I loved."

She began playing shows at prominent Nashville venues like The 5 Spot and The
Basement, where she caught the attention of industry and fans alike. In 2019, she
self-released her Jealous of Birds EP, followed by 2020's Twenty Something EP, with
both title tracks landing on Spotify's coveted New Music Friday playlist. She released
her debut full-length album, Note To Self, in October 2021, which was inspired by her
time alone in lockdown and after reading Julia Cameron's The Artist's Way. It marked
another appearance for Kennedy on Spotify's New Music Friday and saw her grace the
cover of the Today's Singer-Songwriters playlist.

Over the past couple of years, Kennedy sold-out a headline show at Nashville's historic
Exit In and has supported such renowned artists as Sheryl Crow, Gary Clark Jr., and
Birdtalker. Media has also taken notice, with outlets like Billboard, Paste, American
Songwriter and Atwood singing her praises.

At the end of 2021, Kennedy signed to Nettwerk Music Group. She is currently working
on new music and will join Joy Oladokun on her Spring 2022 tour. She has cemented herself as
an artist to watch and one of the brightest voices out of the New Nashville music scene.

Just Announced
Nashville
The Cribs
Doors: 6:00 PM /
Show: 7:45 PM
Nashville
Doors: 6:00 PM /
Show: 8:00 PM
Nashville
Vaultboy
Doors: 6:00 PM /
Show: 8:00 PM