Saturday,
February
19th
, 2022
Papadosio
Cloudchord, Teddy Midnight (DJ Set)
Doors: 6:00 PM
/
Show: 8:00 PM
21+ Years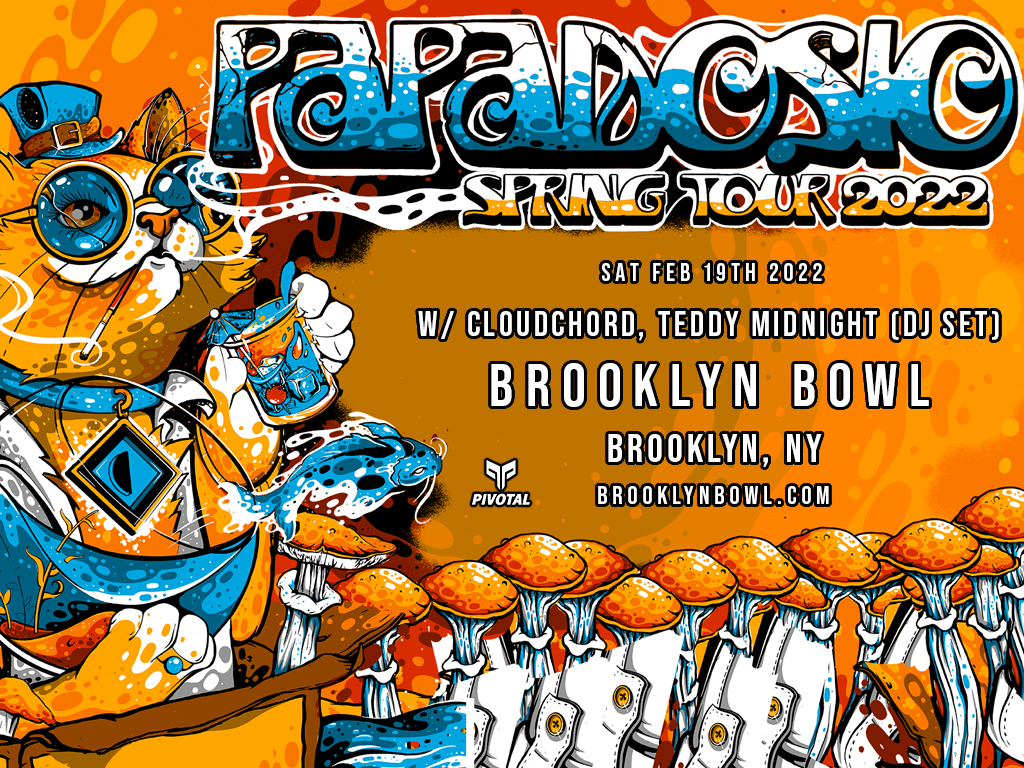 Event Info
Venue Information:
Brooklyn Bowl
61 Wythe Avenue
Brooklyn, NY 11249
Valid photo ID required at door for entry
Doors: 6:00 PM
Show: 8:00 PM
By purchasing a ticket you are opting in to be added to the artist's mailing list.
In accordance with the combined New York State and New York City "Key to NYC" vaccination mandates, Brooklyn Bowl has updated its COVID-19 Policy:
VACCINES
All guests must show proof of FULL VACCINATION with a matching photo ID.
Per the CDC and New York State FULL VACCINATION means two weeks past your second dose of Pfizer or Moderna, your first dose of Johnson & Johnson or a full course of vaccines authorized by WHO (if vaccinated outside of the U.S.).
Accepted proof of vaccination:
Any guests, including ticket holders, unable to provide adequate proof of vaccination will not be granted entry into the venue.
MASKS
Guests are required to wear masks except while eating or drinking. All Brooklyn Bowl staff are fully vaccinated and must wear masks while inside the venue.
Artist Info
Papadosio
Falling somewhere between rock, jazz, and electronic mayhem we find Papadosio striving to create music that is strangely familiar, and calls all walks of humanity to bask in a unique experience celebrating the one constant in an ever-changing world: music. With their 9th studio release on the horizon, Papadosio is expanding their audio collection with nine unique tracks for "Microdosio." The Microdosio project introduces a new concept from Papadosio. "Microdosio is a brand new show with a small stage plot and a huge sound. Papadosio is exploring new sonic territory by shrinking their down to gear to focus on synths, samplers, drum machines, and loopers, all played along with guitar, bass and analog drums. Within "Microdosio", you'll find novel approaches to the Papadosio experience, expect to be surprised.

Characterized as a dynamic progressive rock band, Papadosio creates the sound of new-age technology merging with mesmerizing instrumentation. Between the unfamiliar melodic sound and the element of the production, their live show is an experience that has been evolving over 14 years and is expanding to include "Microdosio" into the repertoire. This is not and will not be the final form, as they are constantly changing and tweaking both musically and production-wise. Please enjoy.
Cloudchord
A specialist in augmenting musical possibility, Derek VanScoten is the producer, guitarist and Emmy-winning musician behind Cloudchord. His remarkable technical skills on the guitar give a refreshing take on atmospheric dance music, solidifying Cloudchord's place in the world of psychedelic chillhop beats. For those who enjoy the ethereal sounds of Bonobo, the basslines of FKJ, and slick neo guitar strums, Cloudchord curates a vibe of something yet untouched. His recent works, Moon Fortune and Attunement, transport you to a New York City rooftop, where grooves and sunshine wrap around you in the midst of a hazy summer. In his latest LP, Reverence, Cloudchord brings acoustic beats to the forefront - a departure from his usual but a cohesive body of work in the making nonetheless. Fans can expect a continued exploration of Cloudchord's signature guitar riffs and uplifting sounds in years to come
Teddy Midnight (DJ SET)
Brooklyn based Teddy Midnight is a synth driven electronic trio, blurring the lines of electronica and live-band improvisation. Blending house, techno, breakbeat and drum and bass, Teddy Midnight captures those magic moments on the dance floor with an ethereal mix of electronic and live instruments. With their intense production chops and energetic live performances, Teddy Midnight has risen as one of the Northeast's most enigmatic acts.