Wednesday,
March
11th
, 2020
Microdosio Tour 2020
Papadosio
JAW GEMS
Doors: 6:00 PM
/
Show: 8:00 PM
21+ Years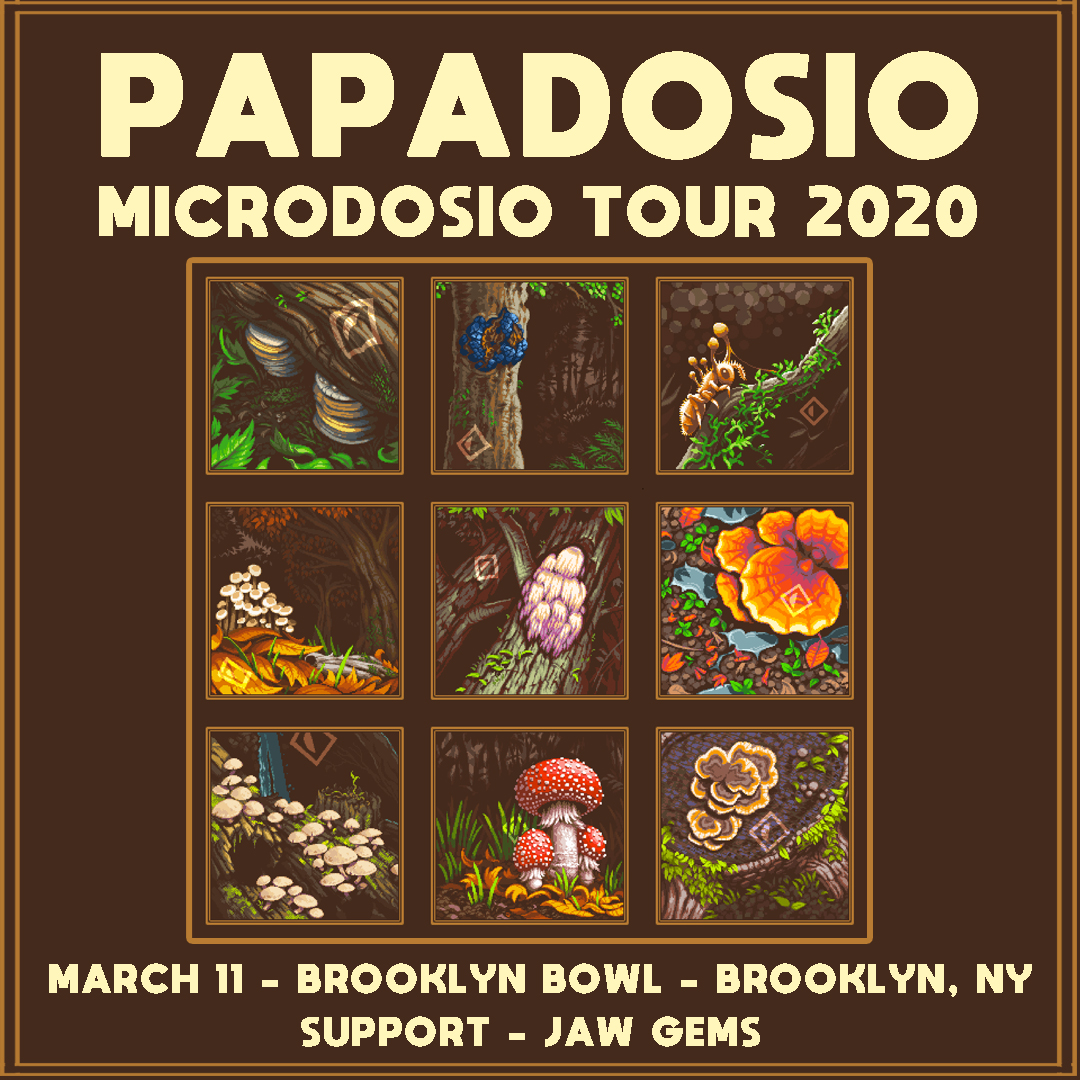 Event Info
Venue Information:
Brooklyn Bowl
61 Wythe Avenue
Brooklyn, NY 11249
Artist Info
Papadosio
Falling somewhere between rock, jazz, and electronic mayhem we find Papadosio striving to create music that is strangely familiar, and calls all walks of humanity to bask in a unique experience celebrating the one constant in an ever-changing world: music.

Papadosio has packed out Red Rocks Amphitheater for headlining shows the past two years running and now they bring their music to smaller stages on a tour of more intimate performances. Characterized as a dynamic progressive rock band, Papadosio creates the sound of new-age technology merging with mesmerizing instrumentation. Between the unfamiliar melodic sound and the element of production, their live show will leave you wanting more.Born in the burgeoning, artistic city of Athens, OH, the quintet now calls another creative community, Asheville, NC its home. Little time is spent nestled up in the Blue Ridge Mountains, though, as Papadosio spends much of the year on the road, crisscrossing the United States ceaselessly. In addition to headlining shows in every region of the country, their high-energy, technologically perplexing, and utterly engaging stage show has made the five-piece a staple on the festival circuit, with scene-stealing sets at All Good, Wakarusa, Sonic Bloom, Electric Forest, Envision Festival, Oregon Country Fair, and more.
The culmination of all that writing on the road is T.E.T.I.O.S. The follow-up to 2009's critically acclaimed Observations finally arrived in the fall of 2012. To End the Illusion of Separation is a sprawling double album, signaling not only an evolution of the band's sound, but a paradigm shift on a far greater scale. The album is a call for people of all stripes to reject artificial barriers of wealth, class, and creed and come together under the flag of humanity. Themes of conservation, tolerance, and mind-expansion delicately weave their way around tribal rhythms, psychedelic excursions, and soaring melodies. The fusion of the earthly, the organic, with technological innovations and progressive sonic structure plants Papadosio's roots firmly in the past and present with an eye turned towards the horizon.
Jaw Gems