Wednesday,
December
18th
, 2019
Ocupado + The New Tarot + The Values
Doors: 6:00 PM
/
Show: 8:00 PM
21+ Years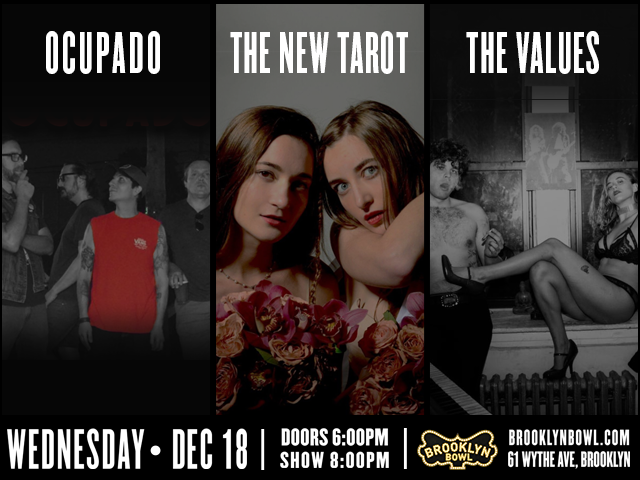 Event Info
Venue Information:
Brooklyn Bowl
61 Wythe Avenue
New York, NY 11249
Artist Info
The New Tarot
NYC-based, sister-fronted, post-genre group, The New Tarot, gear up to release their debut full-length album, in the wake of their third EP, God of Science. Forthcoming LP, The Book of Promises, is about enlightenment from another century and revelation in era of political and spiritual uncertainty. Some of the tracks are previewed in their demo form on the band's live album, however, the album versions are specifically curated for what Blackbook describes as " a sci-fi rock opera, based on the reincarnation of 16th Century English mathematician, astronomer and occult philosopher John Dee (you can see him advising the Queen – as played by Cate Blanchett – in the 2007 film Elizabeth: The Golden Age). Which, surely, is a welcome break from all the lyrical blubbering about broken hearted sadness as proffered by so many of their contemporaries."
Singles from the band's least EP release, God of Science — including "Heavy Metal," "Tell Me You Like Me" and "Solid Sun" — paved the way for the debut full-length. The EP adopted the name of title track "God of Science," a sardonic take on modern faith, yet the themes running through this collection have a much wider range – from social media-based egoism to ephemeral existence.Psychology Today, who premiered "Heavy Metal" did an in-depth interview with songwriter, Monika Walker, on its theme: magical consciousness – it's been a fan-favorite ever since.
Inspired by the grooves of David Bowie, Regina Spektor and The Flaming Lips, The New Tarot create songs that Music Times call "one part synth-filled pop, one part thrashing alternative rock, a splash of sisterhood and a sprinkle of the occult." Diffuser.fm praise the unique sound of the group stating, "The New Tarot flip alternative rock on its head with the powerful stories found in their irresistible songs." They've previously been featured on BreakThru Radio, Last FM, SoFar Sounds (NYC and Athens, Greece) and other studio sessions. With love from Consequence of Sound, Bitch Magazine, Indie Shuffle, BUST, Baeble Music and many more, there's no signs of slowing down – especially with a full-length album on the way.
The Walker sisters, Monika (vocals/guitar) and Karen (vocals/keyboard), formed their band in the spring of 2014. While performing poetry outside Union Squares' subway entrance, Monika Walker captivated the attention of a passing man, who would later become the band's manager. After hearing the brilliance in Monika's use of verbiage and poetry, and learning she had a sister studying music composition at college, the soon-to-be manager convinced Karen to leave college and pursue a career in music with her sister. Now, a full band supports them: Derek Broomhead (drums), Dave Kahn (bass), Beth Callen (guitar) and David Banker (trombone). The sextet creates archetypes throughout their music and their stories are filled with chaos, harmony and the concept of space within ourselves and the universe.
The band will be headlining their biggest show yet on August 4th in NYC at The Bowery Ballroom, after multiple headlining shows at Brooklyn's Knitting Factory and Manhattan's Le Poisson Rouge and playing at other major NYC venues, including Mercury Lounge, Rockwood Music Hall, The Slipper Room and The Bitter End. The New Tarot has taken off like a rocket within a few years after playing The Deli's CMJ event, and being dubbed them a band to "Keep An Ear On."
The Values
The Values understand there is a singular magic about the combination of synthesizers and the human voice. That mix of cutting edge technology and deep vulnerability, of digital sounds and flesh and blood, of sleek and portable, portable yet opulent. It's a city sound, sexy and rich and forward moving. There's nothing like it -- Suicide knew it in the grimy 70s. Yaz and Erasure knew it in the glossy 80s. LCD Soundsystem knows it in the 21st century. You can hear that on the Values' first EP.

Some background: Mason Taub (the lady) and Evan Zwisler (the gent)
have been together since 2014 and playing music together as The Values
since 2017.
Ocupado
Ocupado is the collaboration of childhood friends Peter Vartan, James Avallone, and Matt Dougherty and recently joined by Ray Mazza.

The singer, and multi-instrumentalist, Peter Vartan was the drummer for the experimental project Swept To See along with Ocupado bassist Matt Dougherty for a few years in the early 2000s before he released a solo album called "Negative Attidude!!!" under the name "Vartan". After that Peter was playing guitar for Hesta Prynn of Northern State . He played on her studio tracks with the likes of Tim Harrington of Les Savy Fav on "Easy Bear" and Shawn Crahan of Slipknot on a cover of the Butthole Surfers song "Pepper" . Then he was the bassist for post-punk alt 80s influenced band The Dead Letters for a few years before deciding to self-produce a home recording album called "Sunshine Kills" which is coming in late 2019.

When James Avallone moved back from LA after a long stint in the movie business, directing indie flicks (Spinning Dry, Playback, 80 Proof Cotton and a Pigskin ), he and Peter Vartan decided to start Ocupado along with Matt Dougherty and Ray Mazza on drums. Ray's known for Apollo's Ghost , Ray Mazza , Ray Mazza and The Gutter Bandits , The Spines (Radiolarian album) , Kevin Harrison & True North , and Victor Made A Time Machine .

They are currently playing shows in the NYC area and are promoting their 1st album "Blue Syndrome".