Saturday,
June
27th
, 2020
Love is Not Dying World Tour 
Jeremy Zucker
Doors: 6:00 PM
/
Show: 8:00 PM
All Ages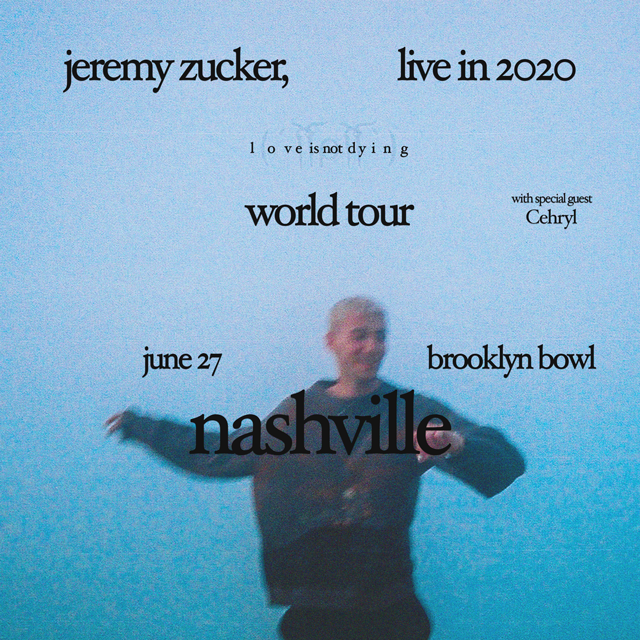 Event Info
Venue Information:
Brooklyn Bowl Nashville
925 3rd Avenue North
Nashville, Tennessee 37201
VIP 1 Includes:
One (1) Event Ticket, First Entry into the Venue, Q&A with Jeremy Zucker, Meet & Greet and Photo Opportunity, Exclusive Commemorative Laminate First Access to Merch
VIP 2 Includes:
One (1) Event Ticket, First Entry into the Venue, Q&A with Jeremy Zucker, Exclusive Commemorative Laminate, First Access to Merch
VIP Ticket Information
All package elements will be rendered invalid if resold. Name changes will be issued at the sole discretion of 23/7 Global. VIP instructions will be sent via email no later than three days (3) prior to the concert. If you do not receive this email three days (3) prior please email
[email protected]
. Your VIP merchandise will either be handed out on-site or shipped - specifics will be emailed no later than 3 days before your concert. All packages and contents are non-transferable; no refunds or exchanges; all sales are final. All VIP package items and experiences are subject to change. Please note that the information provided at the time of purchase (e-mail and mailing address) is the same information that will be utilized for shipping and individual contact requirements where applicable. 23/7 Global, the artist, tour, promoter, ticketing company, venue or any other affiliated parties are not responsible for outdated or inaccurate information provided by the consumer at the time of purchase. If you have any questions regarding your VIP package elements, or have not received you package information within three days (3) of the concert date, please email
[email protected]
. Please add
[email protected]
to your safe senders list so you don't miss any emails.
Artist Info
Jeremy Zucker
Growing up in suburban New Jersey, 23-year-old singer, songwriter and producer Jeremy Zucker has always been surrounded by music. In 2015, he released his first EP as a freshman at Colorado College pursuing a degree in Molecular Biology, and by 2017 he had signed a major label record deal with Republic Records. Since then, he has released 4 EP's with breakthrough singles such as "talk is overrated" featuring blackbear, "all the kids are depressed," and his biggest song to date, the Gold-Certified hit "comethru". Overall, Zucker has already crossed over a staggering 1 billion total streams on his catalogue as he gears up for his debut album, coming early 2020.
cehryl
cehryl builds split-screen worlds with words that cut deep, singing secrets under the cover of indistinct chatter. Her stories have led to millions of streams, paper cosigns, and shows with still woozy and ravyn lenae.
long before cehryl found her voice, the shy hong kong native tried her hand at composing, ditching piano lessons to learn songs on mtv by ear. that same watchful curiosity led her to point-and-shoot cameras, fending off life's transience. films like in the mood for love and eternal sunshine guided her musical taste as much as other artists. it's no wonder she still illustrates her merch to this day.
punk princess avril lavigne and taiwanese pop star jay chou formed cehryl's melodic foundation. over the years, amy winehouse, frank ocean, alicia keys, the beatles, and justin vernon made their mark. in high school, she recorded her vocals because no one else would. finally, after many lessons while studying at berklee in boston, she set west, discovering close friends in la who kindled her ambition: zack villere, mulherin, dijon, alex szotak, brian mantra, softglas. together, they preserve fleeting moments in sound and color.
cehryl's debut album
slow motion
, written, produced, and performed in its entirety by her, is out now.