Wednesday,
November
3rd
, 2021
Drive-By Truckers
Buffalo Nichols
Doors: 6:00 PM
/
Show: 8:00 PM
21+ Years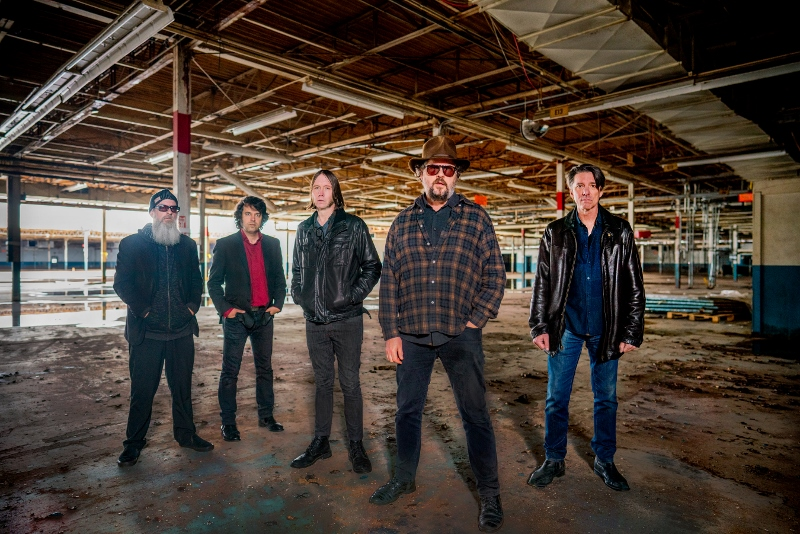 Event Info
Venue Information:
Brooklyn Bowl
61 Wythe Avenue
Brooklyn, NY 11249
Valid photo ID required at door for entry
Doors: 6:00 PM
Show: 8:00 PM
In accordance with the New York City "Key to NYC" vaccination mandate, Brooklyn Bowl has updated its COVID-19 Policy, effective immediately:
VACCINES
All guests must present a matching photo ID along with proof of vaccination in the form of:
NYC COVID Safe App

CDC Vaccination Card (or photo)

Official immunization record from outside the U.S
Acceptable vaccines include:
Any guests, including ticket holders, unable to provide adequate proof of vaccination will not be granted entry into the venue.
MASKS
Guests under 12 are required to wear masks except while eating or drinking.
All guests are strongly encouraged to wear masks.
All Brooklyn Bowl staff are fully vaccinated and must wear masks while inside the venue.
Our COVID-19 policies are subject to change at any time. Please refer to your show's event page for show-specific vaccine and mask requirements, and continue to check prior to visiting Brooklyn Bowl.
The health of our guests, staff, and performers remains our highest priority, and we appreciate your understanding as we continue to navigate this continually-evolving situation.
Artist Info
Drive-By Truckers
Drive-By Truckers is kicking off the new election year with The Unraveling, our first new album in 3 1/2 years (the longest space between new DBT albums ever). Those years were among the most tumultuous our country has ever seen and the duality between the generally positive state of affairs within our band while watching so many things we care about being decimated and destroyed all around us informed the writing of this album to the core.

While a quick glance might imply that we're picking up where 2016's American Band album left off, the differences are as telling as the similarities. If the last one was a warning shot hinting at a coming storm, this one was written in the wreckage and aftermath. I've always said that all of our records are political but I've also said that 'politics IS personal'. With that in mind, this album is especially personal.

Our 2018 single "The Perilous Night" acted as a sort of coda to the polemic of the last album and the original plan was to zigzag in a different direction, but alas the past few years have seen an uptick in school shootings, church shootings, racial violence, suicides and overdoses, border violence, and an assault on so many things that we all hold dear. They're literally putting children in cages. Writing silly love songs just seemed the height of privilege.

My partner Mike Cooley and I both worked through deep pools of writer's block. How do you put these day to day things we're all living through into the form of a song that we (much less anybody else) would ever want to listen to? How do you write about the daily absurdities when you can't even wrap your head around them in the first place? I think our response was to focus at the core emotional level. More heart and less cerebral perhaps.

Eventually the songs did come, some in mysterious ways. A day-long layover at an exit outside of Gillette, Wyoming resulted in "21st Century USA", the song that for me opened up the floodgates, enabling me to write my portion of the album.

I wrote "Babies in Cages" in the living room of my wife's parent's house and quickly demoed it on my phone. A portion of that original recording acts as the introduction to the version on the album. Cooley wrote "Grievance Merchants" about the proliferation of white supremacist violence we've seen in recent years. Our family's babysitter's best friend was murdered on a train in beautiful progressive Portland, Oregon in one such incident. The political is indeed very personal.

"Armageddon's Back in Town" takes a whirlwind joyride through the daily whiplash of events we are collectively dealing with, while "Slow Ride Argument" offers an unorthodox but hopefully effective method of the prevailing of cooler heads. Perhaps it should come with a disclaimer though.

Meanwhile "Awaiting Resurrection" dives headfirst into the void of despair and painful realities these times are tolling. It's a song unlike any in our band's history, yet somehow quintessentially DBT to the core. A call to deal, unblinkingly, with the horrors surrounding us all, but to also survive, with perhaps even a hint of optimism.

"In the end we're just standing, watching greatness fade into darkness /

Awaiting Resurrection"

If the writing was a long and brutal process, the recording was a joyous celebration. Another of our band's many dualities, perhaps.

We convened for a week in Memphis, Tennessee at the historic and wonderful Sam Phillips Recording Service. We tracked, mostly live in the studio, aided by long-time producer David Barbe and famed engineer Matt Ross-Spang. Initially recording 18 songs in 85 hours of near around the clock sessions, the band essentially spent the whole week in an artistic marathon, housing ourselves at the Memphis Music Mansion (AirBnB), surrounded by historic photos and a mid-century vibe that seemed to even seep into our dreams each night. (My bedroom was, fittingly, The Big Star Room, named after the seminal Memphis power pop band that I have always held as an all-time favorite).

Recording in Memphis has been a life-long dream for this band. Both the city, with its dark social history and amazing musical heritage, and the studio which is a time machine set to its early 1960's origins and inhabited by the spirit of its genus founder, affected and inspired the creation of this album in ways that go far beyond the tangible and technical.

Sam Phillips left my hometown of Florence, Alabama and moved to Memphis, working in radio before opening the legendary Sun Studios (Memphis Recording Service) where he essentially discovered Rock and Roll, recording the first records of Howlin' Wolf, Ike Turner, Johnny Cash, Carl Perkins, Jerry Lee Lewis, Charlie Rich, and of course Elvis Presley. When he sold Sun, he built his dream lair, the, then state of the art Sam Phillips Recording Service which opened in 1962. If Phillips' love of 'slap-back' echo had given those early Sun records their legendary sound, his new studio incorporated three different echo chambers into its design, giving the studio a very unique and wonderful sound that we incorporated into this album.

I can't impart enough the impact that recording there had on this album. We were all beyond inspired by the surroundings and the sounds coming out of the speakers from every playback or the sound of the echo chambers reverberating down the halls. Every day we got to hang out with Sam's son Jerry who took us up to Mr. Phillips' old office on the third floor. Unlocked in time, it was still exactly as it had been the last day Sam spent there. His jackets still hanging in the closet and the bar still stocked with his favorite whiskey. There, with Jerry, we toasted our recordings and the spirits that still inhabited that sacred space.

In honor of finally getting to record in Memphis, I wrote "Rosemary with a Bible and a Gun", a sort of stream of conscious love song to that dark and mythical city on the banks of the Mississippi. Although the song isn't a literal story of such, it was certainly informed by the brutal times Cooley and I had in 1991 when we followed Sam Phillips' example and moved from Florence to Memphis in search of dreams that for us were still to be over a decade in coming. I heard the song in my head as a sort of Bobbie Gentry inspired southern gothic and we further explored that by adding gorgeous strings by Kyleen and Patti King (arranged by Kyleen). It seemed the perfect way to kick off this album.

Our sessions were rounded out by a guest appearance from Cody Dickinson (North Mississippi All Stars) who came in and played an electric washboard through an Echoplex and wah-pedal into an amp for "Babies in Cages". The song, recorded completely live, in one magical take, perfectly captured the mood and tone of the week we spent there. (We even kept the scratch vocal since it had so much live bleed from the take). The following day, Mick Jagger came by, but alas we weren't able to record with him, although his presence certainly added to the already surreal vibe of the week.

A few months later we reconvened in Athens, Georgia at Barbe's Chase Park Transduction studios where Matt and David mixed the album on Barbe's vintage 1975 Neve console. As a band that got its start essentially making albums as field recordings on mobile gear, it is indeed a treat to get to make our albums on 2" 16 tracks tape in historic studios and on beautiful vintage gear. We finished the process by having the legendary Greg Calbi master it all at Sterling Sound in Edgewater, New Jersey.

In the end, we whittled the album down to the nine songs included, saving several key songs for a foundation to the next one that will hopefully occur sooner than later. Lilla Hood designed the packaging utilizing a stunning photo by Erik Golts of two young lads watching a sunset at the Oregon coast, lettering by famed graphic artist Aaron Draplin, and once again beautiful artwork from our long time collaborator Wes Freed. We plan on touring extensively throughout the next year taking these songs around the world.

We hope to see you there.

- Patterson Hood
Buffalo Nichols
Switch to the Accessible Version of Box
Since his earliest infatuations with guitar, Buffalo Nichols has asked himself the same question: How can I bring the blues of the past into the future? After cutting his teeth between a Baptist church and bars in Milwaukee, it was a globetrotting trip through West Africa and Europe during a creative down period that began to reveal the answer. "Part of my intent, making myself more comfortable with this release, is putting more Black stories into the genres of folk and blues," guitarist, songwriter, and vocalist Carl "Buffalo" Nichols explains. "Listening to this record, I want more Black people to hear themselves in this music that is truly theirs." That desire is embodied inhis self-titled debut album—Fat Possum's first solo blues signing in nearly 20 years—composed largely of demos and studio sessions recorded between Wisconsin and Texas.Born in Houston and raised in Milwaukee's predominantly Black North end, the guitar was Nichols' saving grace as a young man. The instrument captured his fascination, and provided him with an outlet for self-expression and discovery in isolation. While other children chased stardom on the field, court, or classroom, Nichols took to his mother and siblings' music collections, searching feverishly for riffs to pick out on his instrument. Sometimes, this dedication meant listening to a song 200 times in order to wrap his mind around a chord; as a teenager, it even routinely meant staying home from school to get extra practice.It would've required a more than arduous journey across town to find a secular circle to jam with in a city still reeling from redlining and segregation, so despite a lack of a religious upbringing, Nichols went sacred. A friend invited the teenage guitarist to church for a gig and the opportunity proved to be Nichols' much-needed breakthrough to music circles in the area. But over the following years, he began to feel overextended, and abandoned the demanding grind of a supporting role in nearlyten Milwaukee scene bands, none of which bore his vision as a lead performer. "I was happy with all the stuff that I was doing, and I was learning, but I wasn't playing anything that was very creatively fulfilling," Nichols says. "I needed the time and space. I was overwhelmed." Stints in college and in the workforce led him overseas, where the appreciation of African-American folkways lit a renewed spark in Nichols. It was the bustling of jazz in places like the working class areas of Ukraine, or in Berlin cafes where expatriate Black Americans routinely treat fans to an enchanting evening of blues, that would lead to his a-ha moment. Nichols returned home to America, meditating on his own place in the music that holds the country's truest values and rawest emotions between bar and measure. "Before this trip, it was hard for me to find that link between all these blues records I heard and people who are living right now. I figured out it's not a huge commercial thing, but it still has value. So, I came home and started playing the blues more seriously, doing stuff with just me and my guitar," Nichols says.Nichols admits that anger and pain are realities that color the conversations and the autobiographical anecdotes behind his observational, narrative-based approach to songwriting. However, with his lyricism on Buffalo Nichols, he intends to provide a perspective that doesn't lean heavily into stereotypes, generalizations or microaggressions regarding race, class and culture. The album sees Nichols wrestling with prescient topics, such as empathy and forgiveness on the poignant, ever-building melody of "How to Love;" regret and loss on moving, violin-inflected "These Things;" and the pitfalls of lives lived too close to the edge on the smooth, dynamic "Back on Top." On the tender, aching album opener and lead single "Lost & Lonesome," he gives listeners what he describes as a "glimpse into the mind of that traveler looking for a friend and a place to call home;" inspired by his years traveling alone, looking for a place for his passions to fit in, even if temporarily, the track is an ode to exploration and the creative ingenuity of isolation. At the forefront of each song is Nichols' rich voice and evocative, virtuosic guitar-playing, augmented on half of the nine tracks by a simple, cadent drum line.While acknowledging the joy, exuberance and triumph contained in the blues, Nichols looks intently at the genre's origins, which harken back to complicated and dire circumstances for Black Americans. With this in mind, Nichols says there is a missing link, which he's often used as a compass: Black stories aren't being told responsibly in the genre anymore. To begin changing that, Buffalo Nichols gets the chance to tell his own story in the right way.
Just Announced
Brooklyn
DJ Mike Nasty, moresoupplease, Mike Medium, TEEBURR
Doors: 11:00 PM /
Show: 11:30 PM