Thursday,
November
17th
, 2022
Dopapod - 2 Night Pass
$1 per ticket will be donated toward RAINN and Camp Courage
Doors: 6:00 PM
/
Show: 8:00 PM
21+ Years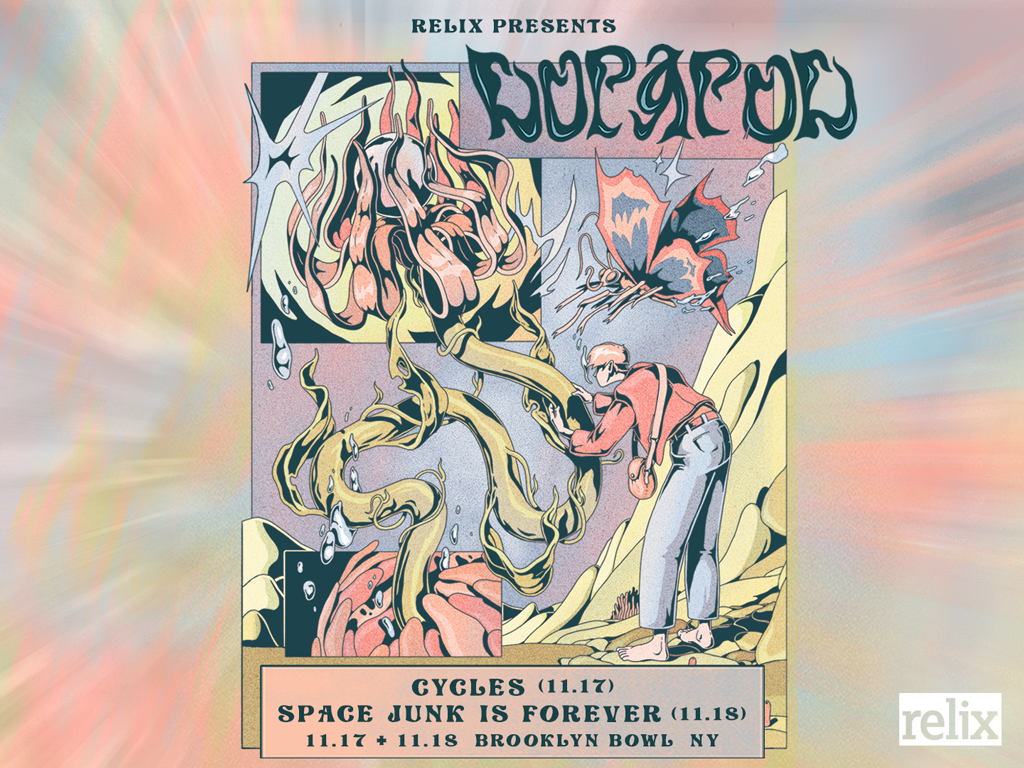 Event Info
Venue Information:
Brooklyn Bowl
61 Wythe Avenue
Brooklyn, NY 11249
Valid photo ID required at door for entry
Doors: 6:00 PM
Show: 8:00 PM
Based on the latest local guidelines, attendees are no longer required to provide proof of vaccination for entry into this event. Be sure to check your venue website for the latest updates and guidelines as entry requirements are subject to change.
An inherent risk of exposure to COVID-19 exists in any public place where people are present. COVID-19 is an extremely contagious disease that can lead to severe illness and death. According to the local health authorities, senior citizens and guests with underlying medical conditions are especially vulnerable. By visiting our establishment, you voluntarily assume all risks related to the exposure to or spreading of COVID-19.
Artist Info
Dopapod
Dopapod access a heightened level of cosmic harmony in their music. Thequartet—EliWinderman [keys, vocals], Rob Compa [guitar, vocals], Chuck Jones [bass], and Neal "Fro"Evans [drums]—present albums as experiences meant to be shared out of your speakers andon stage. After generating millions of streams, packing shows coast-to-coast, and earningacclaim fromRolling Stone,Guitar World,Glide Magazine,and more, the group architect animmersive and expansive vision on their self-titled seventh full-length offering,Dopapod.The group's hypnotic hybrid of funk, rock, jazz, bluegrass, and electronica bloomed brilliantly on2009'sRadar, and it continued to blossom on the likesofNever Odd Or Even[2014] andMegagem[2017]. Along the way, fan favorites suchas "Present Ghosts" reeled in 2.4 millionSpotify streams and counting. 2019'sEmit Timearrivedto acclaim fromGuitar World,Relix,Glide,Jambase, and more. Simultaneously, they soldout headline gigs and graced the bills ofElectric Forest,Summer Camp,High Sierra, andBonaroowhereRolling Stonenamed themamong the festival's"best kept secrets."After amarathon near-decade run, they enjoyed analmost year-long hiatus to realign and reenergize before reuniting with a new fire during 2019and partaking in something of a"soft return."After a brief hiatus to regroup and recharge their creative efforts, Dopapod assembled whatwould become their next album, the self-titledDopapod,and looked at the loose threads of theircatalog to conceptually tie their journey together. They chose to self-title their seventh offeringas a totem to the fact they've realized their full potential in terms of music and vision. Tacklingtime travel, balance and symmetry, binary pairs and more, Dopapod's palindromic existencecontinues to conjure alchemy nearly fifteen years into their journey.